Dates
11-18 February 2024
25 February - 3 March 2024
Teams
Groups are welcome to sign up; there is a maximum of 15 participants per trip.
No experience needed
You will be given full instruction by the professional team of leaders on the trip in all activities during the challenge and all activities are undertaken at the pace of the group.
Scandinavian accommodation
The base will be a lovely rustic log cabin for four nights in total, three before the survival phase, and the last night of the challenge week. The cabin has no electricity, just a wood burner, basic kitchen, dining table and beds.
Three nights of the week, during the survival phase, will be spent outside in shelters which you will build as a group. These include: a Scandinavian tent, a forest shelter and a snow hole. In each of the outdoor shelters, watch will be kept during the night to stoke fires and keep warmth and to check candles lit during the night you stay in the snow hole.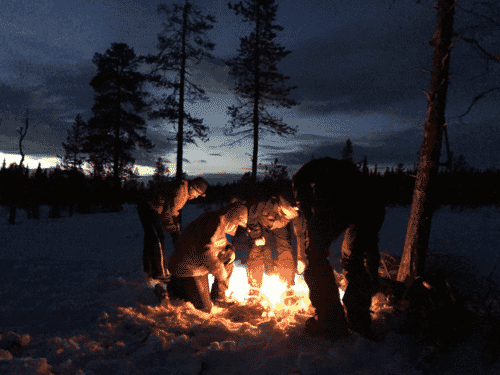 Kit
You'll receive a full kit list once you have registered and you may hire kit for the survival stage including bivvy bag, roll mat and sleeping bag.
Season
Jan
Feb
Mar
Apr
May
Jun
Jul
Aug
Sep
Oct
Nov
Dec