The only half marathon to run through Westminster and the City of London, this is a fantastic race touring the capital's most iconic landmarks. This is everything you need to know about the 2024 edition!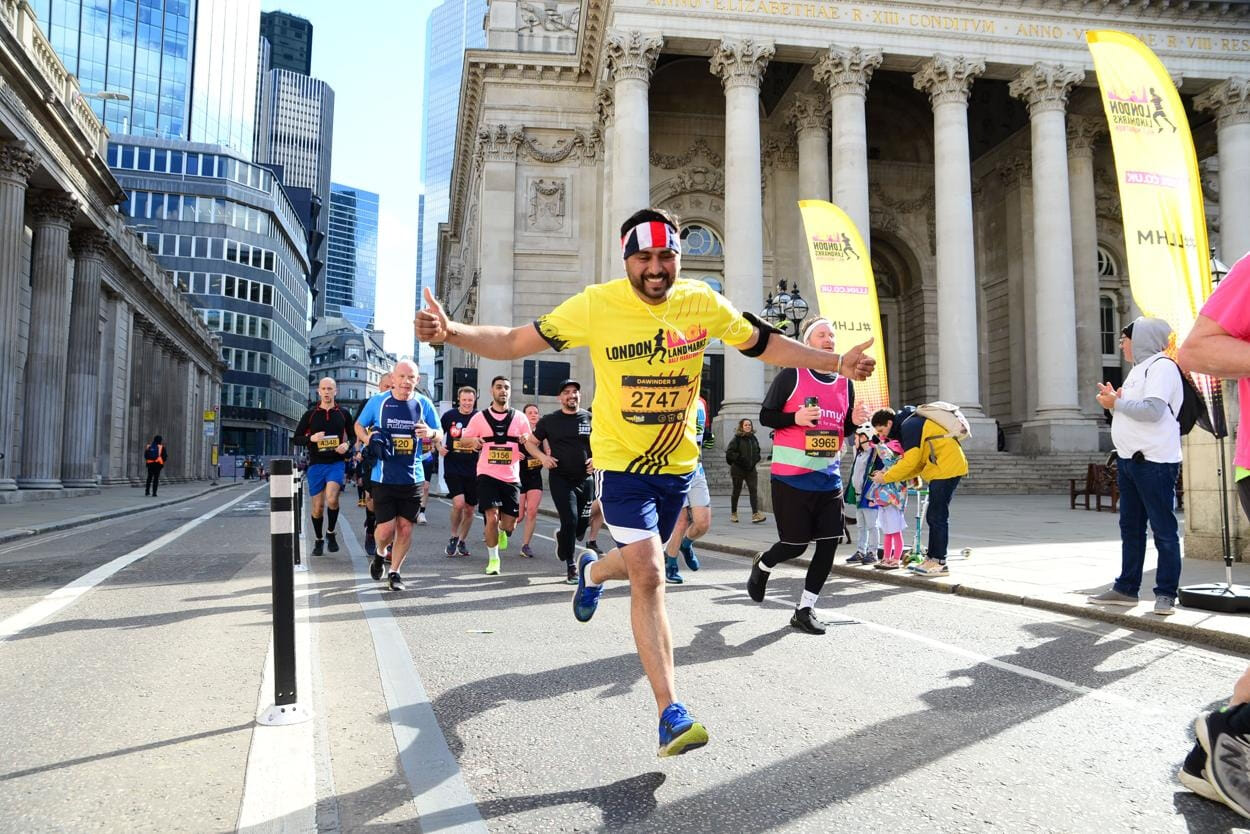 People usually enter a major running event for one of a few reasons: to experience a race day atmosphere with thousands of other people; to run on closed roads in a big city; to raise money for a fantastic cause, or to enjoy a brilliantly organised event with on-course entertainment and a bustling event village. Since the London Landmarks Half Marathon ticks all of these boxes, it's easy to see why it's growing into one of the UK's most popular events!
As you'll guess from its name, the London Landmarks Half Marathon tours the capital's most famous landmarks, including historical monuments such as the Tower of London and more modern locations like the skyscrapers of the City of London. Exploring the capital on closed roads is a rare opportunity reserved for only a handful of major sporting events, though not many do it with the vibrant energy of this half marathon.
Organised by the charity Tommy's, this is a 100% not-for-profit event and benefits a huge range of good causes, ranging from mental health charities to cancer research organisations. The motivational and celebratory atmosphere that this creates is emphasised by the on-course DJs, charity cheer stations and entertainment throughout the city. There is a cacophony of noise and colour on race day, helping to spur runners to the finish line!
The London Landmarks Half Marathon returns on Sunday 7 April 2024 and there are plenty of places available for a range of charities. Here, we've outlined what you can expect at the event, how to enter on behalf of a charity and the best tips for spectators to support someone running. See you there!
Route highlights
This 13.1 mile run through the capital celebrates not only London's most iconic landmarks but also its culture and heritage, highlighting historical locations and some quirky moments from the city's past!
Grand landmarks
London's rich history is showcased through its most famous landmarks, connecting runners in 2024 to the city's Roman, medieval and industrial past. On their half marathon route, runners will enjoy:
Nelson's Column. This grand monument was constructed to commemorate Admiral Nelson's victory at the Battle of Trafalgar.

St Paul's Cathedral. Built in 1711, the current cathedral stands on foundations dating back to the 7th century.

Monument. This iconic column was built to commemorate the Great Fire of London in 1666.

Tower of London. Originally built by William the Conqueror in the 11th century, this is one of London's oldest and most famous landmarks.

Big Ben. The race finishes by the Houses of Parliament, which date to the 19th century.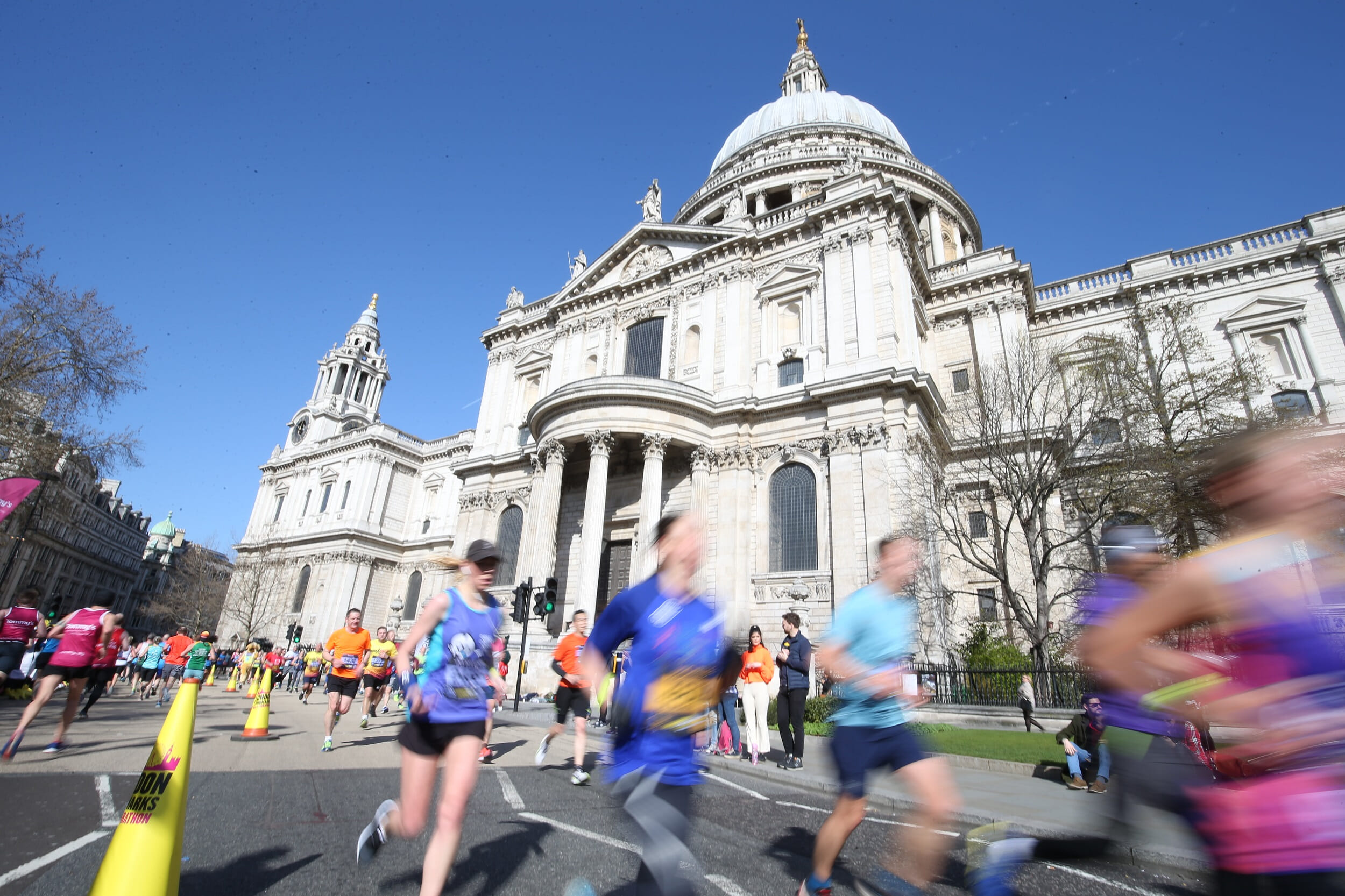 Hidden and quirky landmarks
While famous landmarks get all the attention, there are incredible stories to tell through London's less celebrated features and buildings. Here's just a taste of what you can expect:
London's smallest police station! This was built in 1926 so that police could keep an eye on protestors, disguised as an ornamental light stand.

Ye Olde Watling. Sir Christopher Wren is credited with many landmarks in London and he built this pub for workers on St Paul's Cathedral!

London's Roman Amphitheatre. The site of gladiatorial combat, this arena could have entertained up to 7,000 people in its day.

Pudding Lane. Believed to be where the Great Fire of London started, this small street is commemorated with an informative plaque.

Guy Fawkes' house. The famous Gunpowder Plot conspirators met in this building to discuss their plans to blow up Parliament.
On-course entertainment
Along the route, runners will encounter an array of live music, re-enacted historical figures and cheer stations to help them power on to the finish line. In recent editions, these included the London Show Choir, gladiator and centurion re-enactors, a suffragist pageant and the Chelsea Pensioners!
Sign up for the London Landmarks Half Marathon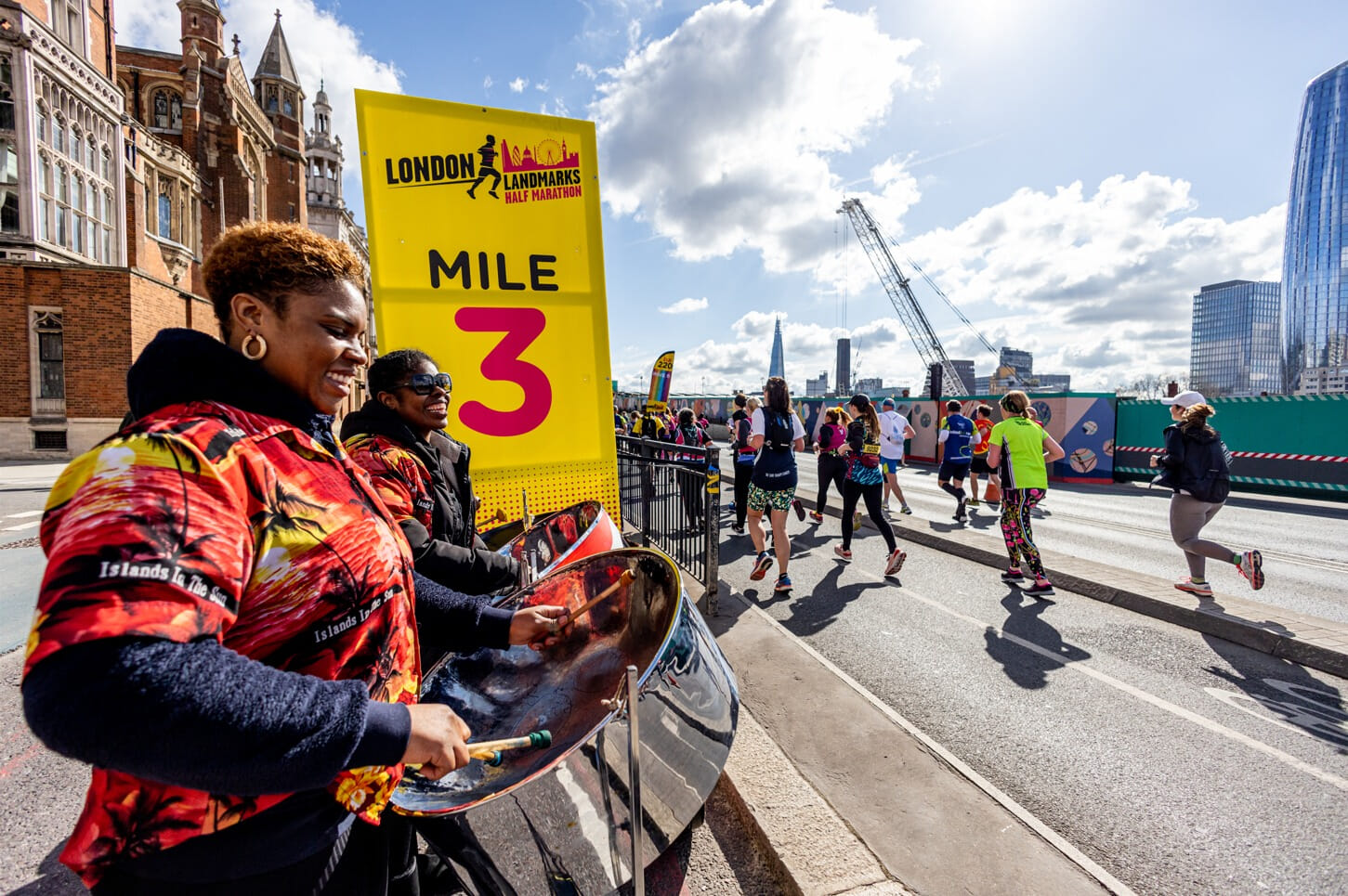 How to enter
The two-stage ballot for general entries to the London Landmarks Half Marathon has now closed so remaining entries are being allocated through charities. Finding a charity to run for is simple - just head to our London Landmarks Half Marathon listing and scroll to the 'charity places' section, where you'll find a list of available charities.
You can organise them by name or cause, as well as filtering to find organisations with the lowest sign-up fees and lowest fundraising requirements. So whether you have a specific cause you want to support or are generally interested in securing a place in this event, we've got you covered.
Once you have selected a charity, complete the form on our site and your application will be sent across for them to consider.
Why run for charity?
Committing to raise money for a charity through your entry will help to elevate your race day experience - as you support the charity, they will support you. While the exact support you will receive will differ between organisations, you can generally expect:
Fundraising support, including advice on events and access to branded materials.

A branded t-shirt to run in.

Access to the brand's post-event celebration, often including food and a massage.

A cheer squad on the day of the event to spur you on.

Access to exclusive social media groups.

Training support and advice on how to prepare for the event.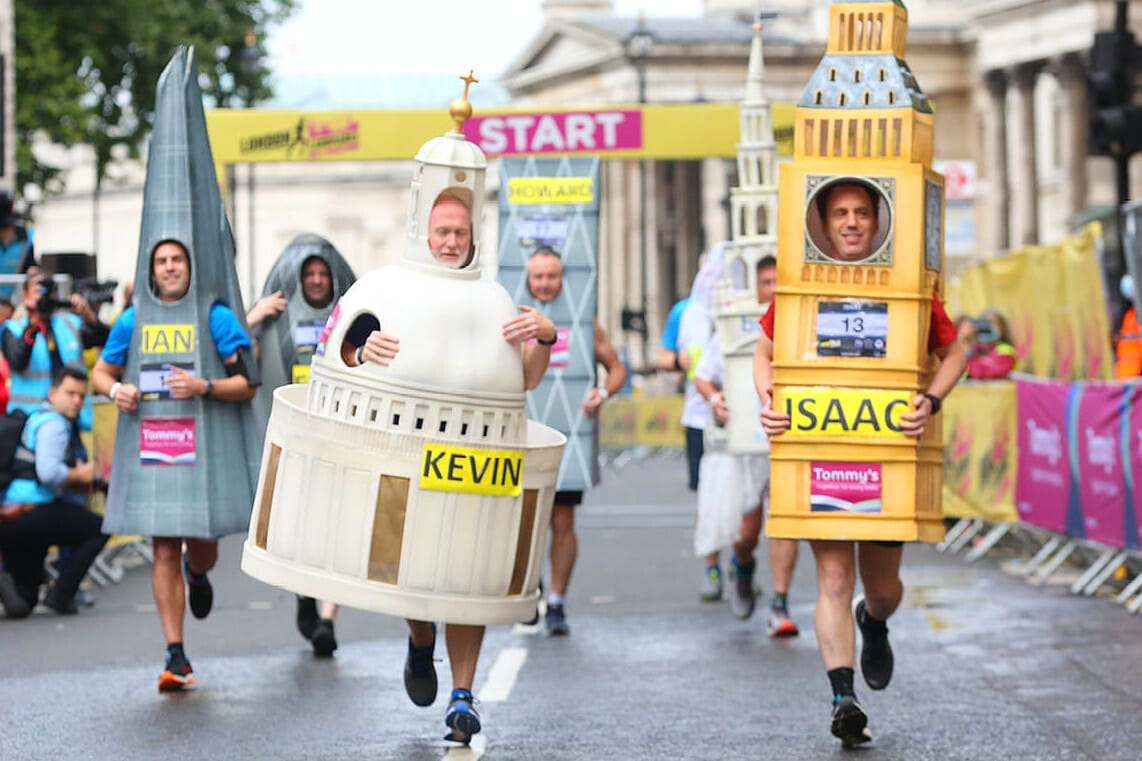 How to spectate
As with any central London running event, you can expect the capital to be heaving with thousands of spectators and runners on race day. While this brilliant support is a major part of what makes the London Landmarks Half Marathon such a fantastic experience, it also means that you're best off planning your day to make sure you're in the right places at the right times! Here's our advice for guaranteeing a successful day of cheering on your runner.
Know the course. This 13.1-mile route weaves in and out of central London's streets, doubling back on itself on multiple occasions and exploring narrow roads as well as major thoroughfares. Plan to stand at places where you're likely to see your runner more than once to avoid trying to fight the crowds across the city. For instance, basing yourself around Mansion House will mean you're close to miles three, eight and 10!

Know your runner. How quickly are they planning on running the course? How are they feeling that morning? Are they planning on slowing down around the course highlights to savour the atmosphere? All of this will impact on when and where you will see your runner. There's no point trekking to Monument if they've already passed by the time you get there!

Beat the crowds. London's Tube network will be heaving on the day of the race. To avoid having your face squashed into a stranger's armpit, try to get ahead of the crowds and arrive at points along the course early. It's better to wait for your runner than it is to queue for a train!

Get to the finish line! As a spectator, your role is to cheer on the person you're supporting and greet them at the finish line (as well as enjoying the atmosphere). They are likely to be tired by the end of the race, so to avoid having a grumpy runner on your hands, make sure you're there as they finish to congratulate them and help them recover. If they have signed up on behalf of a charity, there may well be dedicated support waiting for them.
Be there
The London Landmarks Half Marathon is quickly becoming one of the capital's most popular running events, raising huge amounts of money for charity and helping people to create unforgettable memories at the same time. Signing up to run on behalf of a charity is your opportunity to be part of this fantastic experience in 2024!