The sooner you sign up the sooner the team can start supporting you on your journey!
Fundraising target
The fundraising target is £100 but you can set your own goal.
Whatever your target, and whatever you raise, you will be supporting life-changing MS research.
MS Society
Your entry fee helps cover the cost of putting on MS Walk, but unfortunately it won't stop MS alone. That's where you come in. You are needed to raise as much money as possible for vital MS research.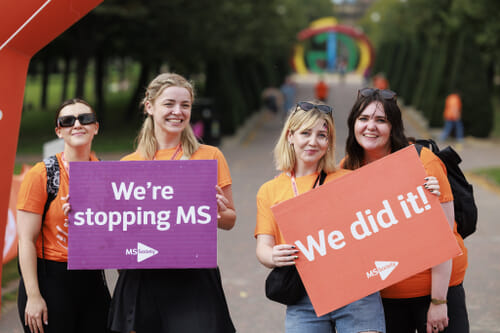 Fundraising tips
Here are a few simple steps to get started:
Set up a JustGiving page.
Setting up a JustGiving page is the quickest and easiest way to kick-start your fundraising. You can set up an individual page or a team page and all fundraise together.
Personalise your fundraising page with pictures, updates and your reason for walking. You're joining an incredible community from across the country and your story may inspire someone else to get involved or donate.
To get started, go to the MS Walk JustGiving page.
Share it with everyone.
Now that your Just Giving page is up and running, make sure you let everyone know about it. Ask people to donate to your page or maybe even get them to come along on the day and do the walk with you. The more people you talk to, the bigger your fundraising amount will be.