Just because the nights draw in doesn't mean you need to head indoors - with the right clothing and equipment, you can keep running once the sun has set. Here's what you need to look out for.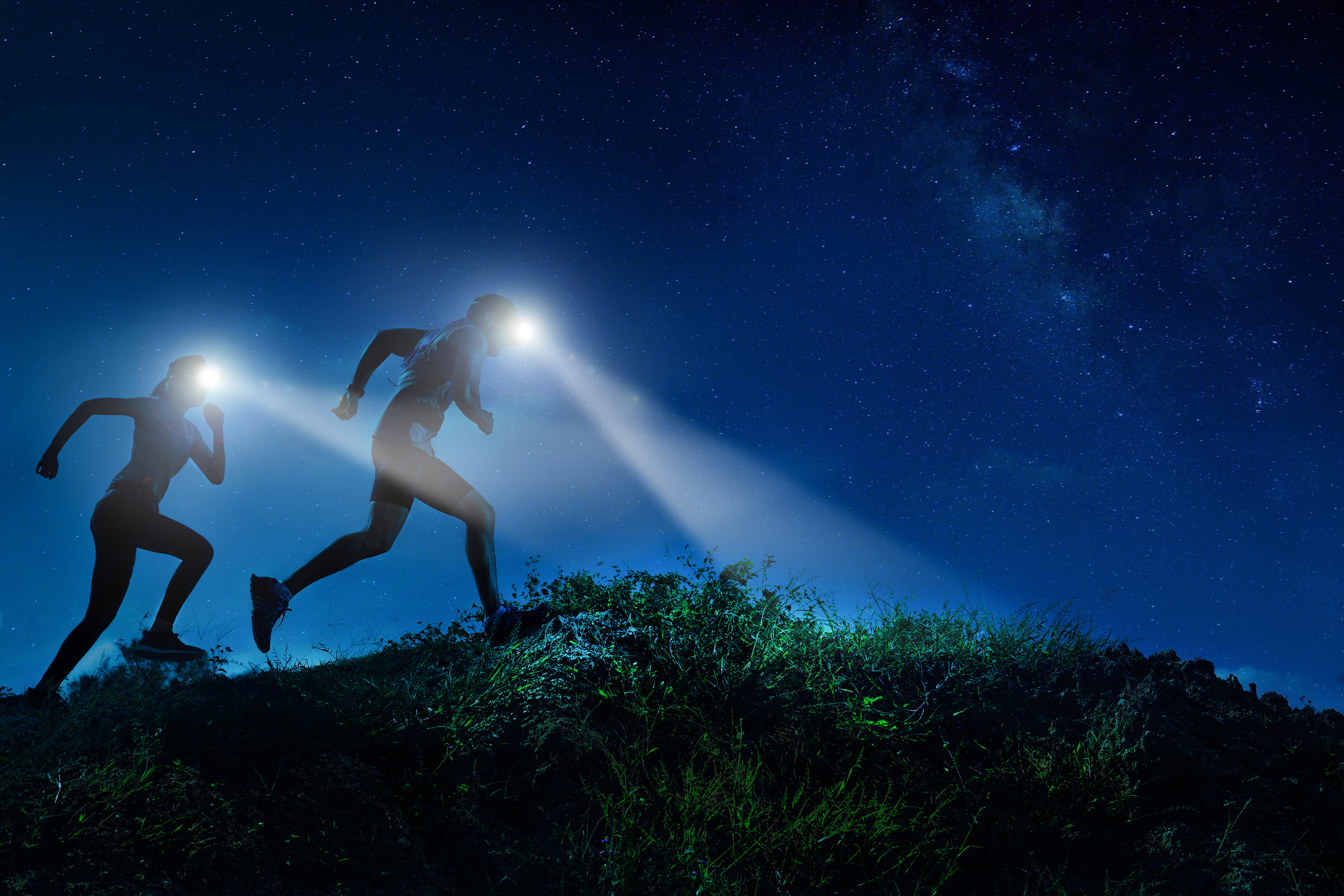 True, there's some sense to slowing down your training as the days grow colder and the nights get longer, but that doesn't mean stopping entirely. What's more, if you do want to continue training after work then you shouldn't need to head indoors to a dreadmill (sorry: treadmill). With the right kit, you can keep running outdoors in the dark and not worry about being seen. This is your comprehensive guide to the kit you need to run in the dark this winter!
What to look out for
Before we get stuck into specific kit suggestions, we'll outline the key benefits of reflective kit and running lights so that you can make informed decisions about what kind of clothing and equipment will work best for you.
Reflective clothing for runners
When it comes to running wear for training in the dark, there's two schools of thought: you can either pick up gear with reflective patches and panels or gear that is fluorescent and high-visibility (and sometimes gear that is both). Both are going to be useful - the key thing to look out for is that when something is marketed as reflective, make sure it actually is. Plenty of running shoes or black running jackets will claim to have reflective panels but will be useless when put to task. As a basic principle, forget fashion and pick something that is as fluorescent and reflective as possible - you'll be thankful of it when you hit the streets.
Running lights
Heading out after dark means you can't always rely on street lights to see where you're going, particularly if you're headed off-road. A headtorch is going to be one of your most indispensable pieces of kit for running in the dark but it's not the only type of light you should be picking up. Some smaller lights, which either clip on to your clothing or are built into your jacket, are for helping others to see you, not helping you pick your route. Both have a hugely important role to play in keeping you safe.
Kit list
It's a simple concept: to stay safe while running in the dark, make yourself as bright as possible so that drivers and other road users can't miss you. To get lit up like a Christmas tree, you'll need a few of the following items.
Reflective, fluorescent jacket
A winter running jacket is the largest item of clothing you'll wear while out training, so it needs to packs a fluorescent punch - look for something with 360° high-vis material, with reflective straps clearly across the torso and back. Decent reflective jackets may also have small lights sewn into the material, too. As with any running jacket, it also needs to be lightweight, breathable and comfortable on the move, ideally with a pocket to stash keys or your phone. While all of that might sound like a tall order, there's a great range of reflective jackets on the market to choose from at different price points.
TOD's advice: Avoid anything that relies on 'reflective detailing' - it won't be as visible as a bright reflective jacket. We've been wearing a Ronhill reflective jacket for years and its combination of a garish, reflective colour and sewn-in lights hasn't let us down yet.
Clip-on light
One of the most cost-effective ways to stay seen while running in the dark is a clip-on light, which shouldn't need too much explaining. These can be picked up pretty cheaply and emit a bright, flashing light to advertise your presence to any car or walker nearby. These usually clip onto your waistband so make sure you've adjusted it to a comfortable fit before setting off.
TOD's advice: While these lights are visible from a great distance, they clearly don't offer 360° brightness so should be paired with another item from this list.
Headlamp
Running in cities once the sun has gone down means you can probably rely on street lights to see where you're going, particularly for shorter routes. For anyone heading into the great outdoors, you will need to carry a torch and the most convenient type is a headlamp. Not only can you keep your hands free - convenient for staying balanced on trails - but headlamps have become extremely high-powered torches in the past decade, usually featuring multiple settings to suit your personal preference. You can focus the beam into one stream to see further or diffuse it into a wider arc, helping to see more around you.
TOD's advice: Make a judgement call on whether you want a headlamp that is rechargeable or runs off batteries. For shorter runs, a rechargeable model will do fine - if you're entering an ultra run or multi-day adventure race, carrying spare batteries is likely your best bet. Take care to consider how bulky the battery pack is, though, as larger ones with more battery life can be uncomfortable.
Reflective tights
Chances are you'll be considering running tights for the winter anyway, so you may as well pick up a pair with reflective strips sewn in! Bear in mind that this may be limited to reflective stitching, which can be useful but is not as effective as proper reflective panels.
TOD's advice: Again, pair running tights with another item from this list to guarantee being seen - they're an added bonus, not a complete solution.
Reflective vest
If it's too warm for a running jacket, grab yourself a reflective vest for 360° high-visibility. These come in different designs, ranging from a full running vest with an integrated hydration pack, built from reflective material, to a simple design of adjustable suspenders and a belt, made with reflective bands. The choice you make will be dictated by your budget and the type of running you'll be doing throughout the winter - for short 5Ks, a lightweight but effective design will be enough but clearly not for longer runs where hydration becomes important.
TOD's advice: You don't need to spend a lot to get something effective - even a cheap reflective vest can be seen from about 800m!