From sea swimming to an ice bath in your garden, cold water is having a moment. Diving into open water swimming will help you feel healthier and happier, and we've got everything you need to get started. Come on in - the water's (not) warm.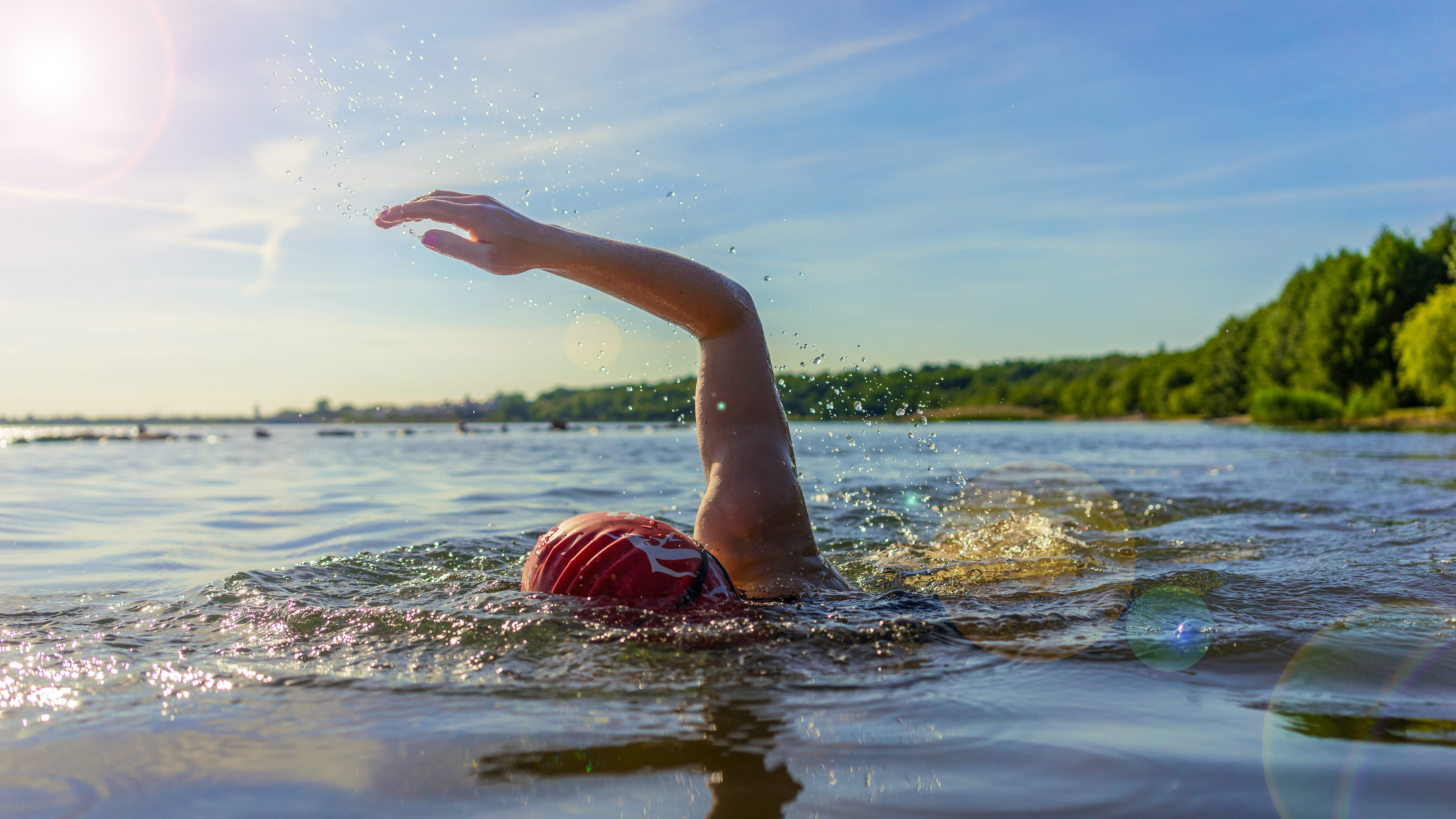 From the BBC's Freeze the Fear programme with celebrities being immersed in icy water by extreme athlete Wim Hof to Hollywood actor Chris Hemsworth swimming across an icy fjord in his Limitless docuseries, cold water swimming is having something of a moment. Celebrities, scientists and everyday athletes alike are raving about the physical and mental benefits of submerging yourself in icy cold water, with people all across the UK buying and building ice baths in their gardens. We reckon there's a simpler, more sociable and more effective method to reap the same rewards: open water swimming.
Swimming in rivers, lakes and the sea has been growing in popularity over the past decade, partly as people search for escapism from our increasingly digital, urban and sedentary lives. The simple act of diving into cold water has an immediate effect on washing away stress and tiredness, leaving you invigorated, if a bit chilly. Communities have built up around people who have discovered the restorative powers of open water swimming, along coastlines and even in mountain tarns.
Getting started can feel daunting enough to put your plans on ice, though. By its very nature, open water swimming is done in the great outdoors and, quite legitimately, people can have concerns about diving into wild waters. When a few sensible and common sense precautions are taken, though, reaping the benefits of swimming outdoors becomes easy - so what are you waiting for?
Why swim in open water?
Anyone who has ever dived into open water will know the instant, almost burning sensation of the cold, particularly outside the summer. For many, that is a feeling to be avoided at all costs, not actively pursued. There are loads of benefits to both that cold water immersion and the activity of open water swimming, however, ranging from your mental health to your social life.
Physical benefits of open water swimming
While we're not going to embark on a full biohacking lecture, there are some clear physiological benefits to open water swimming and cold water immersion that are worth paying attention to. That freezing water that makes most people swim back to the shore actually has a hugely beneficial impact on your immune system, boosting the production of white blood cells and reducing the production of hormones responsible for inflammation. What's more, blood vessels constrict in cold water - which can help to reduce inflammation - and when they dilate after you get out, it essentially acts as a deep clean of any dead cells and waste products.
So while the physical shock of the cold may be uncomfortable, diving into cold water can have some serious benefits for your body and longevity. Where open water swimming comes up trumps against simple ice baths is the movement involved, which gets your muscles and cardiovascular system working for an additional workout, and the social aspect, which we'll come onto in a moment.
Mental benefits of open water swimming
Heading into the great outdoors has an almost instant positive impact on your mental well-being. We've discussed this at length before but, in short, being in nature reduces feelings of anxiety and depression, even helping people to recover from injuries faster. So getting to your local river, lake or coastline for a swim will help you to feel happier even before you dive in.
Once you take the plunge, the benefits continue to rack up. Cold water triggers a boost in dopamine production, which is the natural 'feel good' hormone. In fact, a study in 2007 found that regular cold showers could even be more effective at boosting your mood than prescription medication - with the added bonus of stress-reducing nature all around you, the benefits will be enhanced when swimming outdoors.
On a more anecdotal basis, open water swimming is just fun - there's a reason that clubs like the Dawnstalkers are set up, which is that people become addicted to the mood-boosting effects of diving into cold water with others!
Social benefits of open water swimming
As we outline below, open water swimming shouldn't be done alone. That means either joining an existing club or finding some enthusiastic friends to tag along, both for the company and for security. In fact, the social aspect of swimming in the great outdoors is a major part of what draws people back again and again.
While research published in the Journal of Sport and Social Issues has investigated the social world of outdoor swimming, we prefer to focus on the anecdotal reports of our users, friends and personal experiences, where diving into open water is best done with others. It is an activity that completely removes you from day-to-day life and the shared experience of immersing yourself in cold water and emerging feeling rejuvenated helps to forge closer bonds of friendship.
What's more, if you're looking for an activity to do with friends, family or a partner, open water swimming has the added perk of actually being able to guarantee holding a conversation, unlike things road cycling or running!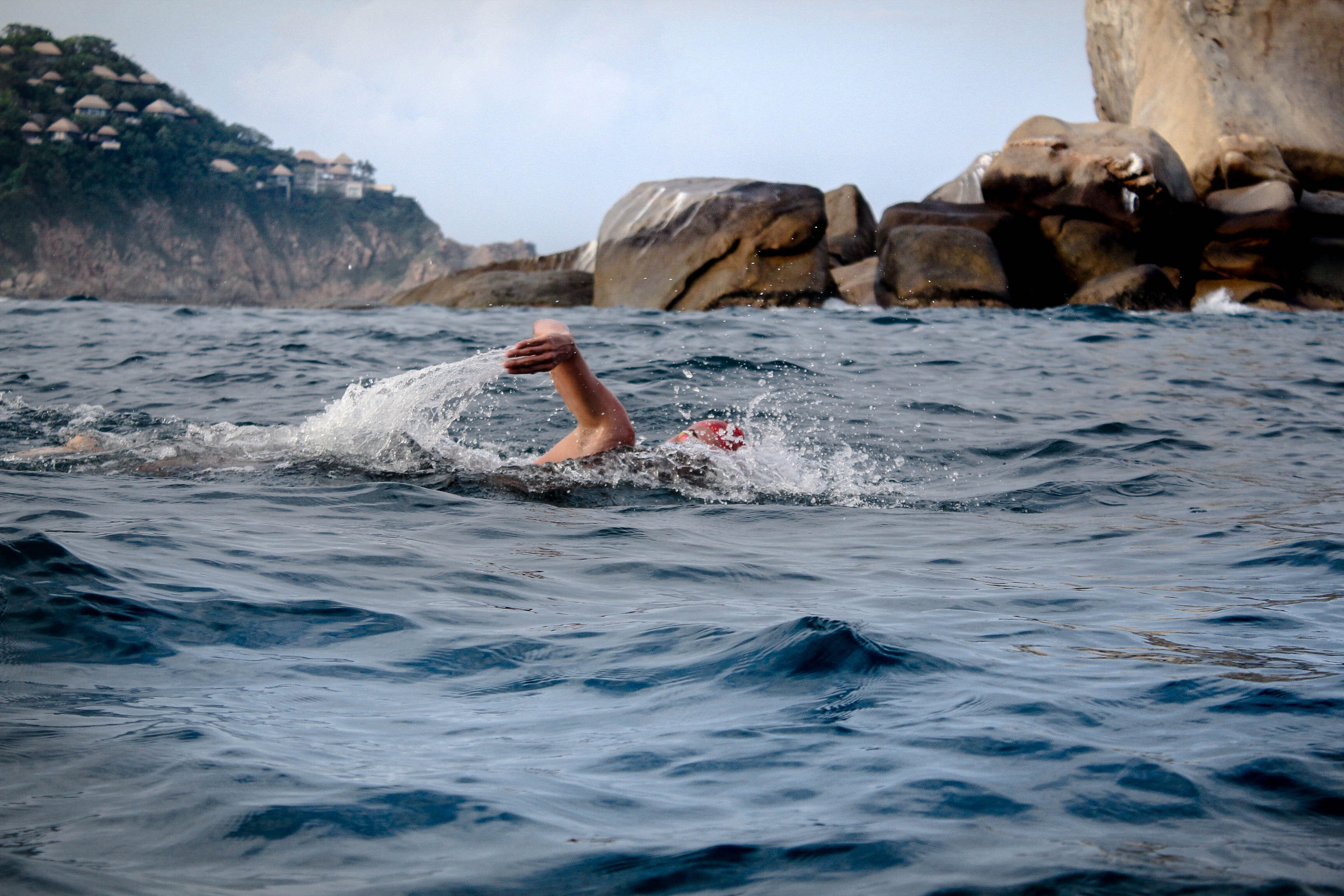 How to start open water swimming
Understanding how open water swimming is good for you is one thing - actually getting out there and diving in can feel like another entirely! With a few simple steps, though, diving into a river or lake will seem like the most natural thing in the world.
Go with a group
We've mentioned this above but it's certainly worth clarifying. Done properly, open water swimming is perfectly safe but it's always worth going with other people around just in case you get into trouble. This is applicable wherever you go swimming, from a local river to the sea - with someone else around, you can look after each other and share the experience. Not only is it also more fun swimming with others, if you pick someone who already swims then you have the added benefit of tapping into their knowledge of the best places to swim in your local area, as well as places to avoid.
You can find swimming clubs on our website to reach out to or head to a local designated swimming area, like a reservoir activity centre. You may have to pay a small amount to swim there but you can guarantee having other people around!
Don't worry about swimming
Yes, in a guide about open water swimming, you were just advised to not worry about actually swimming. At least for the first couple of times you go, anyway. Much of the nervousness around swimming outdoors is about the cold water and exposed environment, rather than the act of swimming itself. To that end, we'd recommend just heading to a local river, lake or stretch of coastline with some friends of submerging yourself in the shallow water, just to get a feel for it. Spend some time in there but don't worry about practising your butterfly for now.
Practise your technique
If you're not a confident swimmer, it would be worth heading to your local indoor pool for a few sessions before you take the plunge outdoors. This is more to reassure yourself that you are capable of swimming somewhere more wild but if you are planning to dive into the sea, you may want to practise breathing between strokes to account for waves. This very much depends on how much actual swimming you intend on doing but for the purpose of boosting your confidence, heading to a secure, indoor pool is a good idea.
Make a day of it
Open water swimming differs from things like running and cycling in a few ways but one that takes a bit more consideration is that you won't start or finish at home, unless you're lucky enough to live next to open water. You'll likely drive across to a local river or lake and need to pack a towel, dryrobe and change of clothes - but rather than seeing it as a faff, take the opportunity to make a full experience of the trip.
Take along some food and a flask of coffee to share with friends as you fumble around for beanies and woollen jumpers with frozen fingers - it's all part of wild swimming! The camaraderie of that shared experience is a huge part of what entices people to carry on swimming outdoors, so lean into it and have fun.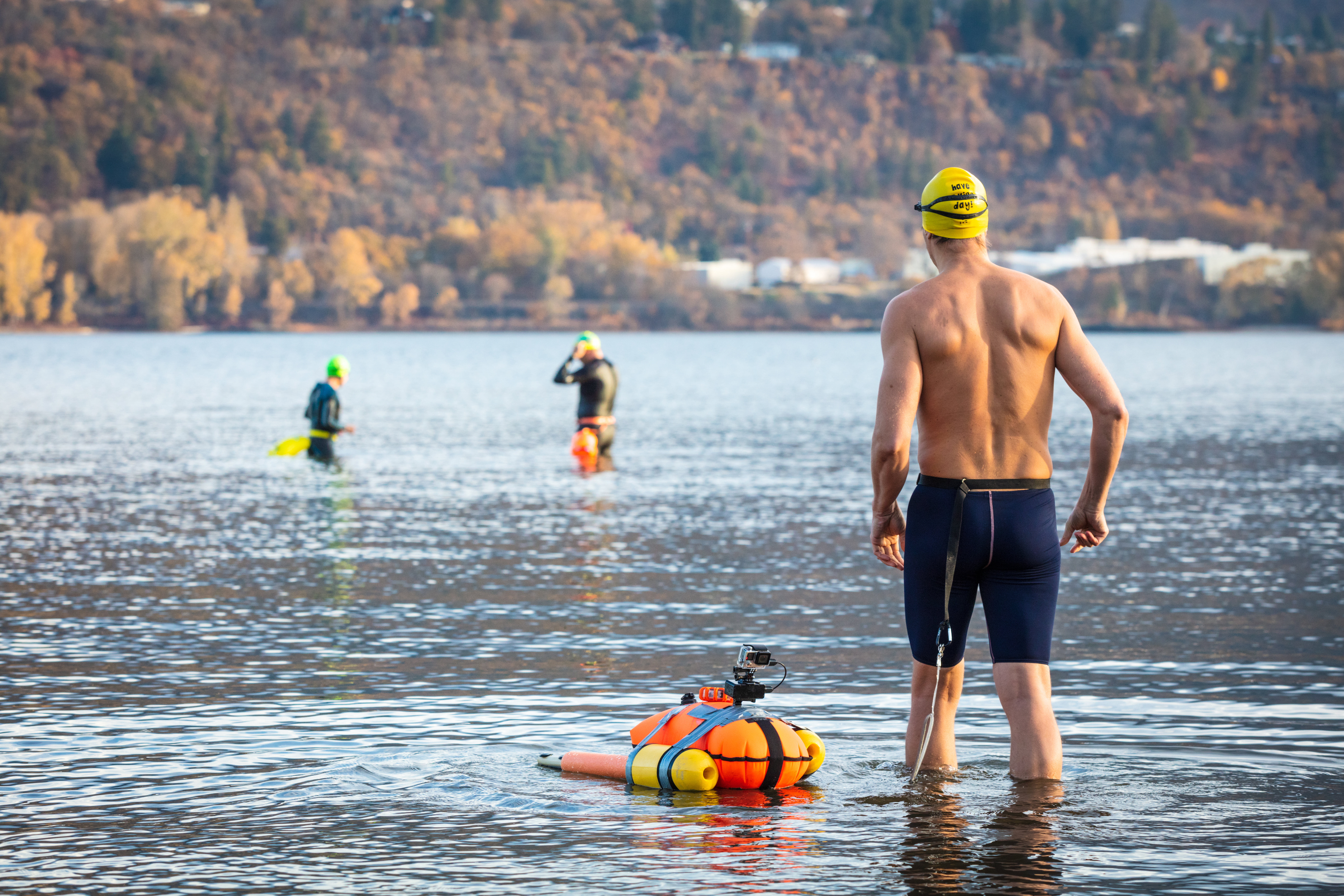 Open water kit list
So, can you just head to your nearest stretch of open water with some friends and dive in? In some cases, absolutely - but not in all. Let's see what you're best off investing in to make the most of your experience.
Wetsuit
This will cause debate because you will see some experienced swimmers breaking ice in the depths of winter to swim in just a regular costume and a pair of gloves, embracing the physical benefits of cold water. For first time swimmers, though, we'd recommend getting a wetsuit and potentially adding some boots and gloves - for cold water swimming, which is really anything cooler than about 16°C, you will be far more comfortable. Some swimming venues will insist that you wear a wetsuit for safety reasons, too.
Of course, in the summer months you can choose to ditch the neoprene and go 'skins' along with the hardened cold water veterans. In all cases, it's worth doing your research on where you are swimming to see what other people recommend.
Tow float
If you are planning on swimming in a shallow river with other people, this will not be necessary. For lake and sea swimming, though, it is well worth your time getting a tow float for your safety. This is essentially a neon, high-visibility float that is attached to your ankle or waist by a line, showing others where you are. We'd still recommend swimming with other people but that extra layer of safety can help you feel much more confident about getting into open water.
Tow bag
It's a classic outdoor swimming conundrum - what do you do with your clothes and valuables when you dive in? Well, you either leave them on the shore (providing you trust the area you're in) or you get yourself a dry bag, allowing you to take everything with you. A relatively small - maybe 10L - bag will be enough to pack a towel, clothes and your valuables so you can explore the water in confidence. It also allows you to swim from point to point, opening up new possibilities for your wild swimming experience.
Changing robe
Again, this is not strictly necessary for open water swimming - a humble towel will work just fine. We can, however, say from experience of using both that a changing robe is a much more pleasant and practical way of drying off and getting changed after swimming! These are large robes with a towelled, fluffy interior and - usually - a waterproof exterior, complete with arms, a hood and reaching to your knees. You can zip it up get changed right there and, even better, you can continue wearing after as an extra layer. After you've stepped straight into one from leaving the water, you won't go back to a towel!
Find an open water swimming club
Groups of swimmers are banding together across the length and breadth of the UK to share the experience of open water swimming, so even if you don't know anyone else who fancies it, you won't be alone! Browse the available clubs below or click below to discover swimming events near you.