With thousands of runners taking part each year, this headline race is Manchester's original and greatest running event - here's why you should be there in 2023!
The Great Manchester Run is one of the North West's biggest running events and attracts over 20,000 runners to the city each year for its half marathon, 10K run and two kids' races. What you might not know, though, is this same 10K run is regarded as the biggest 6.2-mile race in Europe.
With all due respect to the Great Manchester Run, that caught us by surprise. There are some major 10K runs around, like the ASICS London 10K, Scottish 10K and Cancer Research UK London Winter Run, and that's only mentioning races in the UK!
So the big question is this:
What makes the Great Manchester Run the biggest 10K in Europe? With entries and charity places still available for the 2023 edition, the 20th anniversary, we wanted to take a deep dive into this hugely popular run.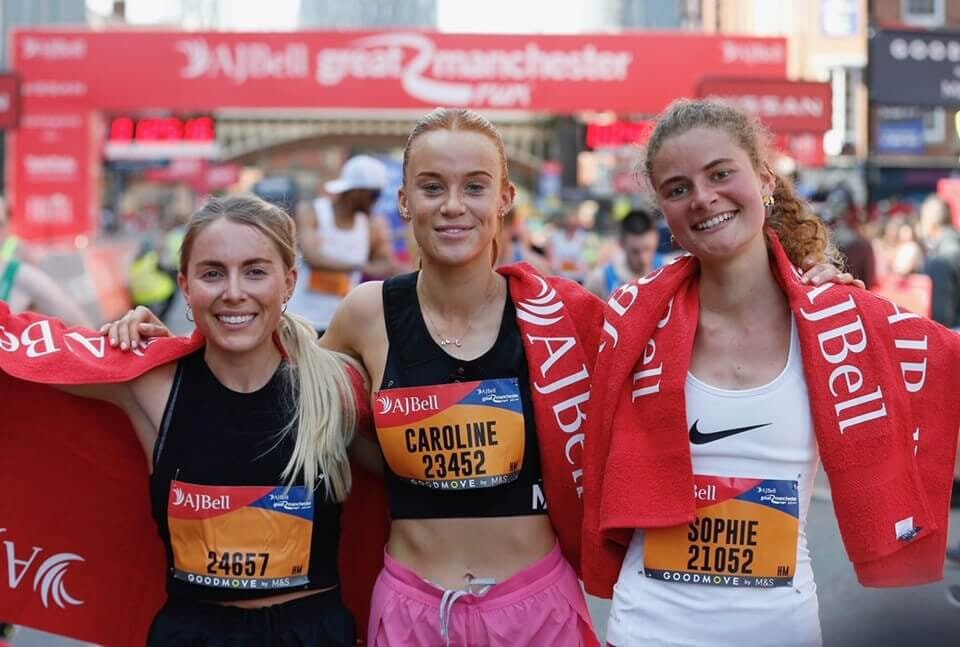 What else is on at the Great Manchester Run?
While the 10K race is clearly a fan favourite, there's much more to get excited about at the Great Manchester Run, both for runners and for supporters!
The Great Manchester Run | Half marathon
This 13.1-mile race is a major event in its own right and is one of the biggest running races in the North West's calendar. Thousands of runners line up on the start line each year for a course that has some serious PB potential.
From its city centre start, the half marathon heads East to the Etihad Stadium and returns along Mancunian Way, with brilliant crowd support and on-course entertainment to keep runners moving at speed. Runners then head to Salford Quays, past the Imperial War Museum and within a stones throw of Old Trafford, Manchester United's Theatre of Dreams, so you can appreciate both grounds in one race! From there, the route heads back to the city centre for a raucous finish line heaving with spectators.
With entertainment zones every kilometre to keep the energy high and a flat profile that's ideal for picking up the pace, there's no wonder that runners return each year to this half marathon en masse!
The Great Manchester Run | Kids' races
Why should adults get all the fun?
These two kids' races - the Junior edition, for ages 9-15, and Mini, for ages 3-8 - are both designed with fun in mind, allowing kids to get involved and test their speed in a safe, controlled environment. Both events are hosted at the Etihad Stadium, home of Manchester City, for an inspirational backdrop that's sure to help these young runners find their feet.
The Mini race, where families can run together, heads around the circumference of the stadium and back for a total 1.5K distance; the Junior race follows the same format but includes an additional loop of the neighbouring Manchester Regional Arena. These flat courses are perfect for kids who want to race and those who just want to be involved.
With its two kids' races, the Great Manchester Run has something for the whole family, which helps to explain how its 10K run has become the biggest in Europe.
Let's take a closer look at the race itself.
What is the Great Manchester Run 10K route?
With its world-famous landmarks, historic buildings and vibrant culture, Manchester is a brilliant location for a running event, drawing visitors from afar as well as local runners. The Great Manchester Run 10K takes full advantage of this setting, with plenty of highlights along its route to look out for.
City centre start
Lined up along Portland Street, just round the corner from Piccadilly Station, thousands of runners wait in nervous excitement for their wave to reach the start line. Live music and a raucous crowd of Mancunians build the atmosphere to a fever pitch as the claxon sounds and you head off through Manchester's historic streets on the Great Manchester Run!
Old Trafford
After racing along the long, straight stretch of the A56, runners arrive at one of Manchester's most iconic landmarks: Old Trafford, the home of Manchester United. A water station stands outside the ground so with a dual offering of inspiration and refreshments, the Theatre of Dreams is a welcome sight after 4K.
Imperial War Museum
Just round the corner from Old Trafford, on the banks of Salford Quays, stands the imposing Imperial War Museum, an impressive feat of architecture that stands just after the halfway point of the race. Another historic location stands next door: the set of Coronation Street!
Race to the finish
After a loop of Salford Quays, runners head back up the A56 to the city centre and the finish line on Deansgate. That stretch of open road is why this 10K run is regarded as a PB course by many runners - it's a final opportunity to really put the hammer down as you approach the final couple of kilometres and a barnstorming finish!
What's special about the Great Manchester Run?
With a brilliant route that has PB potential and a series of races offering something for every runner, it's easy to see why the Great Manchester Run attracts over 20,000 runners each year. That's far from all, though - this event, and its 10K run in particular, has some star-studded credentials.
Unforgettable atmosphere
Manchester is famous for its warm welcome and the same inimitable spirit helps to create an electric atmosphere all along the course of this 10K run, particularly through the city centre. With live music and entertainment zones, the run has an infectious energy that keeps runners moving and crowds cheering - it's why 99% of runners say they'd recommend it to a friend!
Live coverage
Each year, the Great Manchester Run is broadcast live on the BBC, which is testament to its popularity with both regular runners and elite athletes. With plenty of people hitting the start line in fancy dress for charity and celebrities taking part, the run is transformed into a national occasion that is broadcast around the world.
Elite athletes
While the 10K run is available to runners of any ability, the Great Manchester Run is prestigious enough to attract some serious talented athletes, including gold medallists like Eilish McColgan. With a host of elite runners vieing for a first place finish and the course record, the already busy crowds grow to line the streets throughout the city centre, helping to build the atmosphere even more!
So what's next?
The Great Manchester Run returns on Sunday 21 May (the kids' races are on Saturday 20 May). With general entries and charity places still available for the 10K run and half marathon, there's plenty of time to get involved and hit the start line feeling ready to race!