This popular distance is great for both racing and exploring local trails, but where do you get started? Well, right here. We've collated the best advice - including Couch-to-10K and how to train - into one simple guide to help you get moving.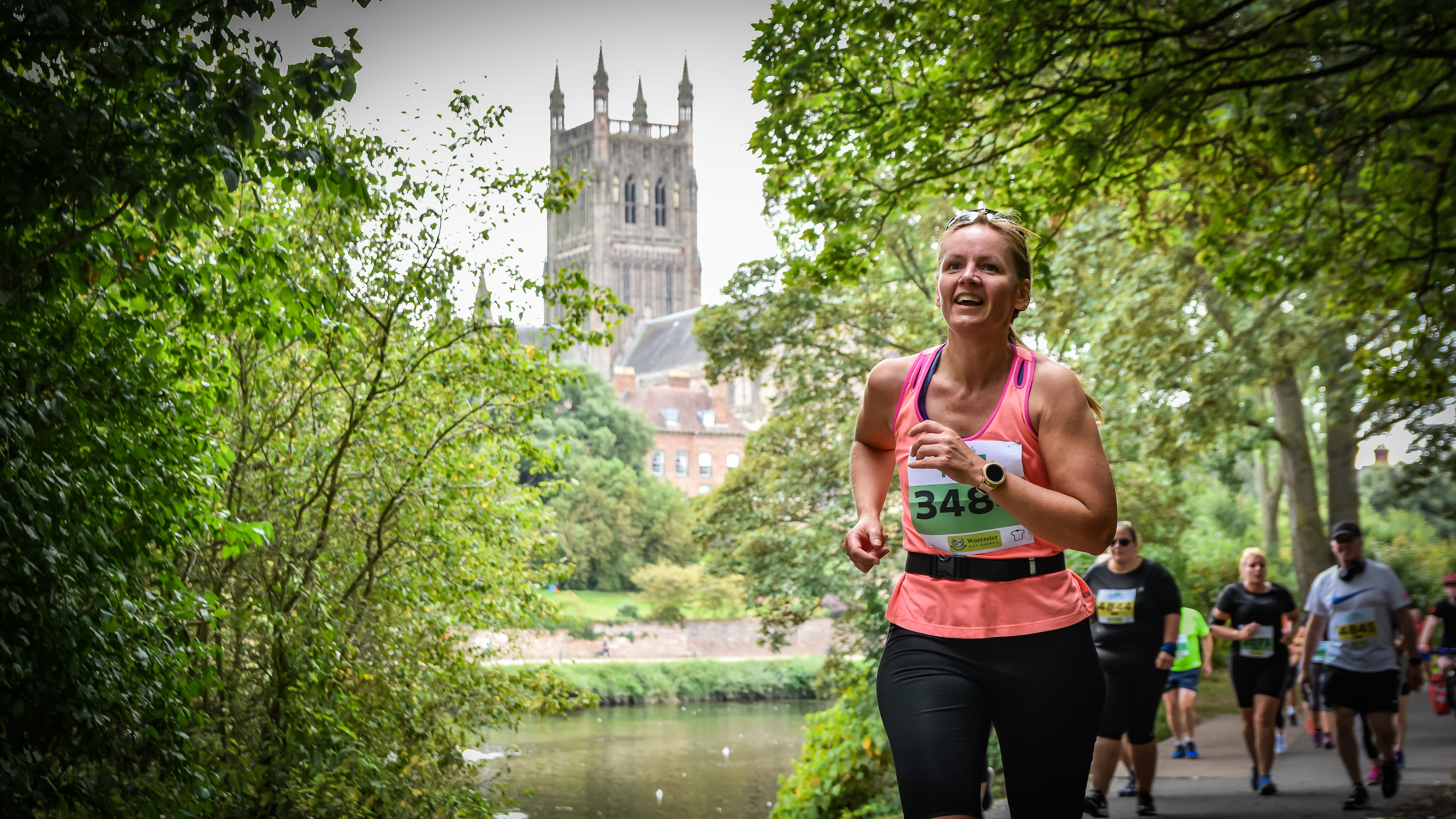 10Ks are one of the most popular types of run in the UK, with thousands of events across the length and breadth of the country and many thousands more people keen to get involved. From local races like the Saltwell 10K (allegedly England's oldest road event) to major events like the Vitality London 10,000, there's a huge range of runs to get excited about!
If you're a beginner, 6.2 miles can seem like a daunting prospect but getting involved is easier than you might think. Not only are there plenty of training plans to help you get started, like Couch to 10K, there's plenty of advice to help you make the most of the experience, including tips for running your first event.
You don't even need to run off and find all this information - we've gathered everything you need right here.
Why run a 10K?
Choosing to start running is a decision to move your body, boost your endorphins levels and be active outdoors. Choosing to run 10Ks, though, combines all of those benefits with the added bonus of thousands of events to choose from and a supportive running community!
10Ks - which is 6.2 miles - is a middle distance run, meaning it takes more pacing than a fast 5K but can be attacked more than a steady half marathon. An average time is between 50 - 70 minutes, which means that running steadily at 10mins/mile will lead to finishing in around 60 minutes. More experienced runners will look closer to 45 minutes or faster.
Targeting 10Ks will also help you to keep motivated in your running and open up a whole world of possible events to enter!
Running motivation
We all know how it goes: you decide to start a new kind of exercise or hobby, either as a New Year's resolution or in a flash of inspiration, and after a few weeks the enthusiasm just starts to ebb away.
That's why having a specific goal is so important and running 10K is a very achievable goal, too. Many people begin their running journey with a couch-to-5K programme, which can be very effective. For some people, particularly for anyone new to running but who has been active previously and has a good base level of fitness, 5K can seem too easy.
A 10K, though, is a more ambitious challenge without seeming impossible to anyone new to running - it strikes the balance between challenging and manageable.
Events and racing
Not everyone who begins running is interested in aiming for a PB or racing - in fact, people constantly asking which marathon you want to sign up for when you've only just started jogging can put you off!
Whether you have a competitive edge or not, though, signing up for an event can help to motivate your training and will provide new opportunities, like running on closed roads with thousands of other people
10Ks are one of the most popular race distances in the UK, ranging from locally organised runs to major mass-participation events, like the Vitality London 10,000 or the Age UK Leeds Abbey Dash. By training to run this distance, you open up the possibility of being involved in hundreds of events across the country, exploring new routes and sharing the experience with other like-minded people.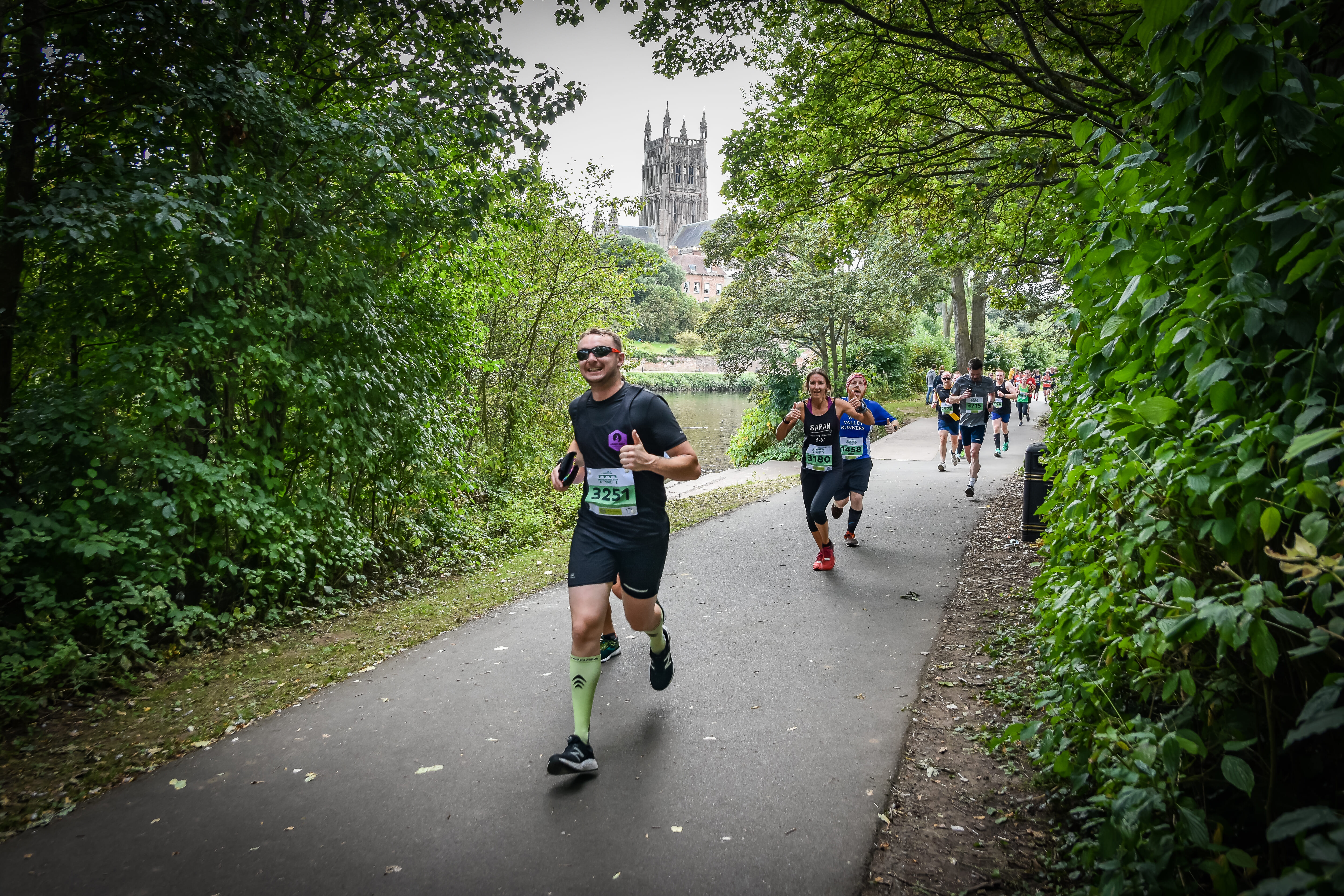 Couch to 10K
Once you've made the decision to run, getting started will usually involve finding a training plan to structure your approach. One of the most popular options is the Couch to 10K.
How to get started
Signing up for a specific Couch to 10K plan will provide advice on structure but our advice would be to remain wary and do your research. It's very easy for someone with few credentials and limited understanding of exercise and physical science to create an online plan or advice article. Before you invest any money, make sure what you are signing up to is worth the investment.
In general, your plan should follow these rules:
Start slow
You may want to start running but launching straight into a PB effort will likely end up sending you straight back to the sofa. Instead, pick a short distance and keep your pace steady - walk if you need to. In fact, most training plans will use run-walking (i.e. varying between the two) as standard.
Stretch
If you're starting from being inactive then this is going to put a strain on your muscles and joints, so make sure you warm-up thoroughly before each run and stretch after to avoid injury. These basics will make a big difference to your performance and recovery!
Increase steadily
As you get more runs under your belt, the distance that you attempt should slowly increase, with an emphasis there on slowly. Most online programmes will have a time frame of roughly 10 weeks but feel free to take longer than this and increase your mileage incrementally. Any sudden increases will run the risk of setting you back.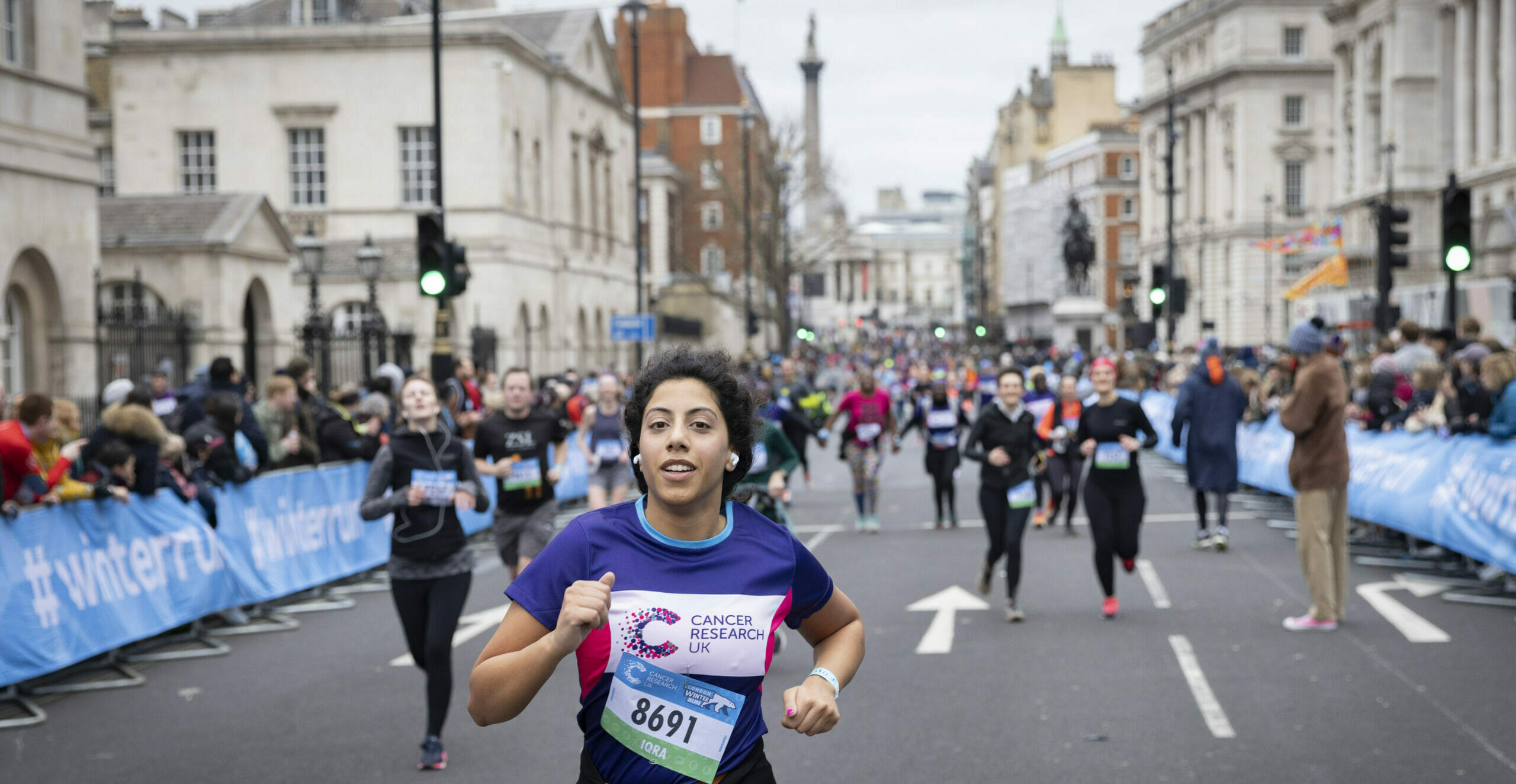 Cross training
Strengthen your joints and muscles by doing some strength exercises as well as running and walking. You don't need to start a full bench press workout, though - just some bodyweight squats, lunges, calf raises and core movements will help to condition your legs and torso for the added strain of running regularly, staving off injury.
Rest
A training plan will usually include running sessions three times a week, advising you to either rest or do strength training sessions on the remaining days. Particularly if you are starting from being inactive, we'd advise focusing on the rest and recovery to avoid overloading yourself but this doesn't mean just sitting around all day.
Head out for a walk in the outdoors and generally get your daily steps up to keep your muscles moving while avoiding the strain of anything more intense.
How to keep pushing yourself
A Couch to 10K plan will usually last for around 10 weeks but can take longer, so your enthusiasm might wane as time goes on! The key is to set yourself a series of mini goals that contribute to your overall target of running 10K, keeping your motivation levels high.
Even better, reward yourself for reaching those targets! Research from Stanford University has shown that this tactic can be highly effective when getting started with a new goal.
For example, you might decide to set a series of mini goals: running 2.5K, 5K and 7.5K. Set a deadline for these goals and plan how you are going to reach them. Decide on a treat for yourself for reaching that goal - it might be some running kit to help you push on or, if you're more like us, a meal that you love.
Whatever the reward, hitting that mini goal will provide fresh enthusiasm to push on.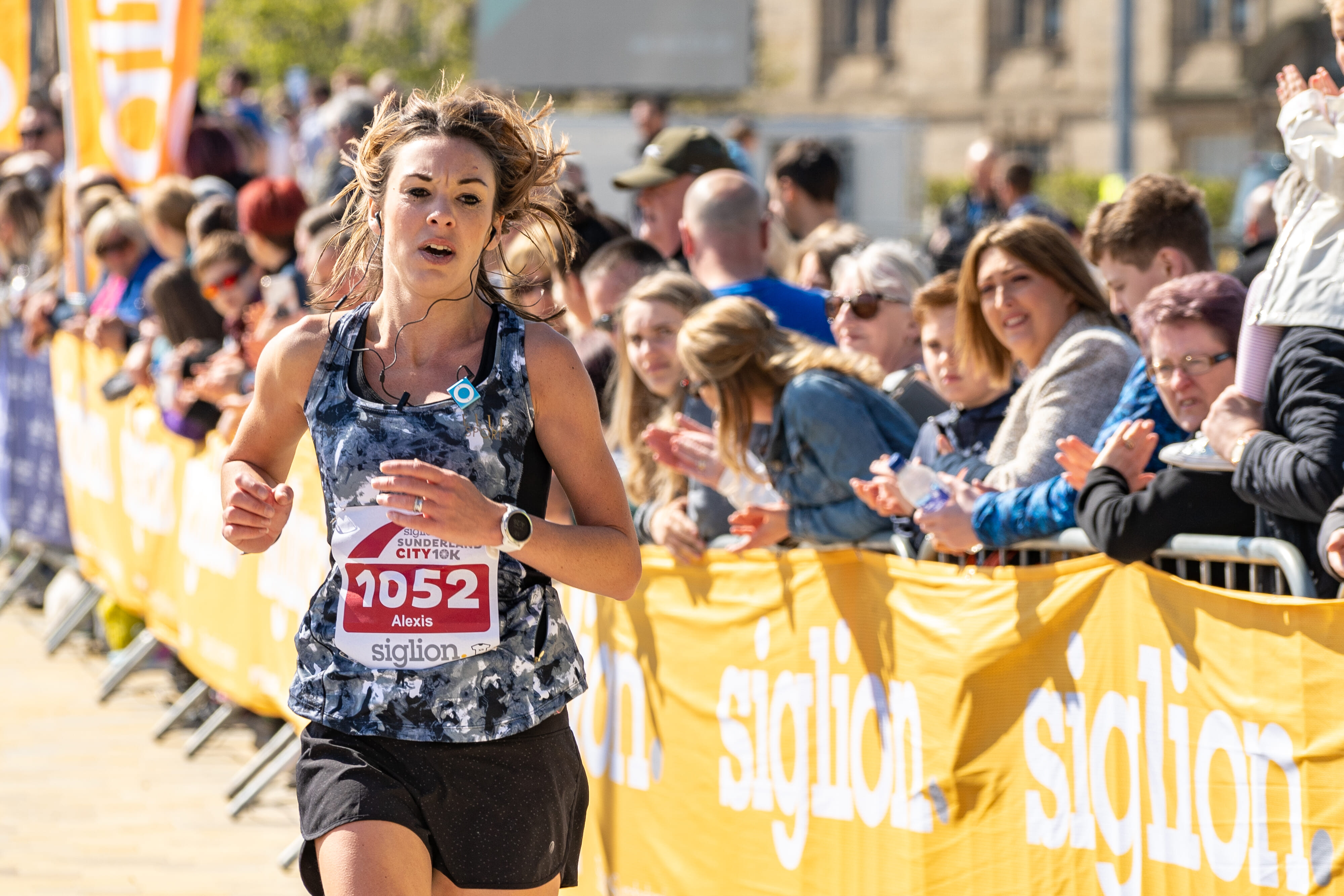 Running tips for your first race
Once you've decided to run, are using your running shoes and are following a training plan, the next step is to enter an event! Signing up for an event is about experiencing the camaraderie of being with other runners, exploring somewhere new and gaining added motivation to get out there and train.
If you've not signed up for a run before, it can seem daunting - read on for some added tips to help you enjoy the experience!
Average 10K time for a beginner
The most common question around signing up to a race is how long it should take you, which is a difficult question to answer! It will depend on how experienced you are, if you are pushing for a PB or not, how hilly the course is, whether you are running on roads or trails, and plenty of other factors besides.
It's also worth considering whether pushing for a particular time is in your best interests - striving for a PB can be exhilarating but if you're relatively new to running, it might be better to just enjoy the experience!
An average running pace for a beginner is about 10 minutes/mile, which would lead to a time of just over 60 minutes for 10K. More experienced runners moving at about 8 minutes/mile will finish in under 50 minutes and racing snakes will be looking to get as close to 40 minutes as they can, perhaps going faster.
The current men's and women's world records are below for comparison:
Women's road world record: 29:14 (Yalemzerf Yehualaw)
Men's road world record: 26:24 (Rhonex Kipruto)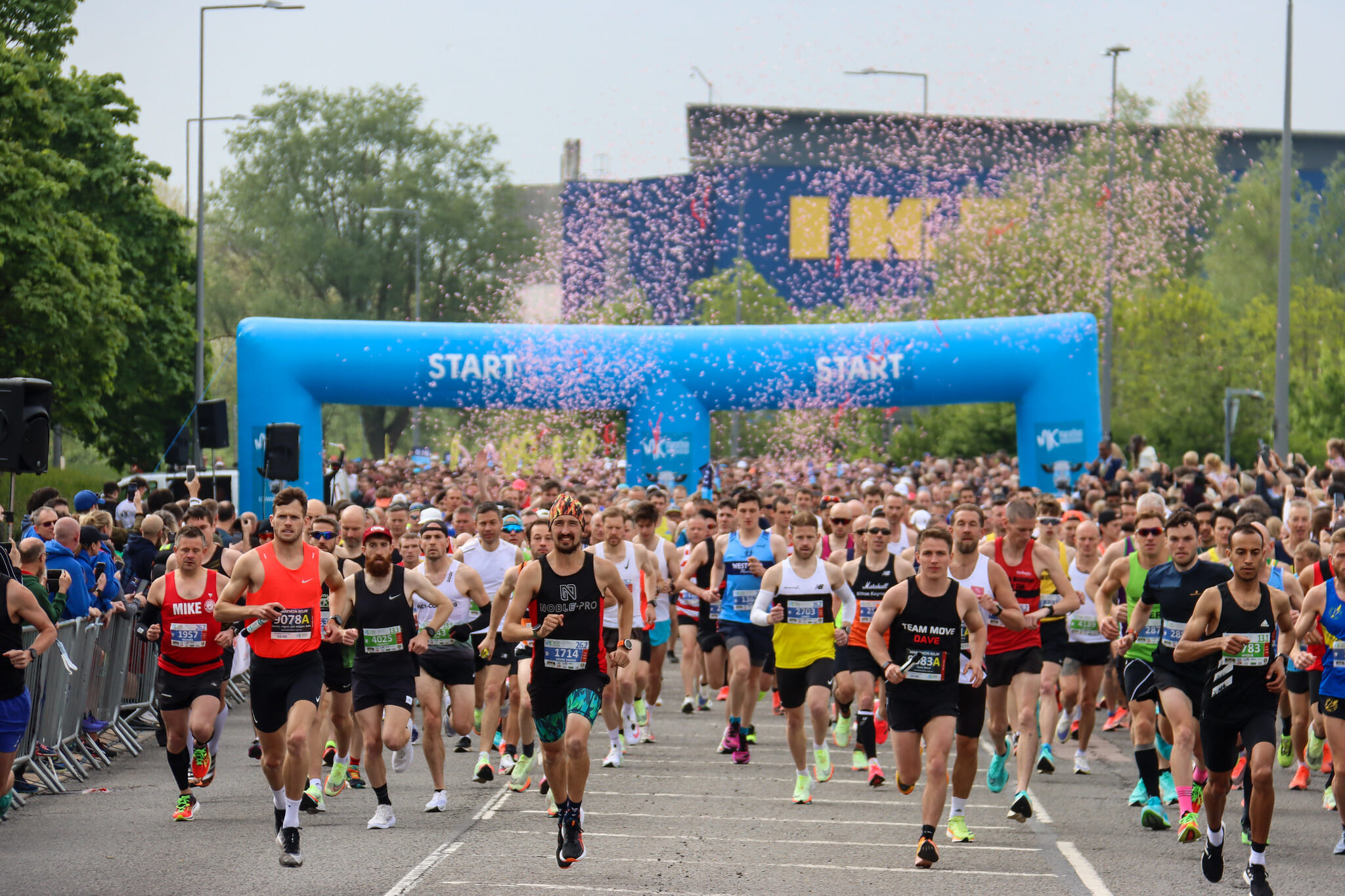 When are you ready?
If you decide to follow a Couch to 10K training programme, this will culminate in running 10K - whether that's an event or an independent run is up to you. For some people, running in a large event with hundreds of runners is the perfect way to celebrate the effort put into training. For others, they may want the confidence of having already got 6.2 miles in the bag before committing to a run.
Racing tips for beginners
It can't be overstated that running events are not solely about racing and chasing times - many people enter races for the experience of a mass participation event, to explore somewhere new or to raise money for charity. Pursuing a time is definitely something that many runners enter races for, though, so we've got a few tips if that's something you're interested in.
Don't shoot out the blocks
We've all done it: the run begins and you storm ahead, caught up in the excitement of the event and feeling fitter than ever! After a mile, though, fatigue catches up with you and the remainder of the run is like moving through treacle, as well as an injury risk. Instead, aim for a steady first mile to settle in and get into your rhythm.
Find your comfortable pace
In longer runs, like a marathon, there can be some sense to choosing sections of the course to speed up and other sections to slow down. For a middle distance race, it's more sensible to find a consistent pace that works for you and stick with it. Work back from your time - if you're chasing a 50 minute PB, that means each mile needs to be run in around 8 minutes.
Reel in the competition
Some people will advise just focusing on your own run and paying little attention to the other runners around you, which makes an awful lot of sense for most of the race. Based on personal experience, though, we've found that in the later stages of a 10K it can be really helpful to focus on steadily overtaking people - not flying past them but gaining on them slowly.
Walk if you need to
There are no prizes for pushing yourself so hard that you feel ill! If you need to take a minute to walk and recover your breath, go ahead - you'll see plenty of people doing it.
Enjoy the finish line
If you've been working towards running a 10K and finishing your first run, take a moment to congratulate yourself and appreciate the hard work that will have gone into making this moment happen. Enjoying those moments is part of what makes running so addictive! Now, when's the next run...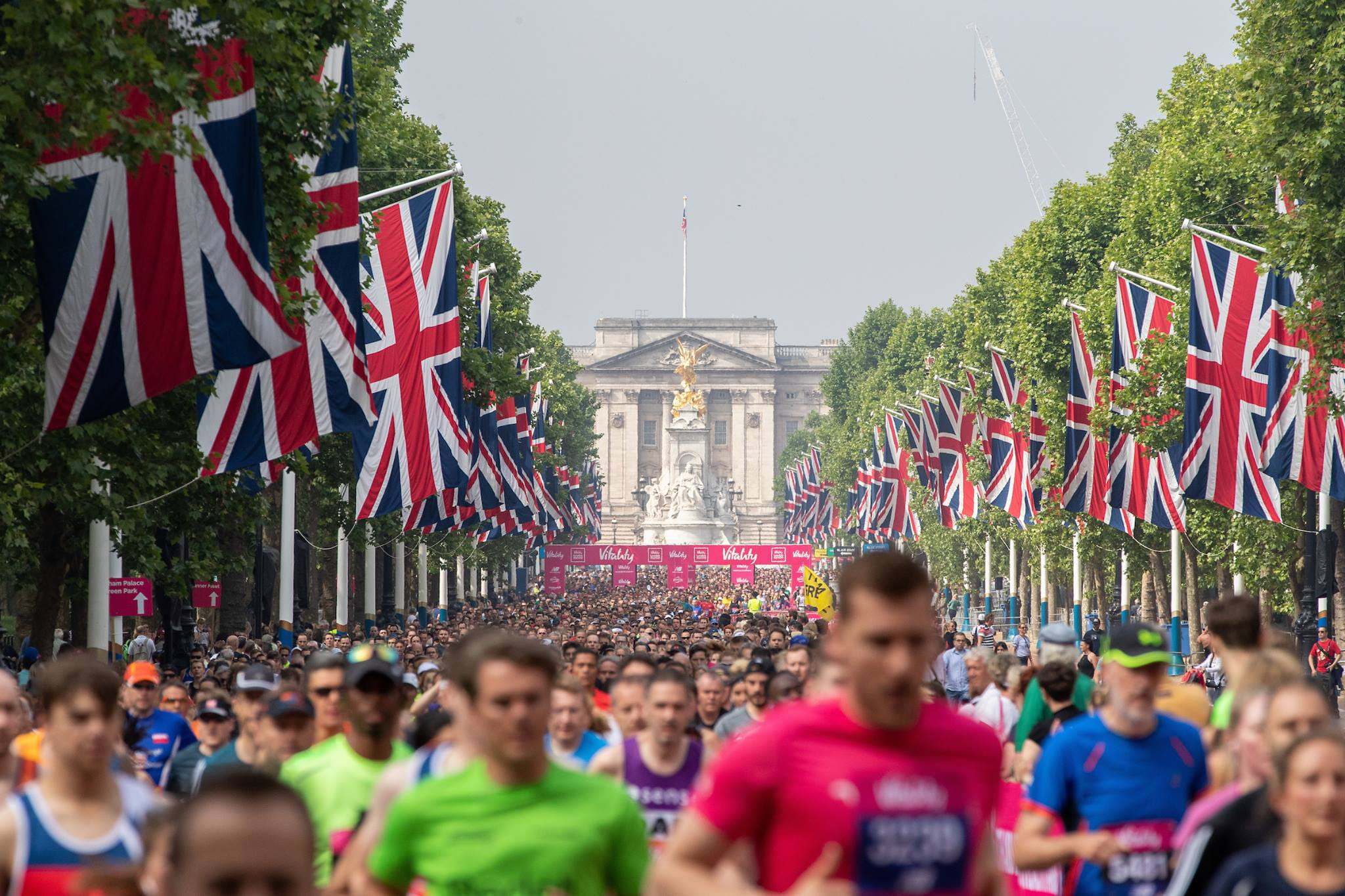 Find a race
It's time to put all that hard work and research to use! Listed here are some of the best 10K runs in the UK, from major mass-participation events to local races.
This is one of the capital's biggest and most popular runs, taking you through the heart of the capital - including St Paul's and Buckingham Palace - on closed roads.
Monday 1 May 2023
A fast, flat course along the East Lothian coast, outside Edinburgh, this is a popular run thanks to both its profile and its brilliant support.
Sunday 24 September 2023
Part of the popular MK Marathon Weekend, this 10K course explores the canals and meadows of this Buckinghamshire city, with a fantastic festival waiting at the finish!
Sunday 30 April 2023