Itinerary
Saturday

The 50-mile challenge begins!

Sunday

The 26-mile challenge takes place today alongside the second day for the 50-mile challengers.
Teams
Conquer the challenge as a team!
Walking as a team can be great motivation to keep you on track with your training, and with a shared fundraising target of £1,000 for team entries, you'll find it easier to smash your target and raise the vital funds that make all the difference.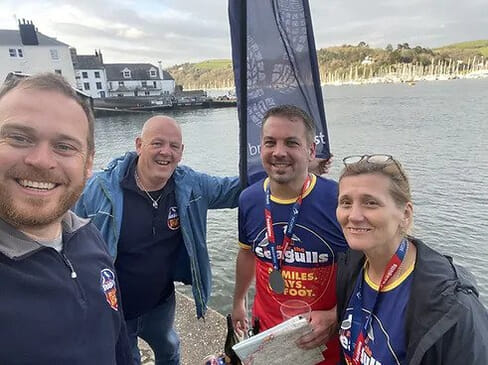 Training
26 or 50 miles, on foot, is a long way. Preparation is vital.
10 weeks to go
Begin by walking 2 or 3 miles, near home. This will take around an hour initially. Try to do this 2 or 3 times a week. After a week or two of these short walks, continue the 3 milers but add in a 6 miler once a week. This should take around 2 hours. And make sure you tackle some hills on the route if you have them. Both routes have them by the shed load.
Whilst Training, drink before you are thirsty. Eat before you are hungry. This is a mindset you'll need to get used to, the sooner the better. Make sure you take water and cereal or energy bars with you. You will burn up energy fast and need to replace it quickly.
During the training it's normal to feel tired and weary, but if you have more persistent pains or concerns do seek medical advice. to ensure you can tackle the distance, it's time to step it up.
6 weeks to go
Keep the lower mileage walks going. If, before you signed up to this challenge, walking wasn't a normal part of your life, it now should be and these short walks should feel easy and almost effortless.
Now, add in a 12 miler. This should take about 3 hours and over the next few weeks try and commit to doing a few.
This way your body will begin to prepare for the massive challenge ahead.
4 weeks to go
By now walking should be second nature. You should be regularly walking 3-6 miles, and have tackled a few 12 milers to get accustomed to the intensity of long distances.
With 4 weeks to go, it's time to step it up again.
Set aside time to walk 15 miles in and amongst the shorter distances. You'll find you can do it and it will really begin to prepare you for the massive challenge ahead.
It might not be the 25 miles a day you'll be trekking during the challenge, but when you know you've already cracked a 15 miler, the extra stretch can be conquered.
Kit list
Walking boots
Walking socks
Rucksack
Lightweight waterproof trousers
Hat, gloves and a thermal layer
Sunglasses, hat and cream.
Washproof plasters and pain killers
Snacks, energy gels, quick release energy foods, electrolyte drink
Water bottle or Camelbak hydration pack
Mobile phone plus optional battery pack
Walking sticks