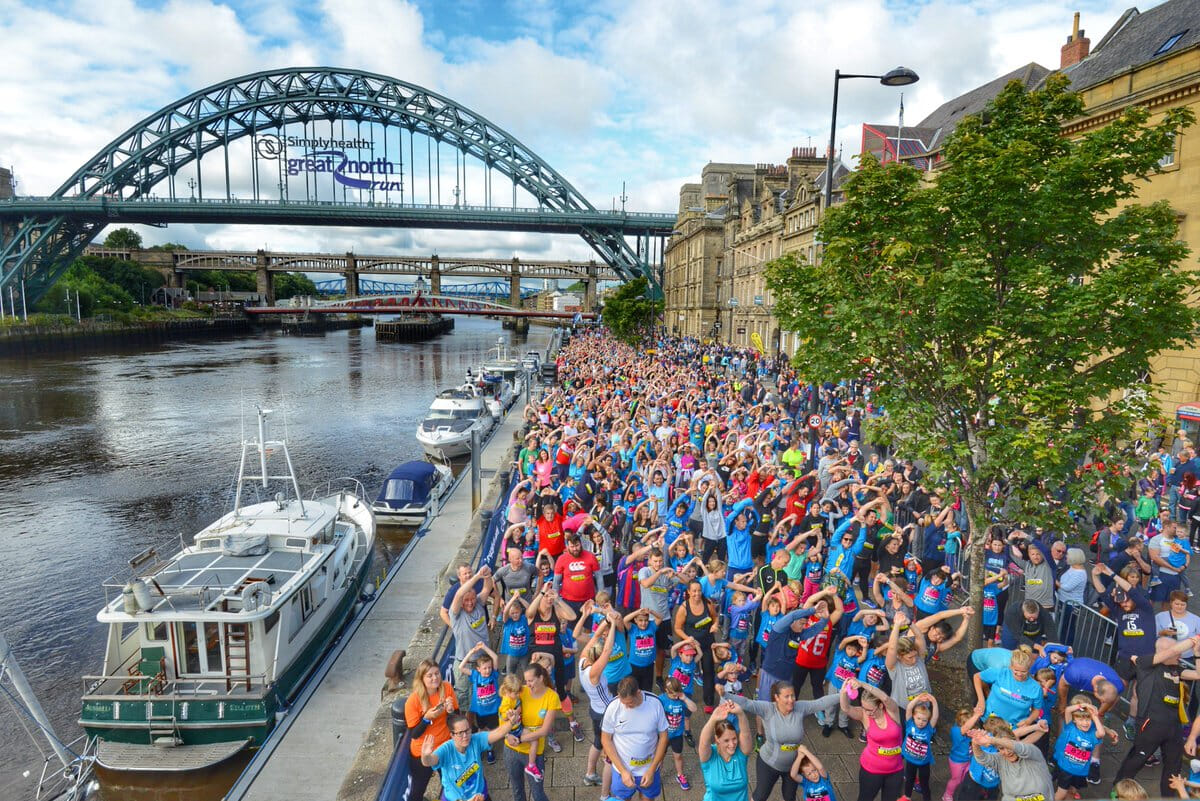 The Great North Run has earned its place as the world's biggest half marathon and one of the UK's most popular races, with tens of thousands of runners each year crossing the finish line with a grin.
From its hugely popular route, running from city to coast, to innovative new features, this half marathon is an incredible experience from start to finish. Whether you're running for charity or racing for a PB, taking part in the Great North Run is a decision that you won't regret.
Making that decision, though, can seem daunting if you've never run a half marathon before or if you have no experience of a major running event. Fortunately, you're not alone - well over one million people have completed the Great North Run since it began and there is enough support out there to help you complete this personal challenge. That's why we've gathered all the essential information about the Great North Run into one place - right here.
Race details
How long is the Great North Run?
The Great North Run is a half marathon, so it is 13.1 miles or 21K long.
When is the Great North Run?
The 2023 edition of the race is on Sunday 10 September. The ballot will open in early January but you can apply for a charity place already!
Where is the Great North Run?
The half marathon begins in Newcastle-upon-Tyne and crosses over the Tyne Bridge into Gateshead, before heading down to South Shields by the coast.
What time does the Great North Run start?
The 2023 edition of the race begins at 10:45. The race begins from the Central Motorway, near the Town Moor. Many people catch the Metro to Haymarket Metro Station but as there are over 60,000 competitors as well as thousands of spectators, this can be very busy!
Where does the Great North Run end?
The final stretch of the course is known as the Coast Road and ends in South Shields, specifically near Gypsies Green, which is where runners can join their friends and family to celebrate their achievement!
Sign me up for the Great North Run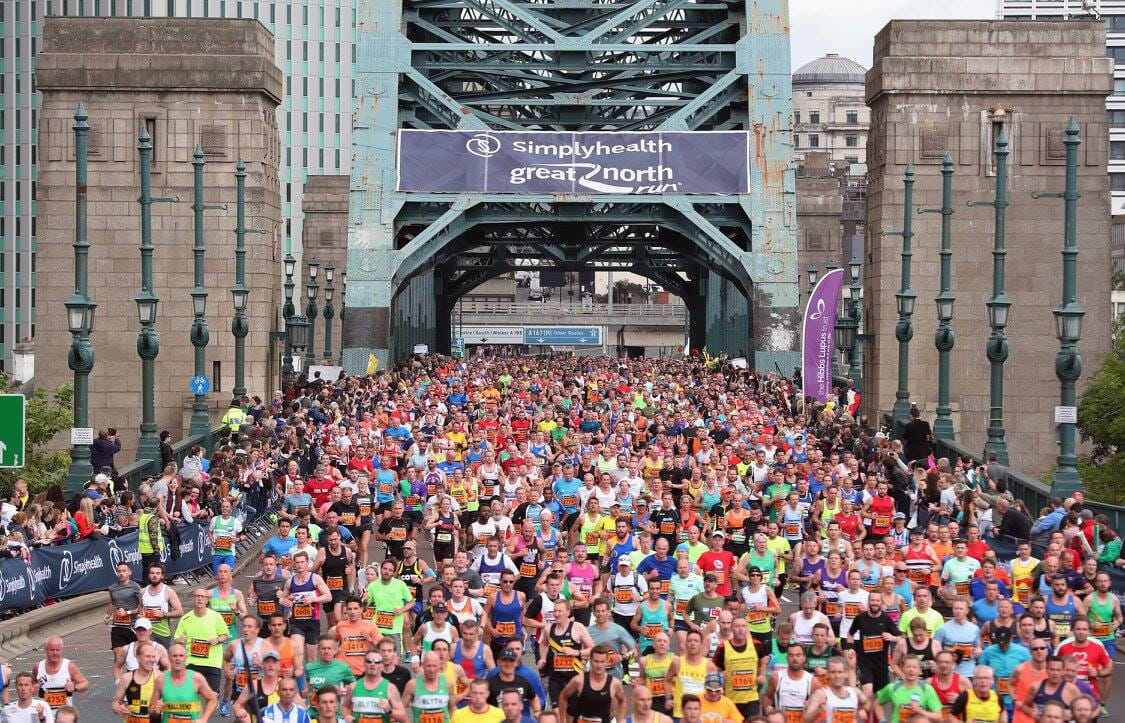 Getting involved
How hard is the Great North Run?
As it is a half marathon, you do need to train to complete the Great North Run - but that doesn't mean it's an elite event. Many beginner runners will enter the race and simply aim to complete it, without setting themselves a time as a goal. Thanks to the brilliant crowd support and regular water stations, it is entirely possible to finish the Great North Run without having completed another half marathon.
Although the race does not have a difficult or particularly hilly course, there are some climbs to watch out for, like the lead up to Marsden at around mile 10. So long as you've been training, you will be absolutely fine!
Can anyone do the Great North Run?
As mentioned above, it is completely possible for anyone to complete the Great North Run so long as they have done some training and are prepared. You do not need to be a racing snake to finish the race! In fact, many people enter the Great North Run simply to enjoy the course and raise money for charity, often running in fancy dress!
Over one million people have completed the Great North Run since it began in 1981, so there is nothing stopping you from adding to that number and completing your personal challenge.
How do you prepare for the Great North Run?
There are plenty of half marathon training plans available free of charge that you can use to guide your preparation - not all of them are worth paying attention to, though. If you have signed up to run for a charity, they will likely provide you with a training plan. Soon, you will also be able to access training advice directly from TimeOutdoors - until then, use the basic guidelines below to start your preparation.
Start slow! Too many people head out for their first training run and return injured thanks to going too fast too soon. Instead, start off at a manageable pace and just focus on getting some miles under your feet.

Build up by using other races at shorter distances. Before running a half marathon, you should enter a 10K to get some race experience; before that, enter a 5K. As the distances incrementally increase, so will your fitness.

Stay mobile! An effective warm-up and cool-down are essential to avoiding injury during your training, as well as undertaking extra mobility sessions to safeguard your joints.
Can you walk the Great North Run?
Many people will walk sections of the course, either as part of a run-walk strategy or simply to rest their legs on some of the hillier parts! If you are lucky enough to be part of the Great North Run, there is no pressure to finish it in a particular time or to run the whole thing. Instead, just focus on enjoying the experience. If that means walking some sections, then do it!
I'm ready to enter the Great North Run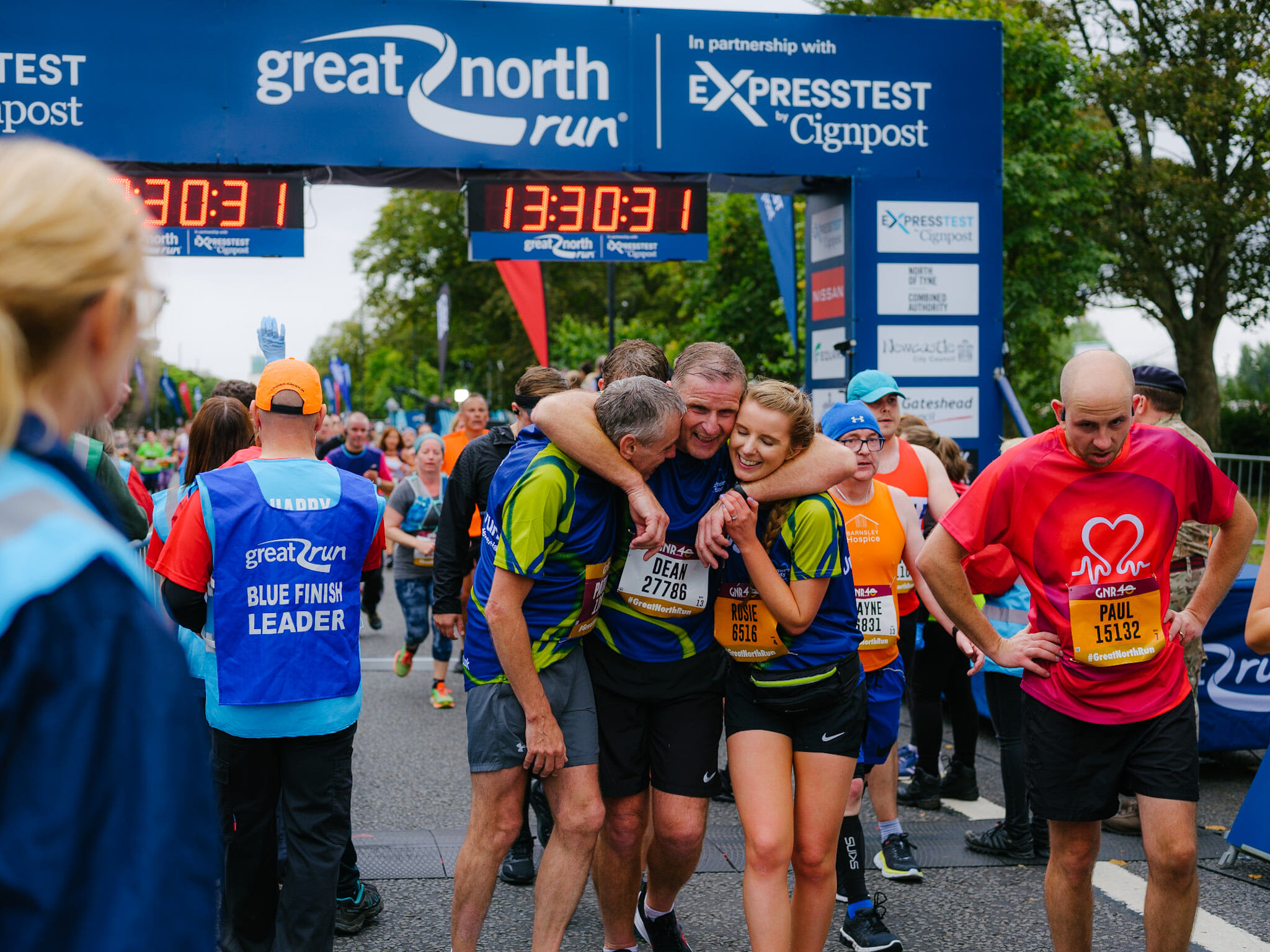 Extra information
What is a good Great North Run time?
Finishing the race between 2hrs 30mins and 3hrs is a great goal for beginner runners, while more experienced runners will aim to complete the course in under 2hrs. The current course records are 58mins 56secs for men, set by Martin Mathathi in 2011, and 1hr 4mins 28secs for women, set by Mary Keitany in 2019.
How far is the Junior Great North Run?
The Great North Junior is a 4K road race for children aged 9 to 16, though there are also two other races for kids: the Great North Mini, a 1.5K race for ages 3 - 8, and the Great North Mini 50, a 50m road race for anyone aged 3 - 16. For both the mini races, parents must run with their children.
Who started the Great North Run?
The race was established in 1981 by former Olympic 10,000m bronze medallist Brendan Foster. In that first year, 12,000 runners descended on Newcastle to run the half marathon route - in 2022, 41 years later, that number is expected to reach 60,000.
The Great North Run is on Sunday 10 September 2023.