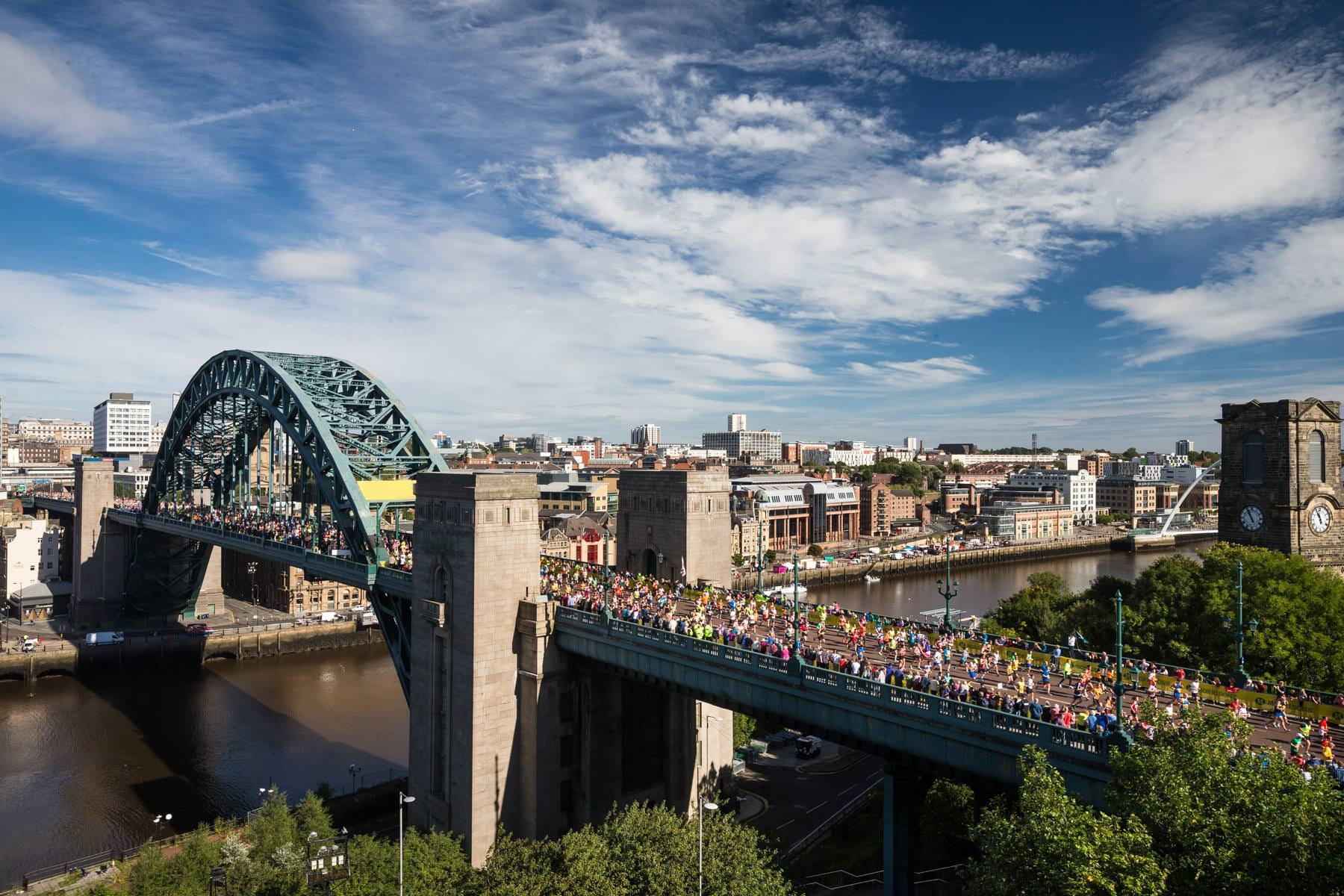 Since 1981, the Great North Run has been attracting crowds to Newcastle and Gateshead for a half marathon that runs from its vibrant city centre to the coastline.
In the past 41 years, the event has grown in popularity to become the world's biggest half marathon, with 60,000 runners taking part in 2022 and thousands more lining the streets to cheer them on. With live TV coverage and a host of famous faces around, it's definitely one of the most famous half marathons around.
If you're looking for a half marathon race to enter, there are plenty of reasons to choose the Great North Run, from opportunities to run for charity to the brand new Après Run Zone. Check out our breakdown of the top reasons to get involved then let us know if you think we've missed anything out!
#1 Incredible crowd support
From its packed start on Central Motorway to the final mile along the Coast Road, you'll be enjoy a fantastic race atmosphere with thousands of spectators and supporters. As well as charity stations and entertainment zones with blaring music, you'll find sections of the course heaving with crowds, including the final stretch to the finish line.
The best part?
Sir Mo Farah is a famous advocate of the Great North Run and claims it has a better atmosphere than London events! So whether it's your first half marathon or your fifth, you can soak up the energy to power you home.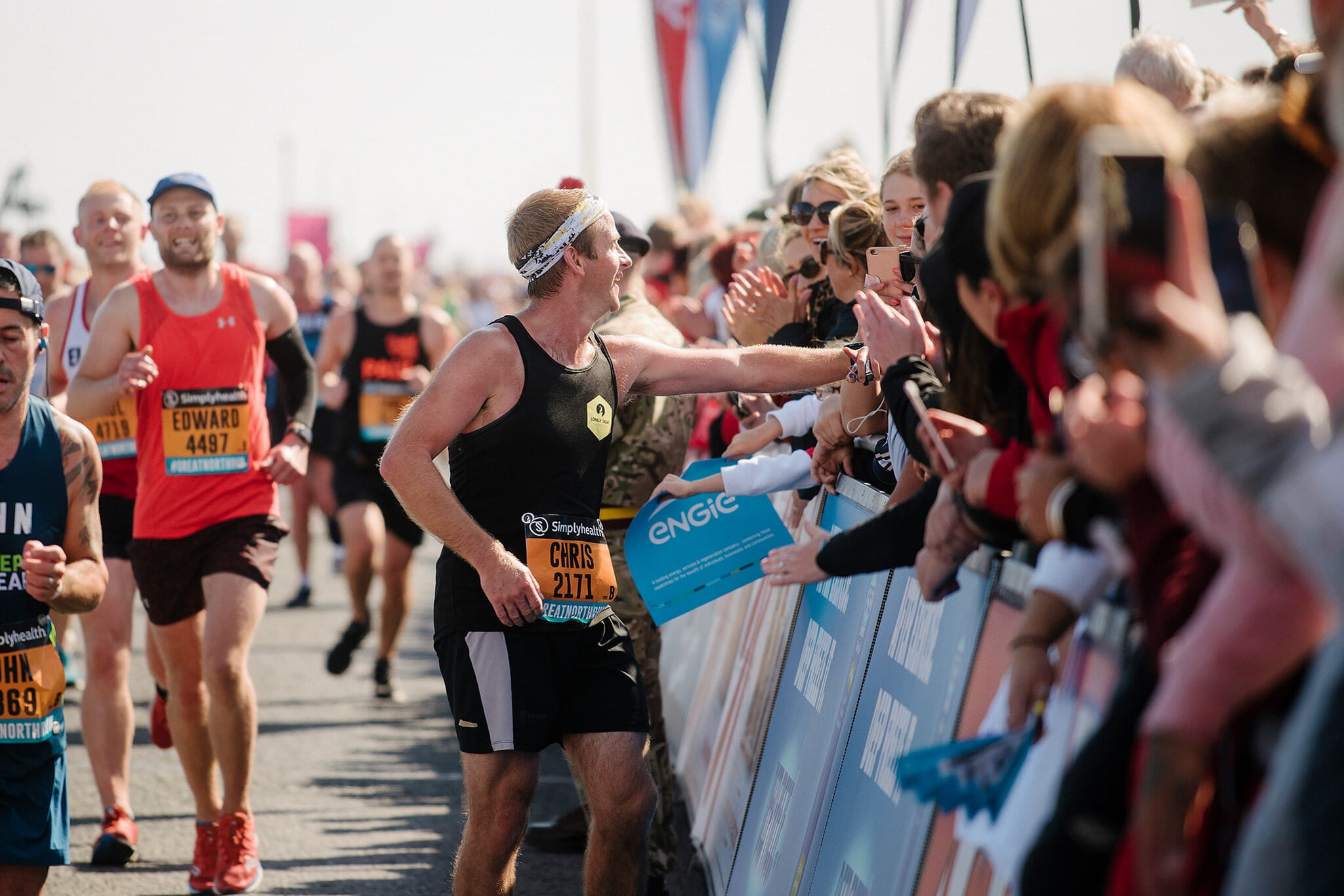 #2 Raise money for charity
Since its inaugural edition 41 years ago, the Great North Run has raised hundreds of millions of pounds for charity through fundraising, helping a huge range of fantastic causes. Opting to run for charity not only helps to fund the incredible work of these charities, it also provides brilliant motivation for you when the going gets tough.
You'll enjoy dedicated support from that charity before and during the race from their cheer station. What's more, if you miss out on entering the race through the ballot - and it is always over-subscribed - then a charity place will be your only option to join in.
#3 Join a historic event
In 2014, the one millionth runner crossed the finish line of the Great North Run, which was the first time this has happened for an organised event anywhere in the world. It was a landmark achievement for a race that has become one of the most popular running events in the world and one that runners are still desperate to join in on. To run across the Tyne Bridge alongside tens of thousands of fellow runners is an unforgettable experience!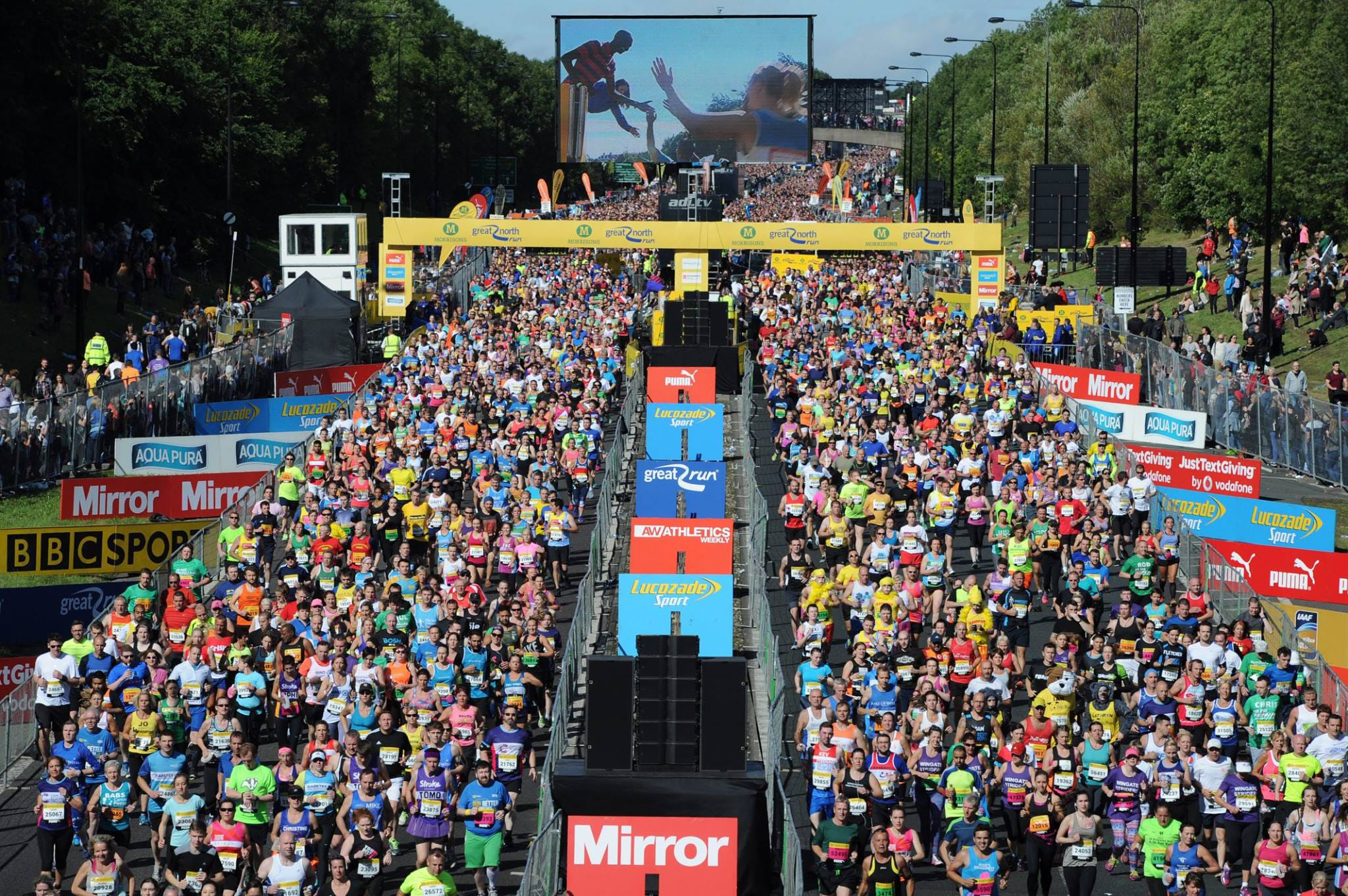 #4 Après Run Zone
Brand new for 2022, the finish line of the Great North Run has become even more spectacular with the introduction of the Après Run Zone! Food and drink stalls will be available to help celebrate your achievement, while the Heart Radio DJ Truck will be blasting out tunes to keep the energy levels high and the mood ecstatic. After you've recharged on the picnic benches, head over to the charity stalls and merchandise stand to reward yourself on a great run!
Sign me up for the Great North Run
#5 Rewards for taking part
Sure, completing the Great North Run and soaking up the atmosphere as you roll up the miles is a reward in itself for all the hard training miles you'll have put in. But you'll also want something more tangible to show off when you get home - we get that.
Fortunately, every entrant to the race receives an exclusive 2022 medal, a finisher's t-shirt, a goody bag, official race photos and an official result available shortly after you've finished. The real question is how long you'll wear your medal for after the race...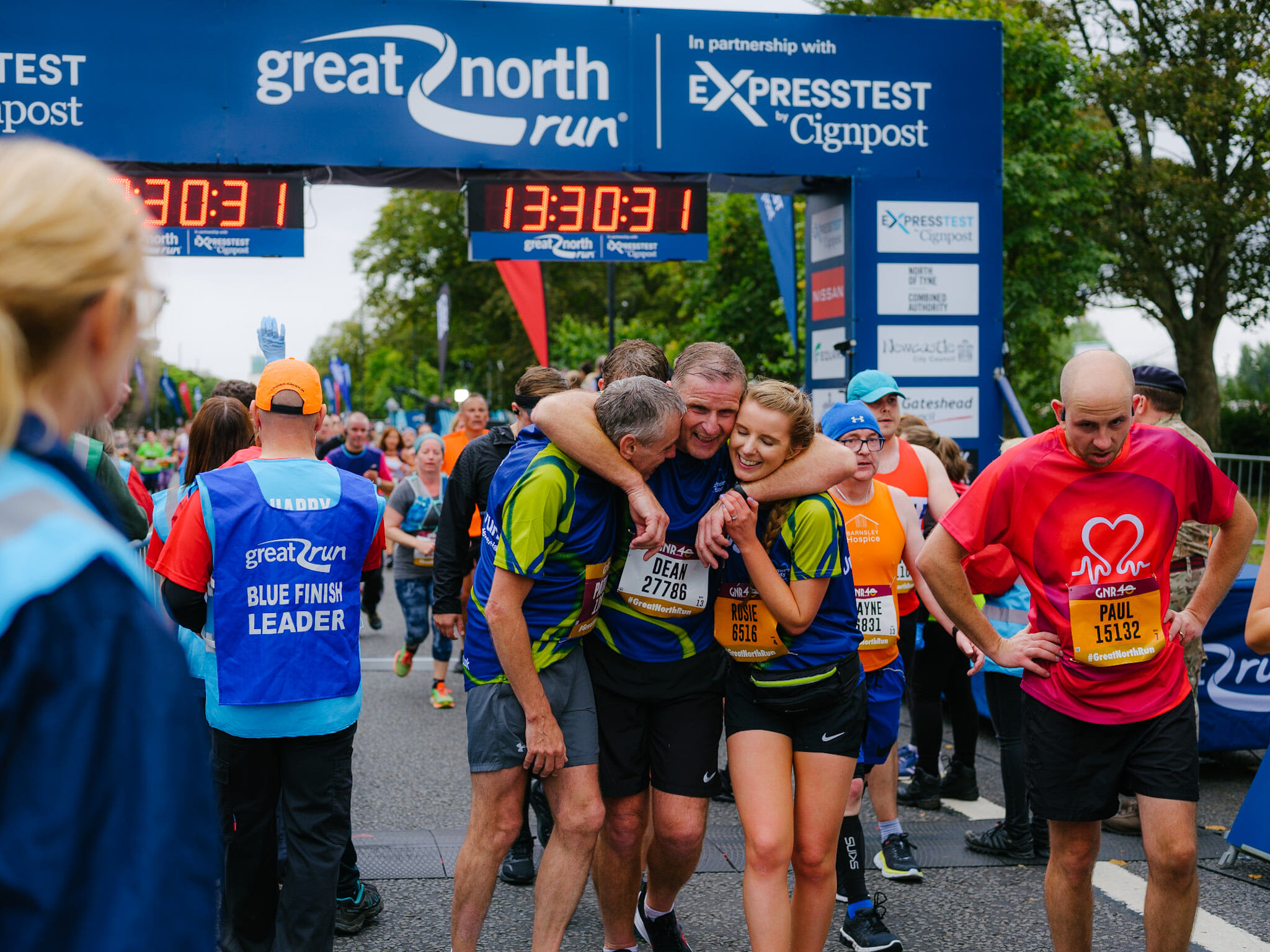 #6 Explore the North East
The Great North Run has embedded itself in the culture of the North East, with pretty much everybody in Newcastle and Gateshead either having run it themselves or knowing someone who has.
For many people, though, entering this race will involve travelling to the far north of England, which is a perfect opportunity to explore everything that this vibrant region has to offer. Discover surfing on the North Sea, trail running in Kielder Forest and incredible cafes, bars and restaurants in the city itself.
#7 A personal challenge
Signing up to a major event like the Great North Run, whether through the ballot or in a charity place, is the perfect motivation to get fitter and feel healthier, which will not only help you to complete this event but also to enjoy your time outdoors more as well. If you sign up for a charity then they will likely provide you with a free training programme - otherwise, keep an eye on our Wellbeing section for health and fitness advice, coming in 2023!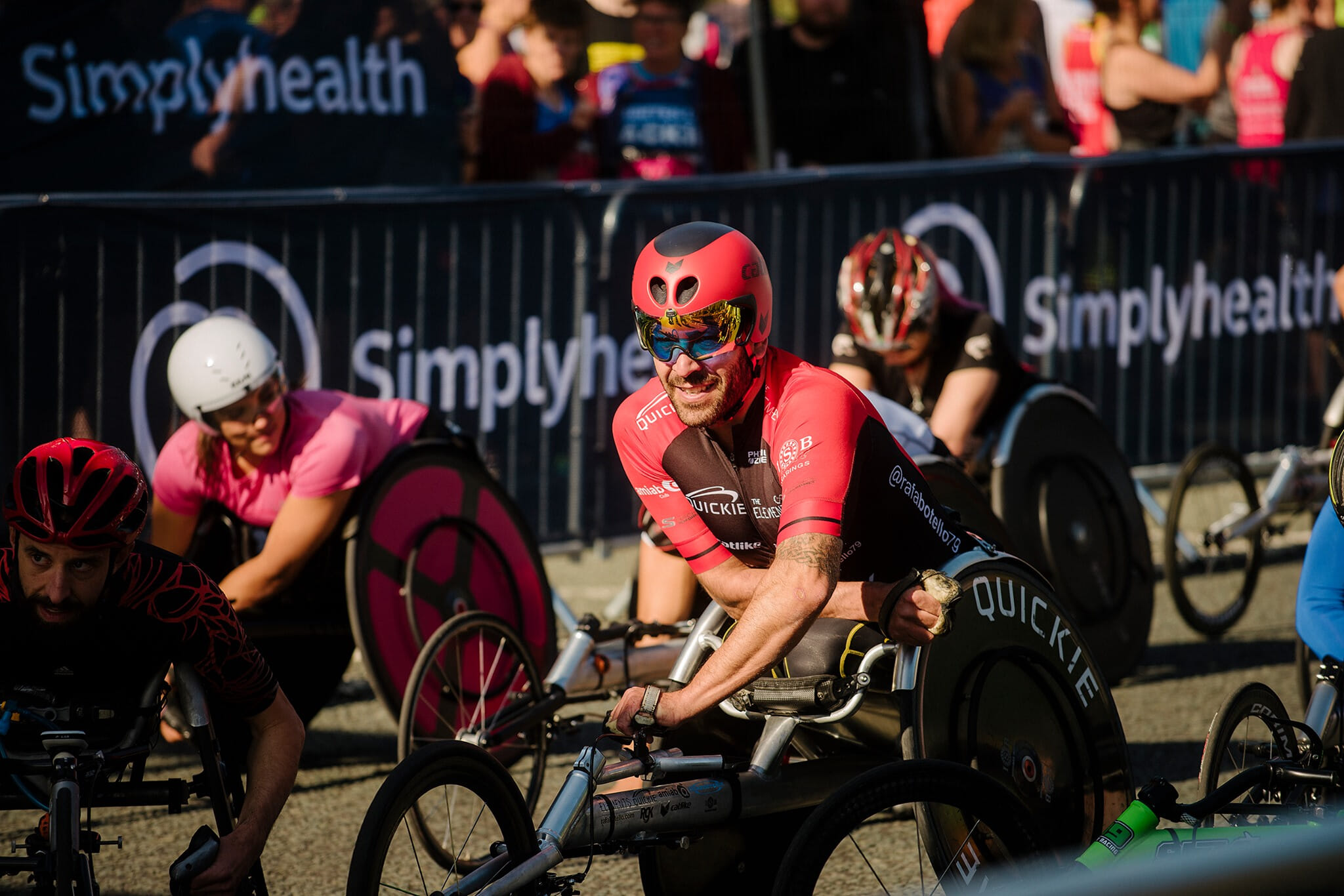 #8 Train for other events
For many runners, entering a half marathon is a stepping stone on their journey to the ultimate goal of completing a full marathon. This is even more prevalent in 2022, when many marathons are happening in the autumn very quickly after the Great North Run!
Whether you are competing this year or are looking ahead to a future edition of the race, running this half marathon will give you invaluable experience of pacing yourself in a competitive environment and what it feels like to run in the festival atmosphere of a major running event. You can then choose whether to bask in that feeling or look ahead to another event!
Sign me up for the Great North Run
#9 Return of the route
After the Great North Run was postponed in 2020, its route was adapted in 2021 to accommodate for coronavirus restrictions - fortunately, the 2022 edition has returned to original and much-loved route that leads from the city to the coast. With famous landmarks along the way and popular course segments - like the view to the sea from Prince Edward Road - the route is one of the most appealing aspects of this event and certainly something that attracts runners to return time and again.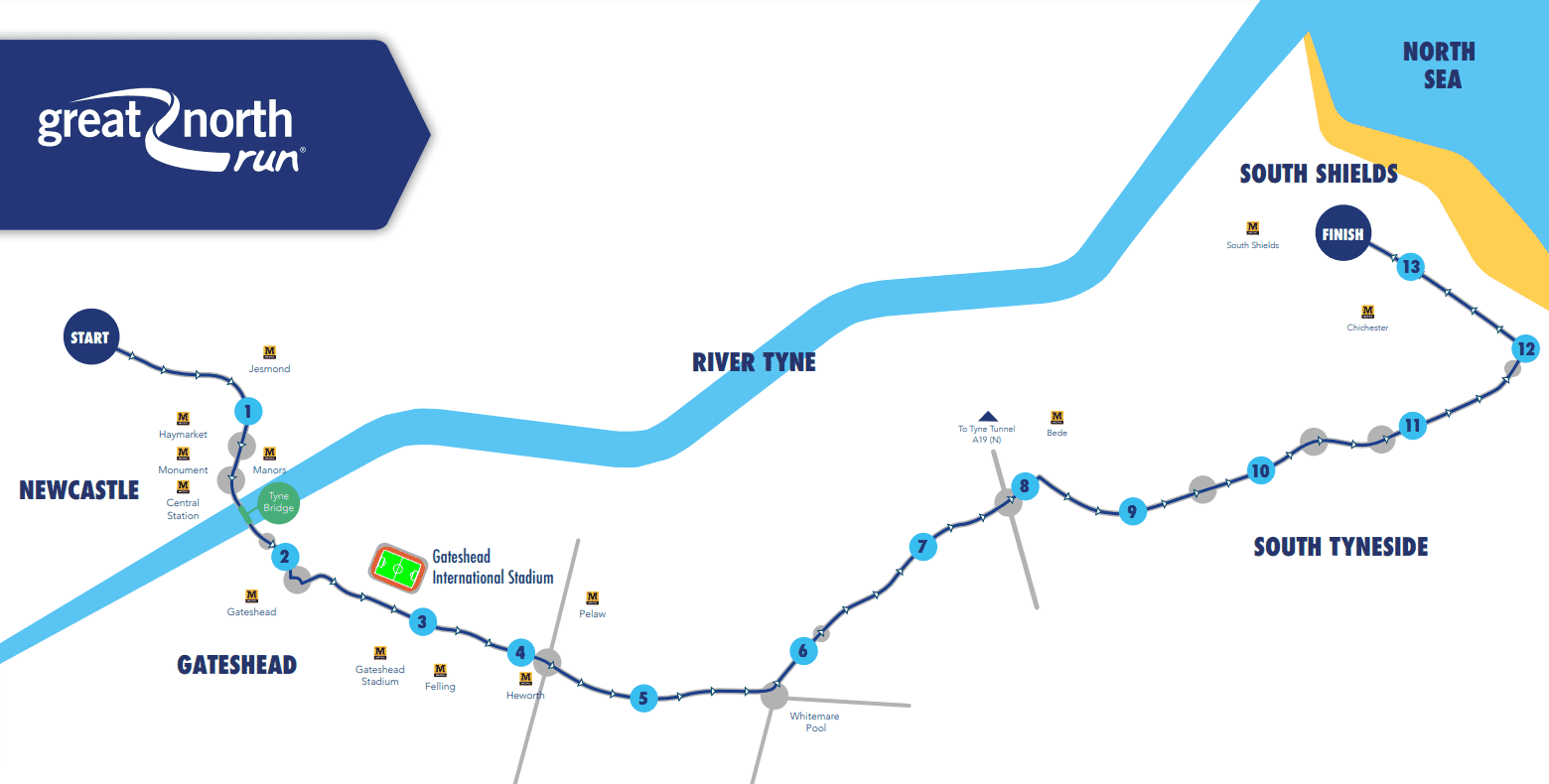 #10 The Red Arrows
An iconic moment of the Great North Run - loved by runners, spectators and viewers at home - is the fly-over from the Red Arrows, the RAF's premier display team. As runners embark over the Tyne Bridge, these incredible planes come soaring into view in their classic V formation, coloured smoke streaming behind them. It's a moment to spur on anyone racing and confirm that they are part of something truly special.
#11 Costumes galore
One of the race's most famous entrants is not a celebrity but 'Tony the Fridge', otherwise known as Tony Phoenix-Morrison who has made a name for himself running the Great North run with a household fridge strapped to his back.
Domestic appliances notwithstanding, there are plenty of incredible costumes and outfits to admire at the event, all helping to create a fun, festival atmosphere that will help to propel you to the finish line. You can, of course, choose to turn up with an extravagant costume of your own!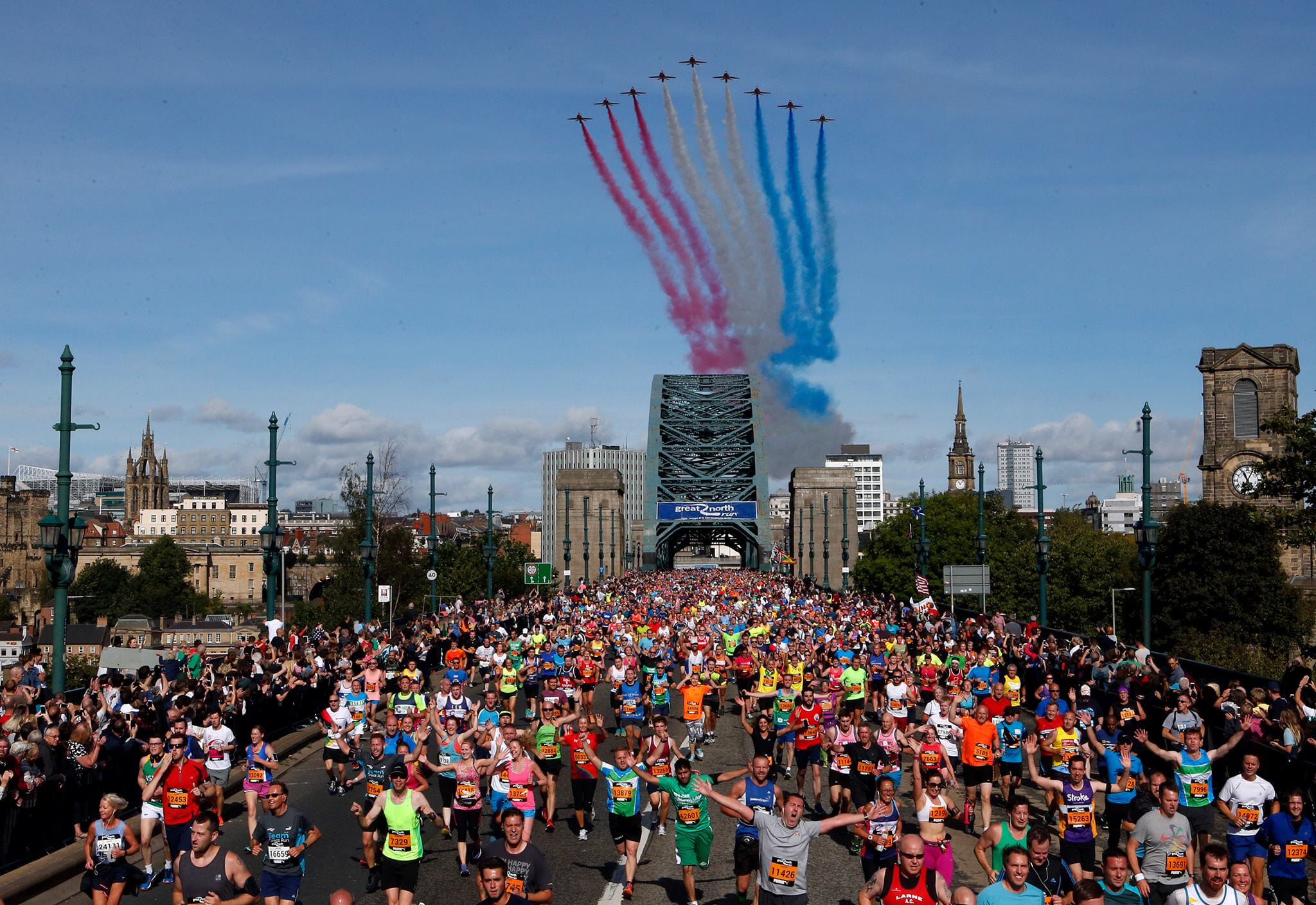 #12 Famous landmarks
Newcastle and Gateshead are joined by a collection of famous bridges and crossing the River Tyne over the Tyne Bridge, with views along the river, is one of the most iconic moments of the race. The journey down to South Shields and along the coast, cheered on by thousands of spectators, is another moment that lives long in the memory of the Great North Run's entrants. These are the moments that help to make this half marathon a truly unique event.
#13 Many ways to enter
The ballot entry for the Great North Run opens in early January and remains open for a few weeks - nearly 60,000 people will gain an entry through this process, though many, many more will try their luck! After this, your only way to enter is through a charity place that will involve a level of fundraising, whether this is minor or more substantial.
Charities will offer plenty of support in return and you will be aiding a brilliant cause, so the benefits of this option are huge. The only exception to the above is that elite runners can gain a place so long as they meet some pretty strict criteria. If that's you, hold our drink at the finish line!
The Great North Run is on Sunday 10 September 2023.