Fitness level
Perfect for those who want to push themselves physically and mentally. You will be walking long distances over uneven and rough terrain and you may experience some harsh weather conditions.
Mountaineering skills
One of the huge benefits of the Machu Picchu Trek is that you do not need any specialist mountaineering skills, experience or equipment.
This non-technical climb will be a real test of your mental and physical resilience - but it does not require you to be a seasoned mountain climber.
Accommodation
3 nights in a comfortable hostel
5 nights in tented accommodation which will all be set up and ready for your arrival each day
Whilst in Cusco you will stay in a comfortable hostel.
During the challenge, you will stay in shared tents in campsites in the mountains. The campsites are basic yet comfortable. You will be housed in good-quality 3-person tents on a twin-share basis. There will also be kitchen and dining tents, and your food will be served communally in the dining tent by the cooks each night.
There are occasional opportunities to use Western-style toilet facilities (sometimes at cost), and on the trek there is infrequent access to running water. There are washing facilities at most campsites (showers are often at cost), but the staff will provide bowls of hot water daily for washing.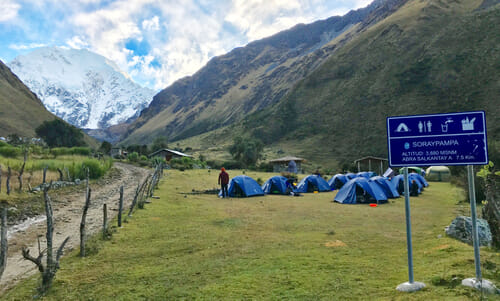 Season
Jan
Feb
Mar
Apr
May
Jun
Jul
Aug
Sep
Oct
Nov
Dec