The London Landmarks Half Marathon is so much more than just a run! Every year our race celebrates London's grand, quirky and hidden history like never before. Runners and spectators discover the birthplace of the bowler hat and learn about Roman life beneath the City's cobbled streets.
Starting by Pall Mall and finishing by Downing Street, the London Landmarks Half Marathon route has much to offer including activations, musical performances, DJs, dancers, themed cheer stations and of course world-famous landmarks too:
Famous landmarks
Nelson's Column
Somerset House
St. Paul's Cathedral
Royal Courts of Justice
Guildhall
Bank of England
Monument to the Great Fire of London
Walkie Talkie
Cheese Grater
The Gherkin
London Eye
Tower of London
Tower Bridge
The Shard
River Thames
London Eye
St. Thomas' Hospital
Big Ben and the Houses of Parliament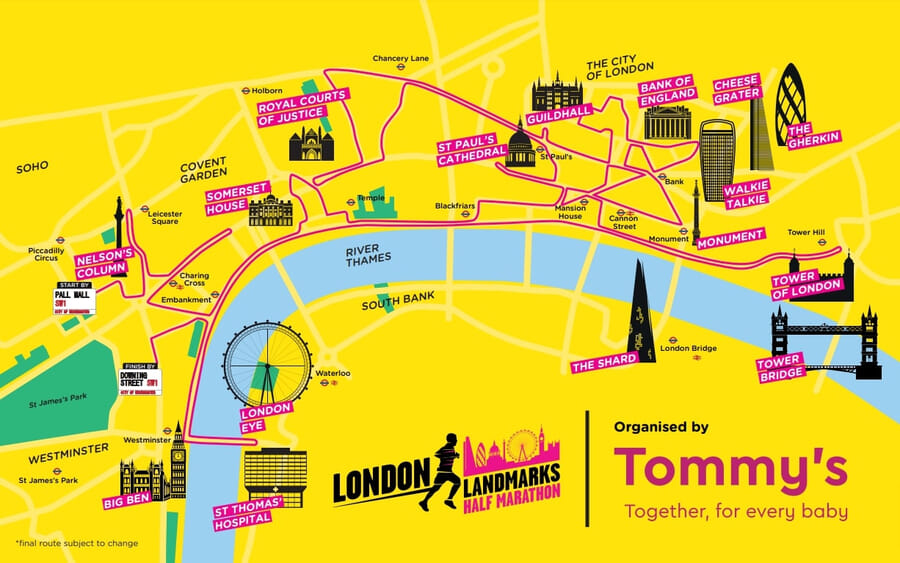 Theme
Recent themes have celebrated the grand, the quirky and the hidden history of this famous city. Runners and spectators discovered the birthplace of the bowler hat, learnt more about Roman life beneath the City's cobbled streets and found out why Waterloo Bridge is known as Ladies Bridge.
Bringing history to life
Creator of the bowler hat

Lock & Co's hatmaker, Thomas Bowler, designed a hardy new hat for the Earl of Leicester's gamekeepers - so the bowler hat was created.

Britain's smallest police station

Built so the police could watch troublesome demonstrators in Trafalgar Square.

Oscar Wilde's memorial

Designed as a seat so you can enjoy his company.

Gringotts Bank

Australia House was used as the setting in Harry Potter.

London's oldest shop

R.Twining & Co has been run by the same family from the same location since 1787.

Guy Fawkes House

Guy Fawkes and the gunpowder plotters met here when hatching their plans for the Gunpowder Plot.

Shakespeare's House

Shakespeare bought the house in 1613 on the corner of St. Andrew's Hill and Ireland Yard.

Postman's Park

Famous from the film Closer this memorial commemorates ordinary people who died trying to save the lives of others.

St. Mary-le-Bow

The famous bell from the nursery rhyme Oranges and Lemons.

Roman Amphitheatre

Constructed by the Romans and seated over 7,000 spectators.

Pudding Lane

The Great Fire of London started in a shop here, believed to have belonged to Thomas Farriner, who supplied ships biscuits for the Navy.

Whitehall Palace

Shakespeare first performed the Tempest here for the court of King James I.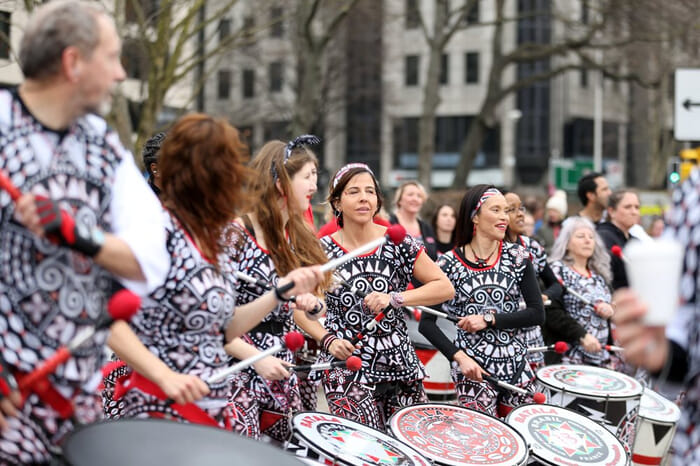 Music
This event brings together celebrated musical talent from across the capital! A motivating soundtrack of pulsing pop, sensational samba and uplifting ballads kept runners going. In recent years, runners were treated to:
Batala London

Winners of the Notting Hill Carnival samba category.

Drum Works

London's inspirational and vibrant drumming group.

Popchoir

Uplifting songs to keep runners' feet moving!

London Gay Men's Chorus

Britain's biggest boyband.

London Sings

Keeping spirits high with swing, jazz and musical theatre repertoire.

Newham Super Choir

An over-60s choir with classical, pop, jazz and folk.

Nostalgia Steelband

The UK's first steel band established in 1964, heard at the London Olympics and BBC Radio London.

Bar Salsa DJ

Toe-tapping dance tunes.

Tuneless Choir

Do you love singing but lack the ability, practice or confidence?

Rock Choir

The world's largest, contemporary choir.

Singology

Led by Mark De-Lisser, TV vocal coach for 'The Voice' and 'Let it Shine'.

The Noteables

An award winning pop chamber combining good music with serious levels of fun!

Brassbound

A brass, wind and percussion group that plays originals, covers, reggae, Afro-beat, Ska, funk, pop, and Nawlins style.

Vocallective

An eclectic repertoire runners will love!

Race Tunnel!

Getting runners grooving on the route.