The route is seriously flat and rapid - if you're looking to set a quick time or a new PB, this event is for you. The course gradually winds downhill, so with a net elevation loss and no hilly surprises, you can really stride out and power your way to the finish.
Route highlights
Starting just outside Edinburgh at Meadowmill Sports Centre
Run along the magnificent East Lothian Coast
Grandstand finish on the final furlong of Scotland's oldest racecourse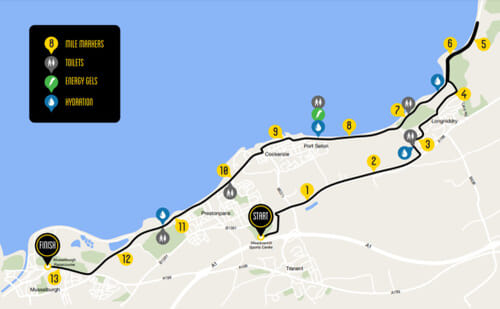 Cut off time
3 hours 15 minutes
This event has a strict maximum cut-off time of 3 hours 15 minutes for all participants (from when the back of the race crosses the start line). It is a serious athletics endurance race which requires a large amount of appropriate training and preparation in order to complete it safely. Therefore participants who do not intend to complete the course within this time limit are discouraged from entering. Any runner who does not complete the course in 3 hours 15 minutes will not be permitted to complete the race and will not receive a result or a finisher's pack and medal.
A sweeper bus follows the race at 3 hour 15 minute pace and if you are passed by the sweep bus at any point and for any reason, you will be asked to get onto the bus which will transport you back to the finish area at the earliest possible opportunity. If you decide not to get onto the sweep bus, your running number is recorded and you are removed from the race, from this point onwards you will be continuing independently of the event and at your own risk. You will be recorded as a DNF within the results of the event.