Route description
The Wolds Rangers Way Ultra follows the Wold Rangers Way and is a 44 mile circular waymarked route through the beautiful Yorkshire Wolds, starting and ending on the edge of Driffield.
The terrain is vast farmland, chalkland and dry valleys through mostly green lanes and bridleways.
Picturesque villages
You'll visit the picturesque villages of Little Driffield, Huggate, Fridaythorpe, Thixendale and Fimber.
Nine fine Dales
You get to run through Nettle Dale, Pasture Dale, Horse Dale, Holm Dale, Brubber Dale, Thixen Dale, Water Dale, Court Dale and finally Wharram Percy Wold.
Route map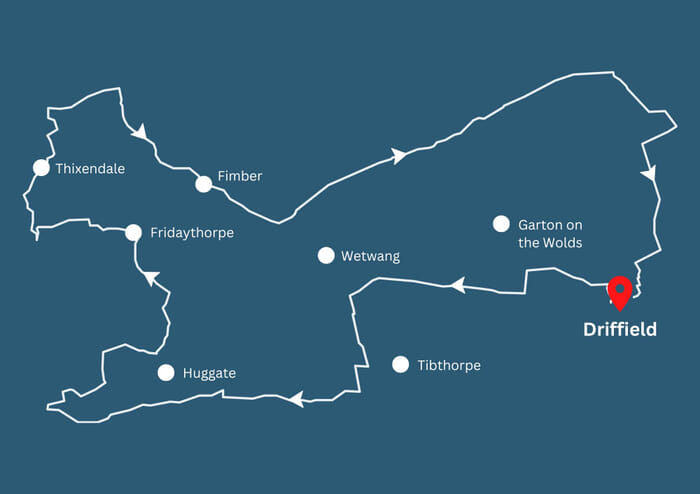 Navigation
You're provided with a map, tracker and GPX. There are also flags and signs. It'd be tough to get lost!
You are provided with a GPX and printed route map booklet
The route is mostly waymarked
There will be blue ground flags and large yellow correx signs at key junctions
There are recce routes on the website to help you leading up to the event
The route is also available via the tracker link in multiple map types, including OS Maps
You will be able to pinpoint exactly where you are on the route where there is phone signal
Friends, family and officials have access to the tracker app / desktop version to track your progress
Cut off time
14 hours. If you can cover 3 miles per hour, you're in.
Run your pace without checkpoint cut-offs. There's a generous 14 hour overall cut-off time which will be enforced.
The cut-off time is based on a pace where you would need to cover approximately 3 miles per hour, to help you if you are a beginner and/or you need to do a lot of walking.
Checkpoints
4 checkpoints fully stocked with vegan friendly and gluten free nutrition
2 checkpoints will be indoors with toilet facilities. Hot tea and coffee will also be available at one of the checkpoints
The option of a non-returnable food drop-bag at one of the indoor checkpoints