Run-bike-runs aren't just for triathletes in the winter - they're a serious multi-sport discipline in their own right, getting people active outdoors on road and trails alike. If you're interested in getting involved, here's what you need to know!
"Triathlons for people who don't like swimming."
The above is the classic but very outdated view of duathlons, often seen as a subset of the original multi-sport. Although duathlons do share many similarities with triathlons, they are distinct disciplines and are gaining popularity in their own right thanks to some exciting events in great locations, as well as professional athletes targeting run-bike-runs specifically. What this means for the rest of us is that there is an increasing range of events to get excited about, including off-road races and ultra-distance duathlons.
If you've never signed up for a duathlon before, this guide is where to start - we've outlined the basics of what to expect, how to train for a duathlon, what kit you'll need and how to find an event.
What is a duathlon?
Sure, you know that you'll be running and cycling - but in what order? And for how long?
The basics
Whereas a triathlon follows the classic swim-bike-run format, duathlons add an extra running section in to create a run-bike-run. The second run is usually half the distance of the first, so a sprint distance duathlon covers a 5K run, 20K cycle and another 2.5K run. The full details of different distances are laid out below.
What this means is that racing a duathlon is not just about training to run and cycle - like any multi-sport, you also need to take the transitions into account. There are simple but strict rules to follow in transition and breaking these will lead to a time penalty. In general, these only amount to:
Put on your helmet before touching your bike. Also do not take off your helmet until you have re-racked your bike in T2.

Do not mount your bike in transition - you must wait until you are beyond the designated mount bike line.
Types of duathlons
Although duathlons are distinct races from triathlons, they follow many of the same classifications, including the available distances. These include:
These are the generic distance categories used by most event organisers but some races may feature slightly different distances, usually just to accommodate the location of the transition areas.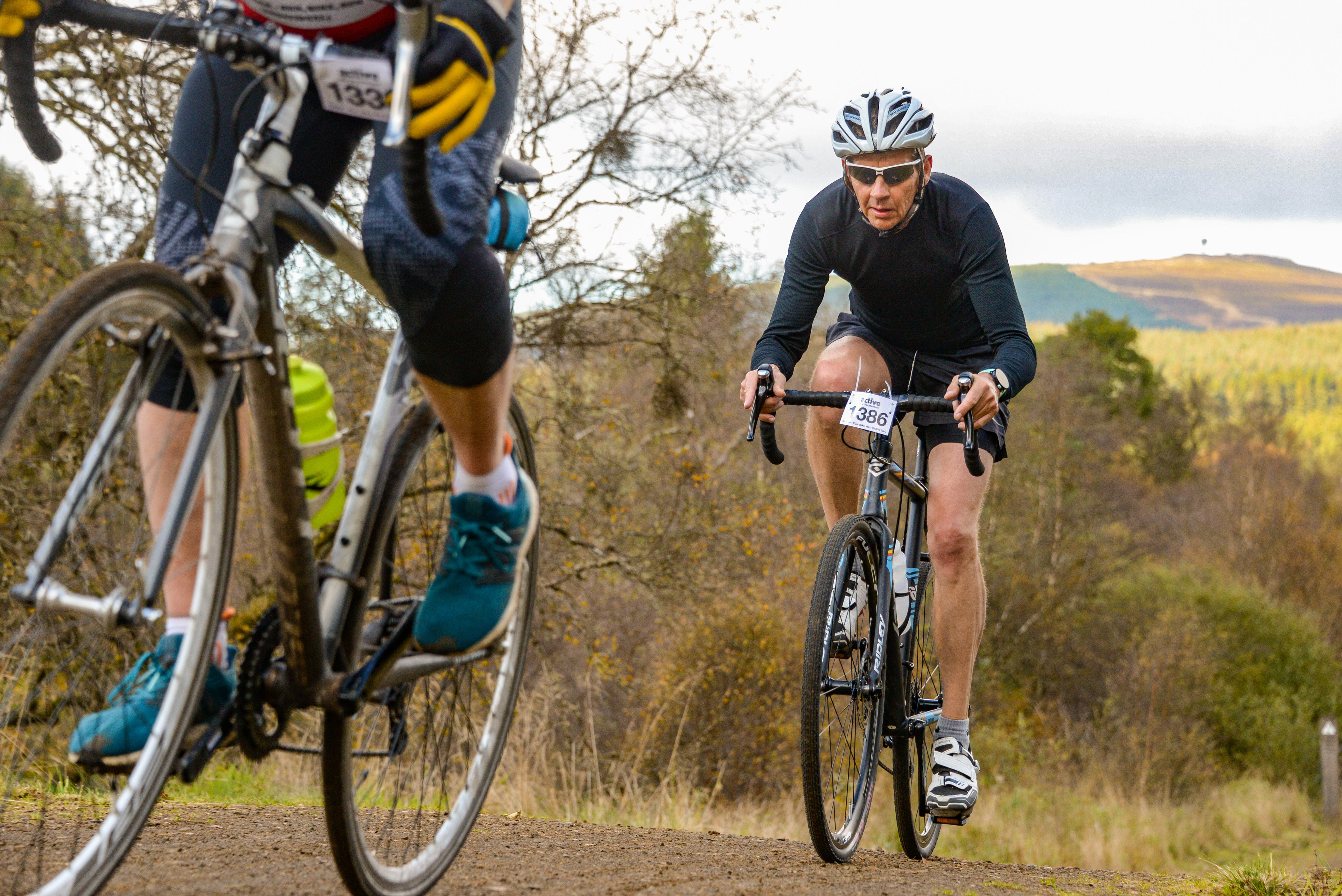 Road vs trail
The next consideration to make when picking a duathlon to enter is whether you want to race on tarmac or trail, which will clearly affect what type of bike you use. If you already own one type of bike, that will make the decision much easier!
This decision is about much more than the practicalities of tyre and trainer treads, though. A road duathlon, whether in a city centre or country setting, will usually provide closed, smooth roads for some serious racing, allowing you to put the hammer down on the bike and aim for a PB. An off-road duathlon focuses much more on the experience of handling technical trails, steep descents and unpredictable terrain, slowing down your race but providing some serious entertainment at the same time.
Kit list
You can invest thousands of pounds into high-performance gear for duathlons - but you don't need to. Here's our round-down of the essentials to get you started.
Essential kit
Bike: OK, it's a no-brainer that you'll need some wheels for a duathlon but just make sure that your bike is suited to the course you're taking on. Just as road tyres will be no use on a trail route, riding a mountain bike in an ultra distance road race won't get you far!

Running shoes: Again, be clear on whether you need trail shoes or road shoes. A key consideration here is to leave them unlaced ready for T2 to save time or to have shoes that are very easy to slip on/off. Depending on where the transitions are, you may need two pairs of shoes.

Helmet: You will not be allowed to compete without one, for very good reason.

Cycle shorts or trisuit: Many duathletes compete in a trisuit but there's no obligation to - a pair of cycling shorts that are comfy to run in will work just as well. Just make sure that you have trained in whatever you wear for the race to ensure it is comfortable.

Performance apparel: You don't need to break the bank on the latest compression gear but, at the same time, running in a cotton tee would be a mistake. Make sure that your kit is breathable and sweat-wicking to keep you cool and comfortable. This may involve an extra windproof layer and some gloves for the cycling section.
Optional extras
Tri-belt: Whether you carry nutrition with you or rely on aid stations is up to you and your personal preference for things like energy gels and salt tablets, though if you do decide on packing some then invest in a tri-belt. These are designed to hold both energy tabs and your race number, saving you from putting holes in your trisuit with safety pins.

Sunglasses: Since duathlons continue throughout the winter, you've got a very good chance of running or cycling towards a low sun, so a pair of shades will come in very handy. What's more, cycling into a headwind without sunglasses on to deflect the breeze is not fun!

Skullcap or hat: There are some incredible duathlons to race throughout winter and the weather should not put you off, but that doesn't mean just turning up in your usual kit and braving in. A skullcap sits under helmet and helps to keep you warm despite any chilly headwinds you might face.

Turbo trainer: These stationary devices attach to your bike and allow you to train indoors on your two wheels, avoiding both the expense of a static bike and the annoyance of training on a bike that's not been set up for you. As mentioned above, duathlons are a brilliant opportunity to keep racing outdoors in the colder weather but that doesn't mean you need to train outside all the time!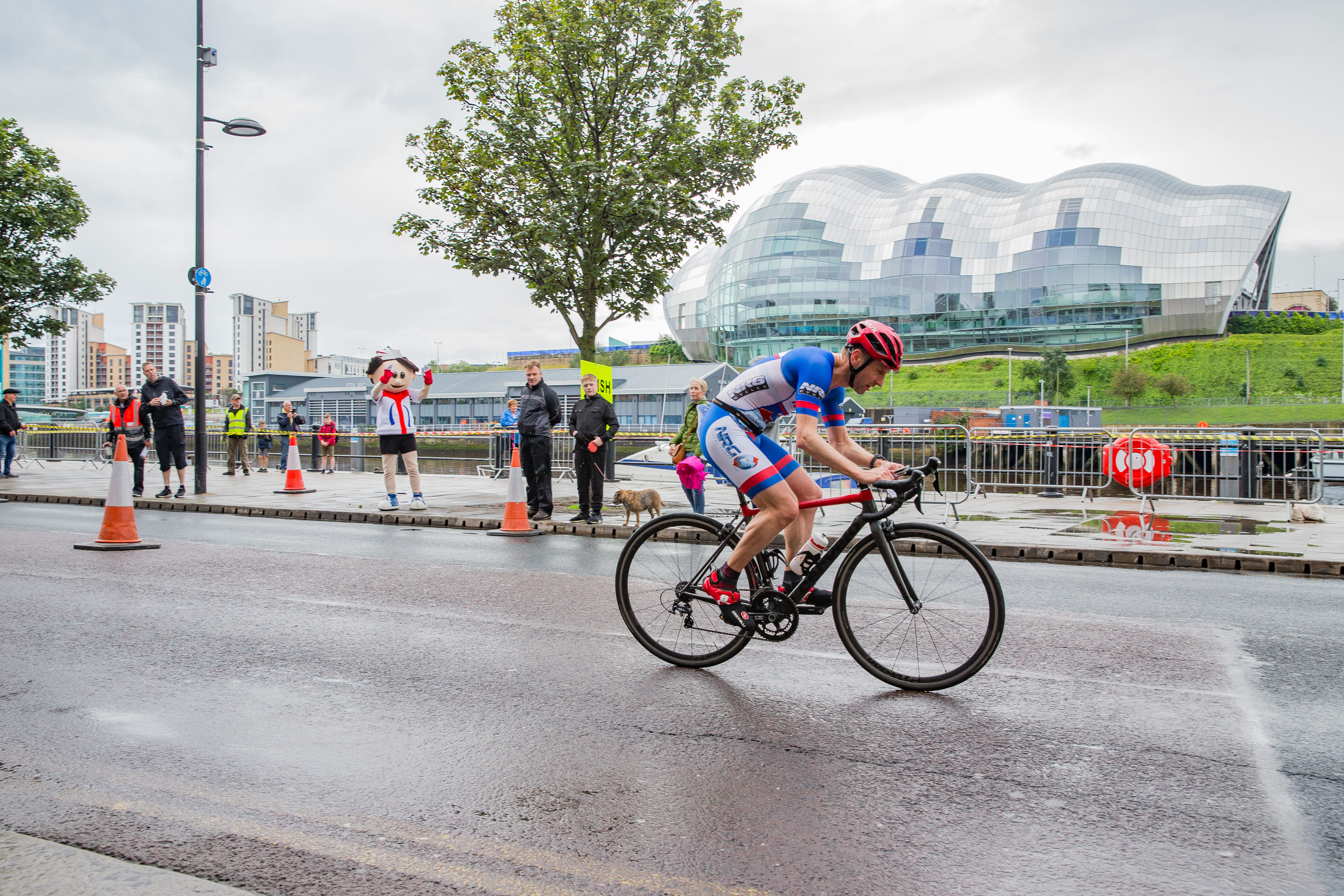 Training for a duathlon
If you're just getting started in duathlons after entering events as either a runner or a cyclist, adding a whole additional discipline into your training programme can seem daunting to say the least. While we won't give specific training advice on sessions, nutrition or recovery here (you'll need to be patient for that) we do have some pearls of wisdom to get you started.
Pick your weakness
If you're a runner who wants to try out duathlons, it stands to reason that the cycle leg is going to need more of your attention and your training programme should reflect that, with the opposite being true for cyclists. Depending on how many times each week you want to train, ensure that you are devoting enough time to addressing that imbalance in your skillset, not just training your strengths because they're more comfortable. Equally, don't try to dive in at the deep end on whichever discipline you are weaker with - start slow and build up steadily.
Practise transitions
Training running and cycling separately is useful but won't prepare you fully for race day. You also need to factor in bric sessions where you pair them together, heading out for a run immediately after cycling, for example. Not only will this train your legs to work under fatigue and limit the jelly legs sensation that every multi-sport athlete will know well, you will also get an opportunity to practise transitioning between disciplines. Follow all the same rules that will be in place on event day to become familiar with them.
Cross-training
Strength and conditioning is crucially important for any regular runner or cyclist but the temptation for a duathlete is to focus purely on those disciplines, neglecting the exercises that will help you to avoid injury. Stacking running and cycling together is going to create a major workload for your legs, so being consistent with both S&C and stretching is essential for maintaining a good level of performance.
How to find events
Once you've decided what distance you want to have a go at, invested in the right kit and are training specifically for a duathlon, the next logical step is to find a specific event to train for! Fortunately, we've made this part of the process easy and introduced a number of different options for flexibility.
Head to the duathlons section of our website to browse the 140+ events around the UK, with more being added all the time. There are major duathlons, like the Castle Race Series events in both the UK and France, as well as more local races, like the ATW Remembrance Duathlon in Essex and Storm the Castle in Shropshire.
You can search for a specific distance or for a region in the UK, displaying all the available options on an interactive map. To refine your results even further, use the advanced search to combine date ranges with location. If there's an event missing that you love, please go ahead and add it yourself - it's free to do and always will be.
Duathlons are incredible events that test your stength and stamina while also providing a brilliant race experience, ranging from ultra-distance road races to technical off-road events. To get involved, find an event below and stay in touch to let us know how you're getting on by using #FreeYourself!