Chasing a fast marathon time is as much about picking the right course as training hard! Check out our selection of the fastest and flattest marathons in the UK.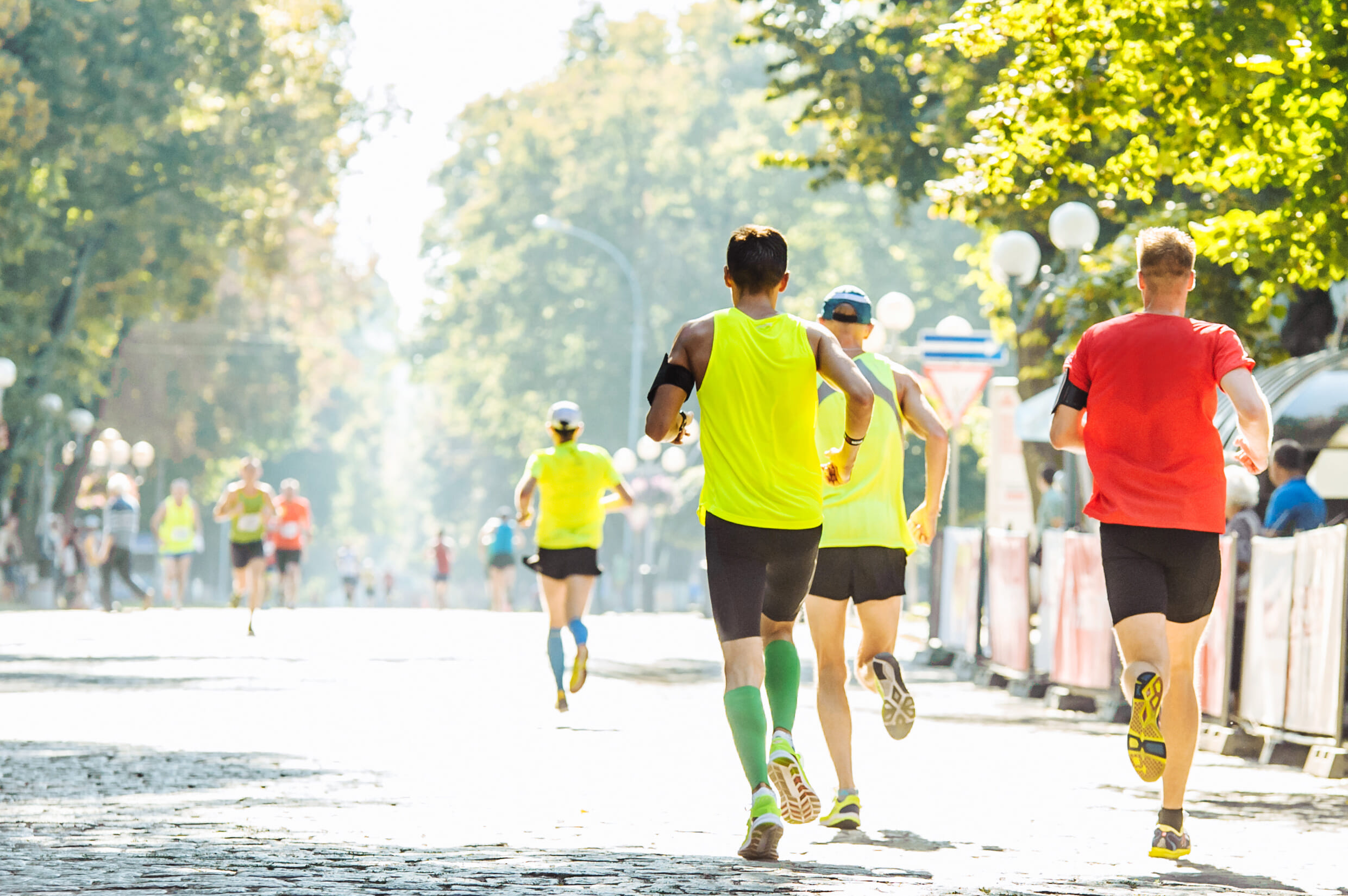 Running a good marathon time is a goal that many runners aspire to but it's also a very vague, unhelpful target. What is a good marathon time? How do you train for one? And what kind of factors are going to effect your pace and performance?
While your training, nutrition and equipment are what most runners think of when chasing a personal best, one of the most important but disregarded elements in which marathon you actually enter. Instead of analysing data on your wearable, much more effort should go into picking the right race.
Why is it so important?
Take the adidas Manchester Marathon, for example. It's regarded as one of the flattest marathons in the UK, racing through the city centre and past its iconic football stadiums. There's incredible crowd support along the way and live music to create an electric atmosphere, spurring runners on to chase their best times.
On the other end of the scale is the Loch Ness Marathon, favoured by runners across the UK for its sensational natural beauty. Its point-to-point route is far from flat, though, which helps to create a stunning route but is not ideal for trying to achieve a new best marathon time.
Clearly, the race you pick is going to have a significant impact on your chances of setting a new personal best time. In fact, some of the marathons we've featured here have had over 70% of finishers achieving new fastest times!
So how do you pick the best marathon for a PB finish time?
Well, starting right here is your best bet.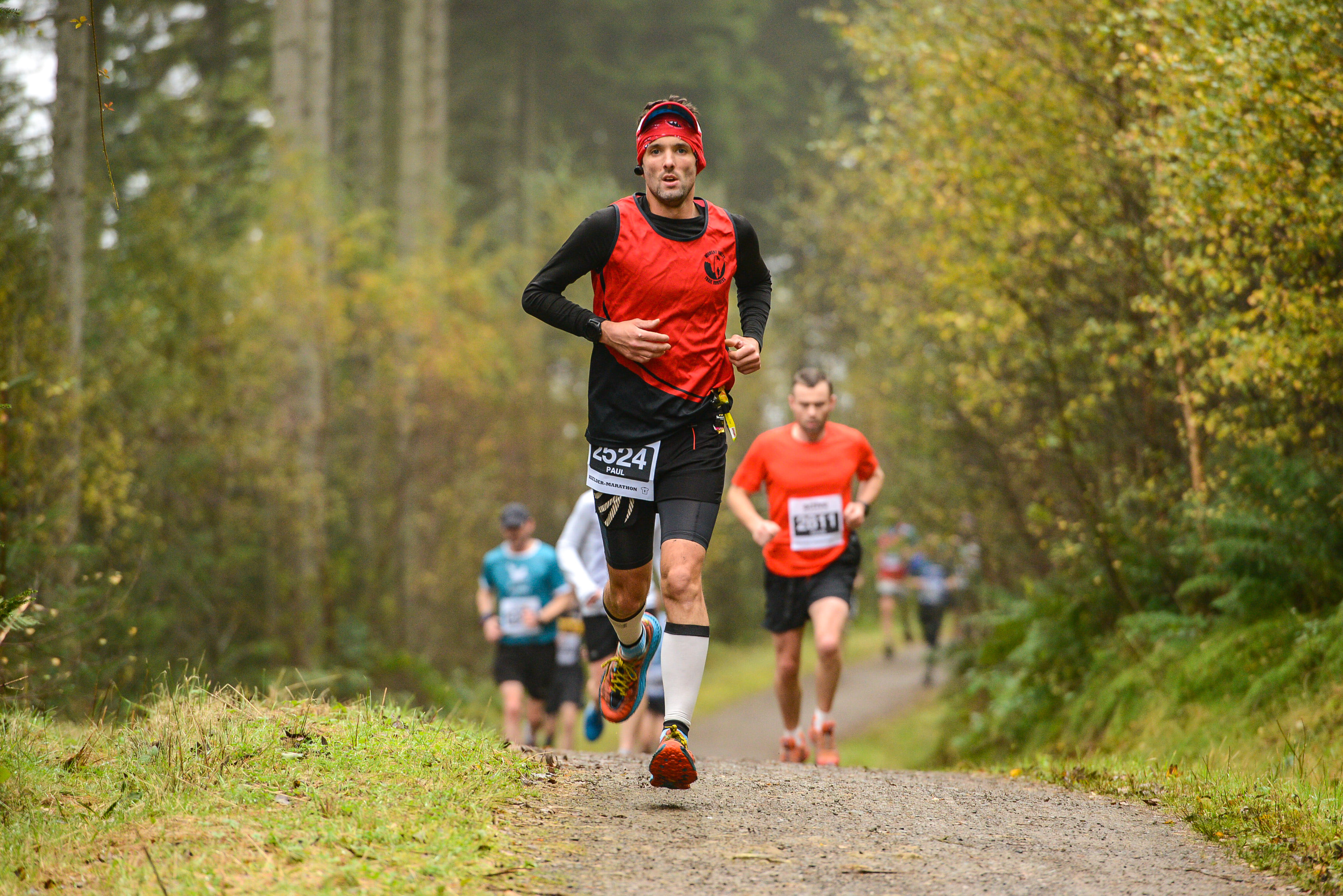 Average marathon finish time
The marathon time you aim for will depend on whether you're a beginner runner or a seasoned athlete but taking a look at both marathon records and average times can help to gauge your own marathon performance and plan for a PB.
What are the best marathon times?
Eliud Kipchoge holds the record for the fastest marathon in the world - in fact, he holds two records. In October 2022, Kipchoge set a new world record at the BMW Berlin Marathon by finishing in 2:01:09, which is an outrageously fast time. He has run faster, breaking the two hour mark in 2019 as part of an independent project with Nike and INEOS, using a carefully formulated pacing strategy and without race conditions. As that time was not set during an official marathon, though, we defer to his Berlin time for the world record.
Brigid Kosgei is the fastest woman to have ever run a marathon, setting a blistering time of 02:14:04 in the 2019 Chicago Marathon, breaking Paula Radcliffe's record of 15 years!
We're not expecting you to be chasing a world record, though.
What is an average marathon finish time?
An average pace is running a mile in around 10 minutes. Based on this, a marathon - which is 26.2 miles - would be finished in four hours and 22 minutes by your average runner, but given that people tend to slow down a bit over such a long distance, four hours and 30 minutes (04:30:00) is a more reasonable estimate.
With that in mind, a good marathon time will very much depend on you as an individual. If you're running your first marathon (and check out our guide on how to do so) then anything in that region is going to be a fantastic achievement. For someone entering their 10th marathon, you might be looking to pick up the pace a little bit.
More seasoned runners will often begin their marathon training by aiming to finish in under four hours, with real racing snakes working their way to three hours and 30 minutes, perhaps even faster. It's important to recognise that setting yourself a marathon time as a goal is a very personal exercise and comparisons to other people and their running data can be unhelpful.
One thing that will help everyone, though?
Running on a fast marathon course.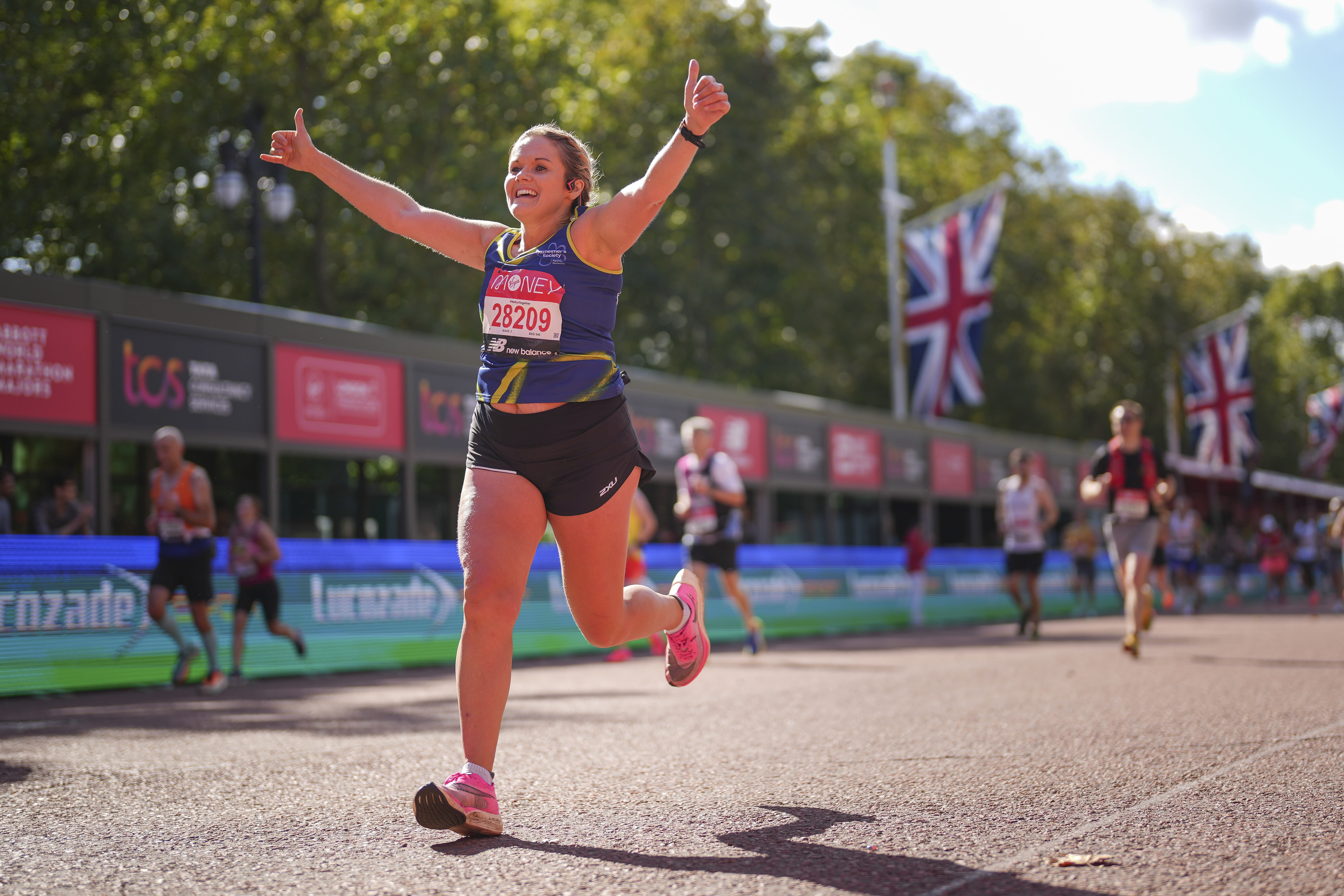 What makes a fast marathon?
Some marathon courses are renowned as great opportunities for runners to chase a PB but it's not just a flat course that makes them ideal for picking up the pace.
Take the BMW Berlin Marathon, for example, where Eliud Kipchoge set a new world record in 2022. Yes, it is a very flat course - there's only about 25 metres in total between its highest and lowest points. But it's also a course that contains lots of straight sections with easy corners, allowing for a consistent pace. The race is held in October, meaning the weather is cool but not too cold. As far as marathon running goes, it's perfect.
So when you're looking for a marathon that you can chase a good pace at, look out for these factors:
A flat course
Running somewhere beautiful like the Causeway Coast in Northern Ireland is a brilliant experience but it won't help you to set a new personal best. Head for flat ground. Even better, try to find a course with long sections of downhill running!
Well-maintained roads
Trail running is a favourite of ours at TimeOutdoors, allowing you explore the great outdoors in a way that road running can't. If your goal is to fun faster, though, tarmac is the way go - a city centre marathon is most likely to have smooth surfaces that will help you maintain a steady pace.
Straight sections
To help you maintain a consistent speed over 26.2 miles, you don't want to be dealing with hairpin turns and a weaving course. Something with long, straight sections of road is ideal.
Spring or autumn
Chasing a PB in the summer is going to leave you nowhere but in a sweaty puddle. Marathons earlier in the season or later in the autumn will provide better conditions for a maximal effort. Make sure you check the weather conditions, too - a coastal marathon could have fiercer headwinds.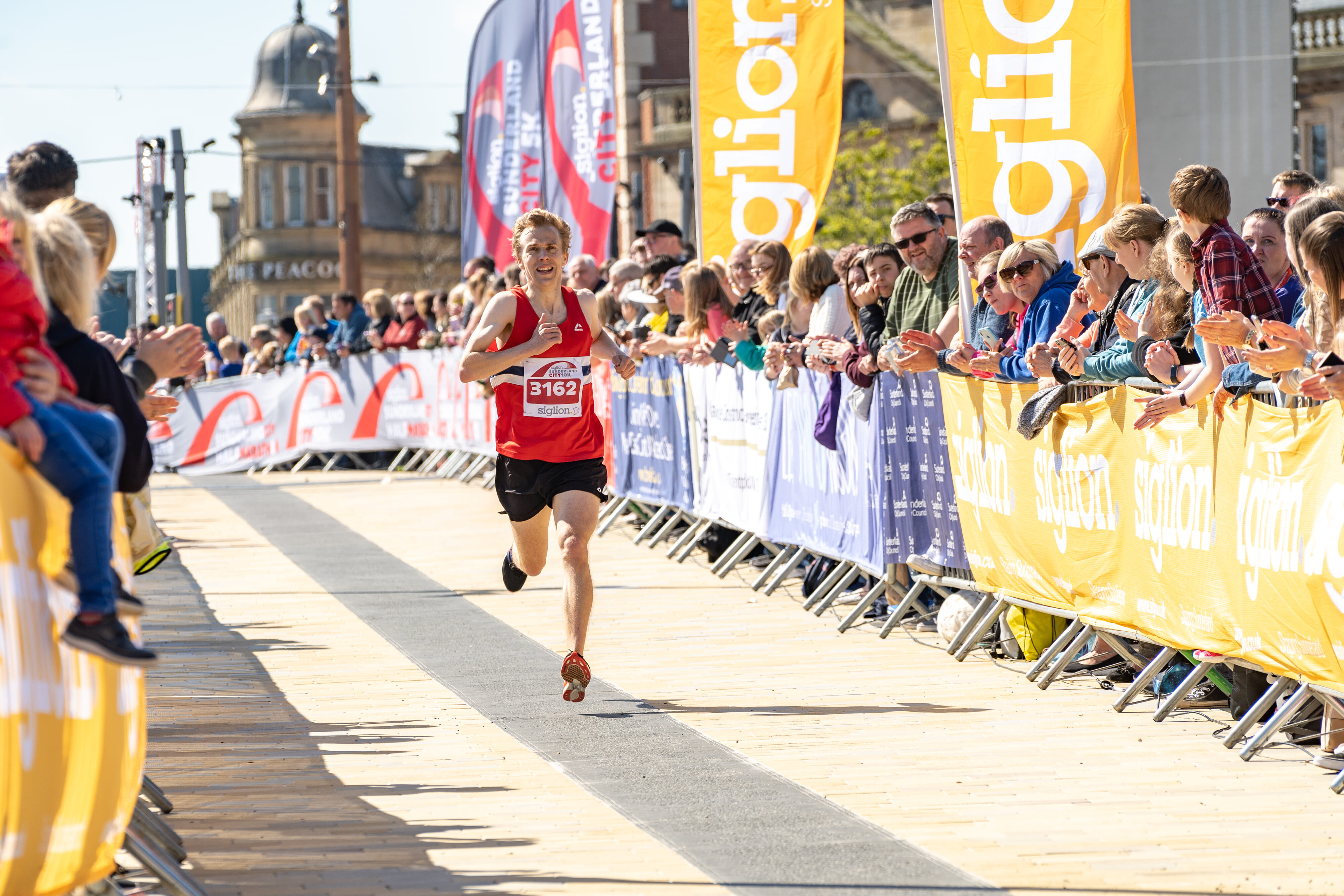 Fastest marathons in the UK
While Berlin might hold the reputation for the fastest international marathon, there are some rapid courses in the UK too that are ideal for collecting fast times. We've collated the fastest and biggest UK marathons for you to take your pick from, right here!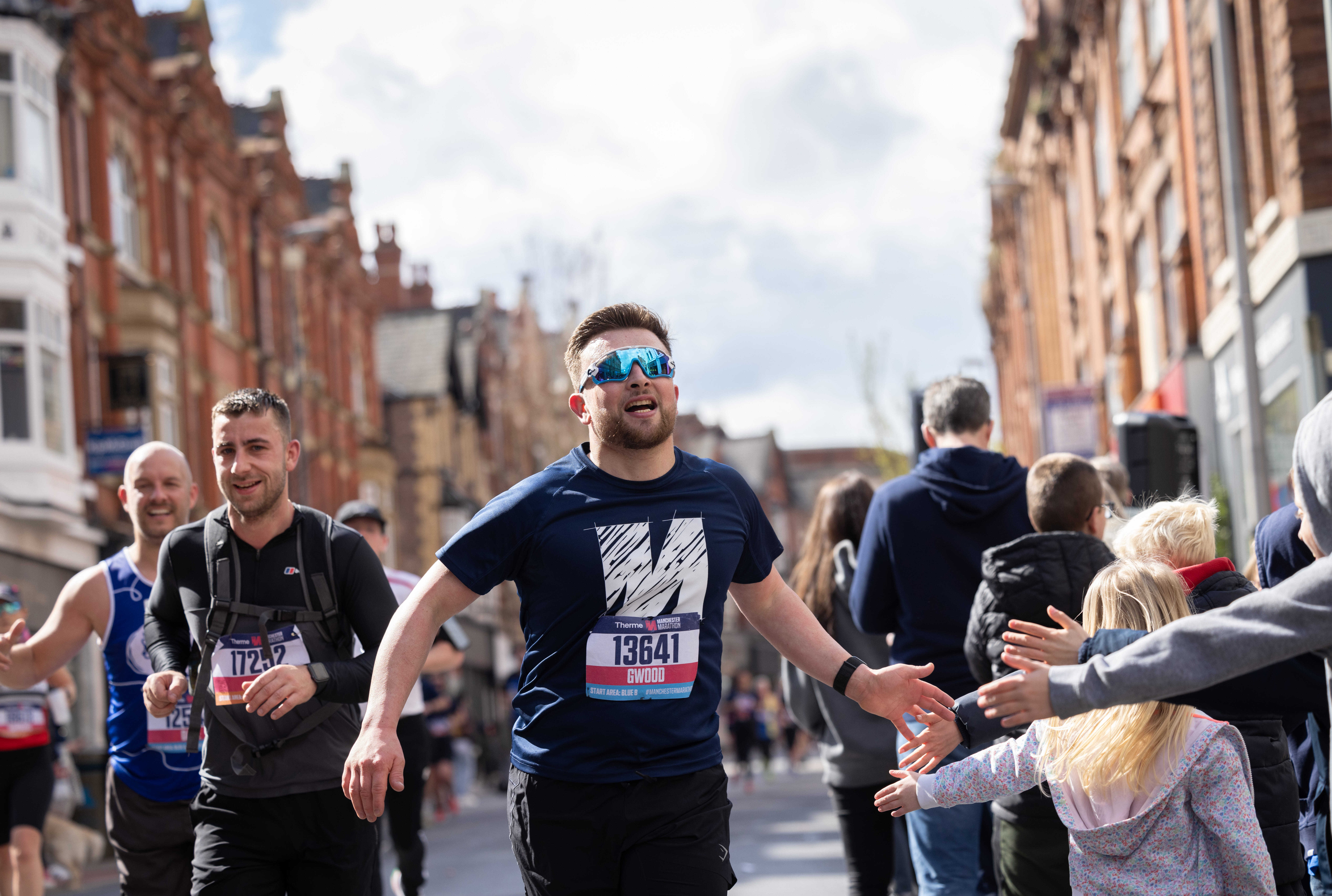 This is the second biggest marathon in the UK and has a reputation for being not only one of the flattest but also the friendliest! Starting in the city centre, runners nip to the Etihad Stadium before returning and embarking on a long, flat section down the A56 and back again. It's this part of the route that helps runners to collect some impressive times, as well as the brilliant entertainment to keep you motivated.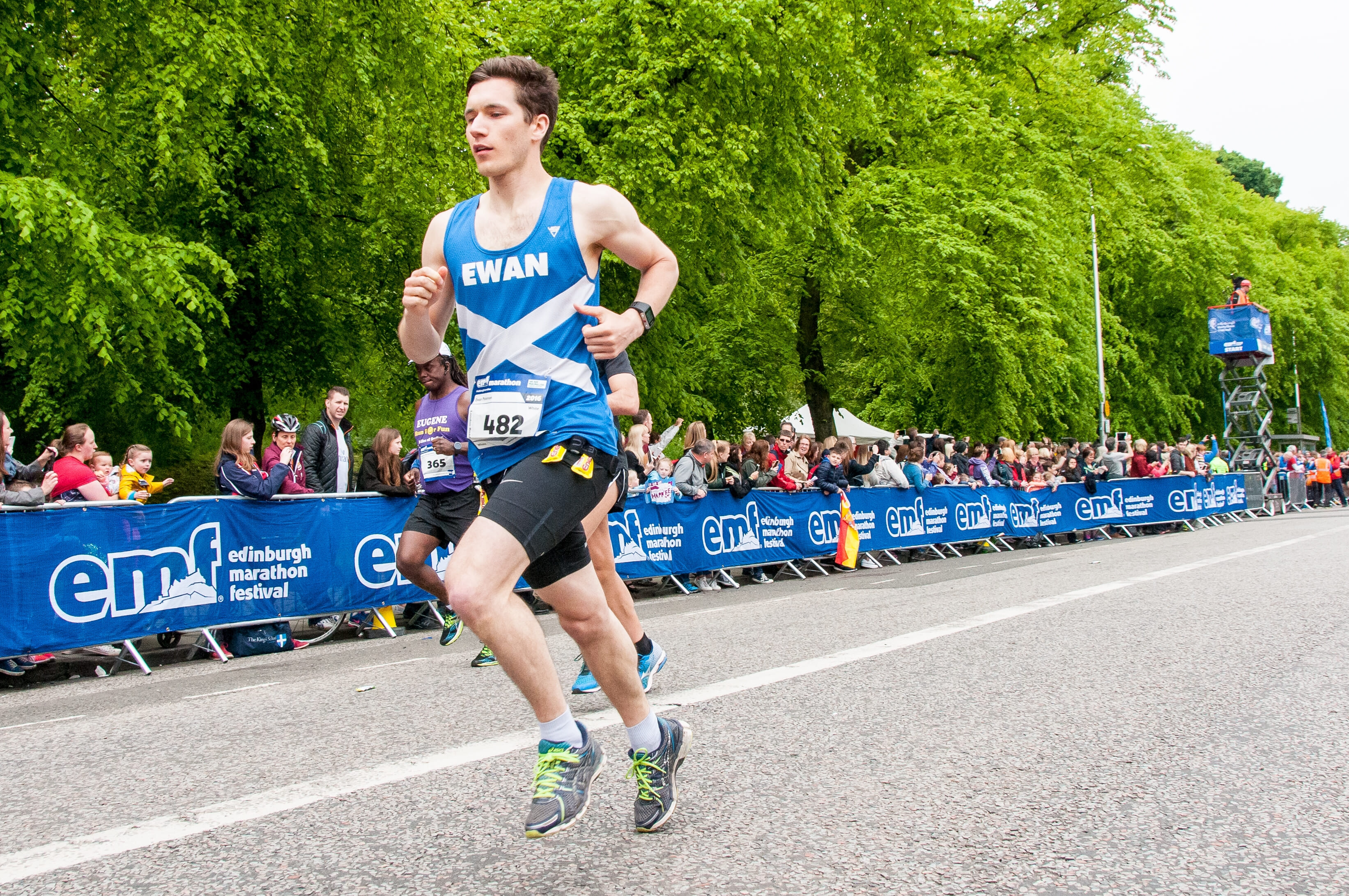 The Edinburgh Marathon is impressive for many reasons but one of the most unusual is the largely downhill profile of this race, beginning in the Scottish capital's historic streets and descending to the long, flat coastal road. Combined with some brilliant crowd support and an impressive finish line close to the oldest golf course in the world, this is an electric event as well as a great opportunity to chase a new marathon time.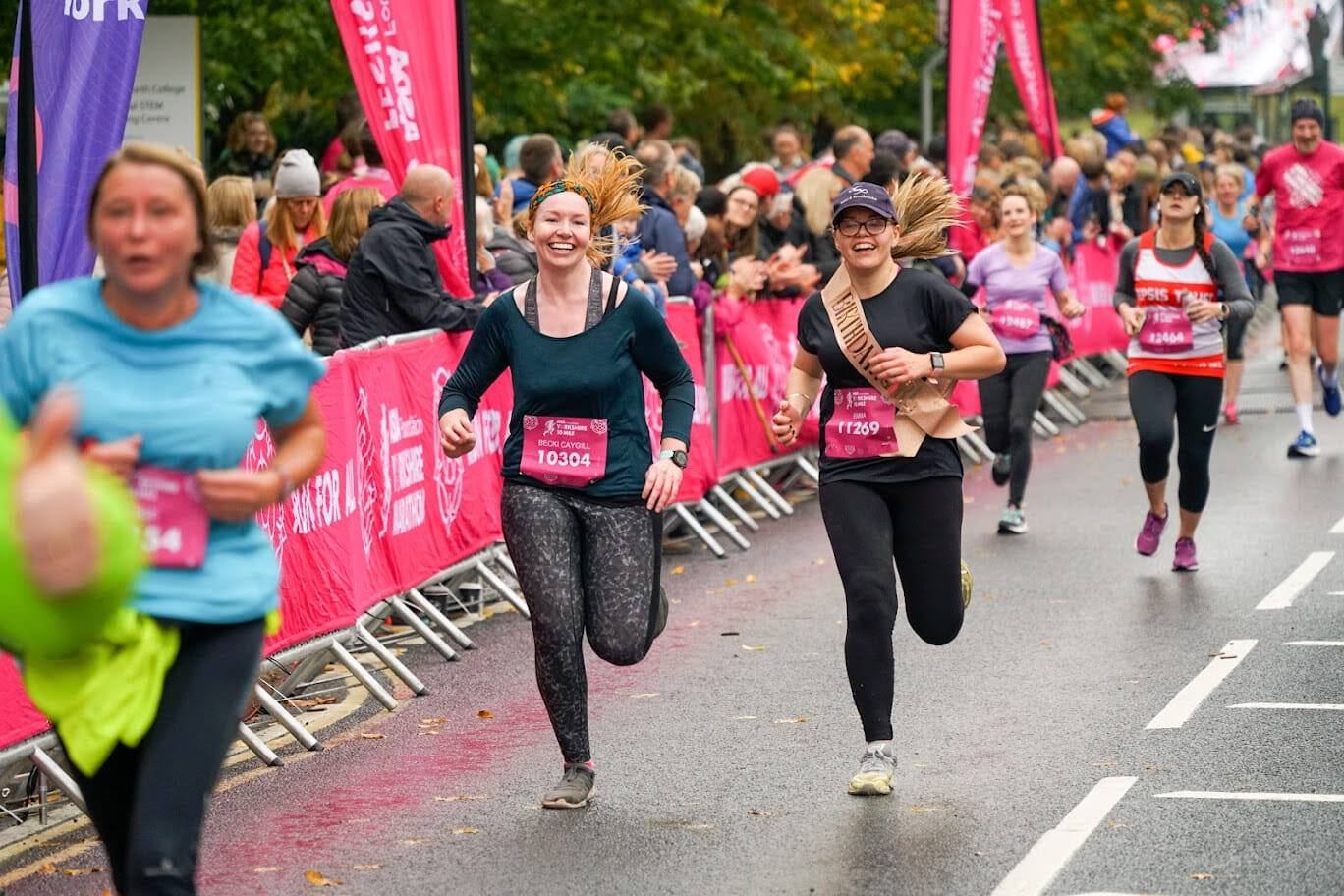 Thousands of runners take to the streets of York each year for this 26.2-mile race, enjoying both the friendly welcome from the city's residents and the flat, fast course that explores both historic city streets and the surrounding countryside. What's more, there are pace runners on the day to help you target a consistent speed too. What more could you need for a PB attempt?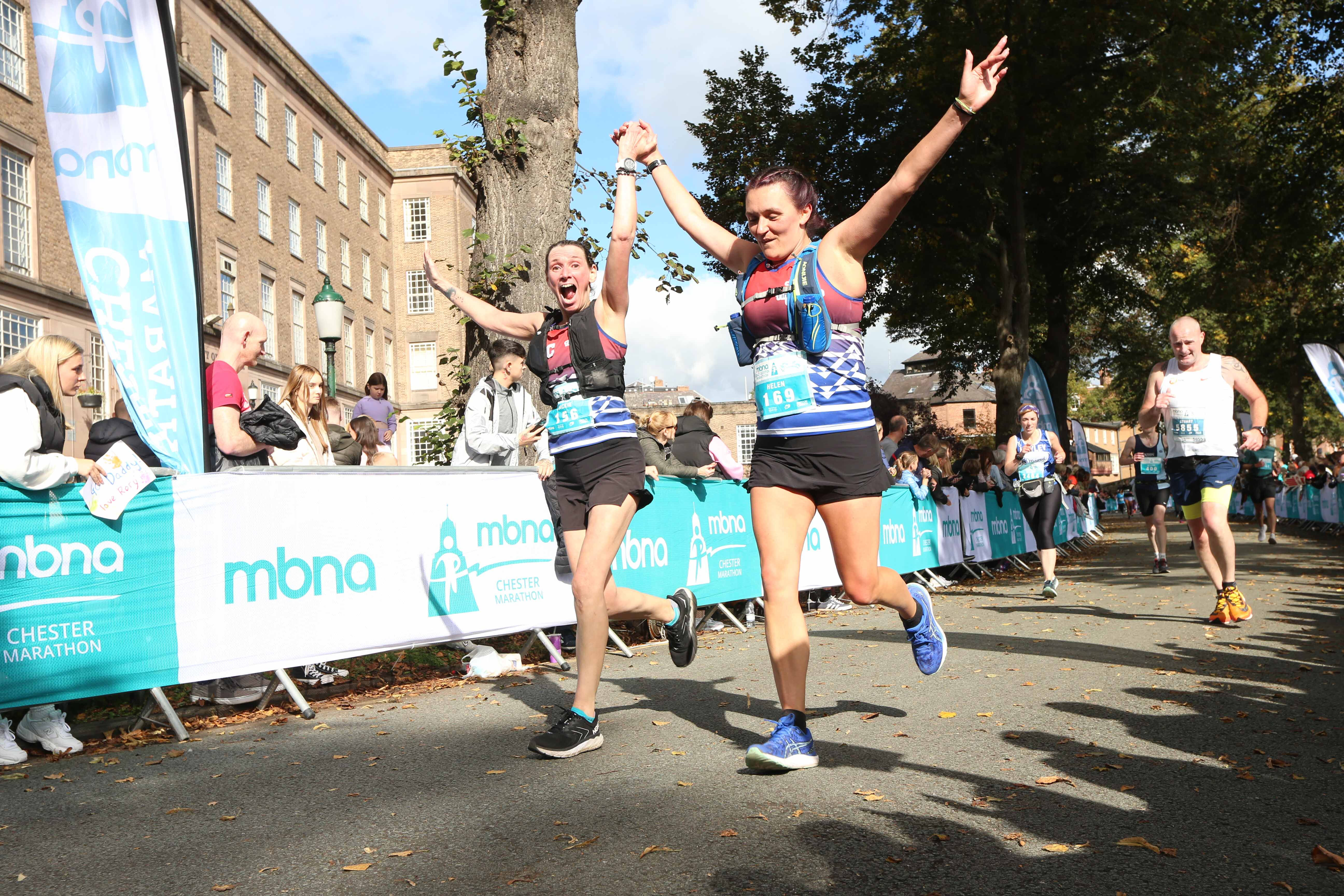 This North West marathon earns its place on our list because over 70% of runners achieve a personal best marathon time but there's much more to celebrate about the MBNA Chester Marathon. It was voted the best marathon in the UK three times in a row and explores both England and Wales on its scenic course. In fact, this multi-award winning route is so good that it is a qualifying race for the prestigious Abbott WMM Age Group World Championships! If you're hunting a marathon PB, this race needs to be in consideration.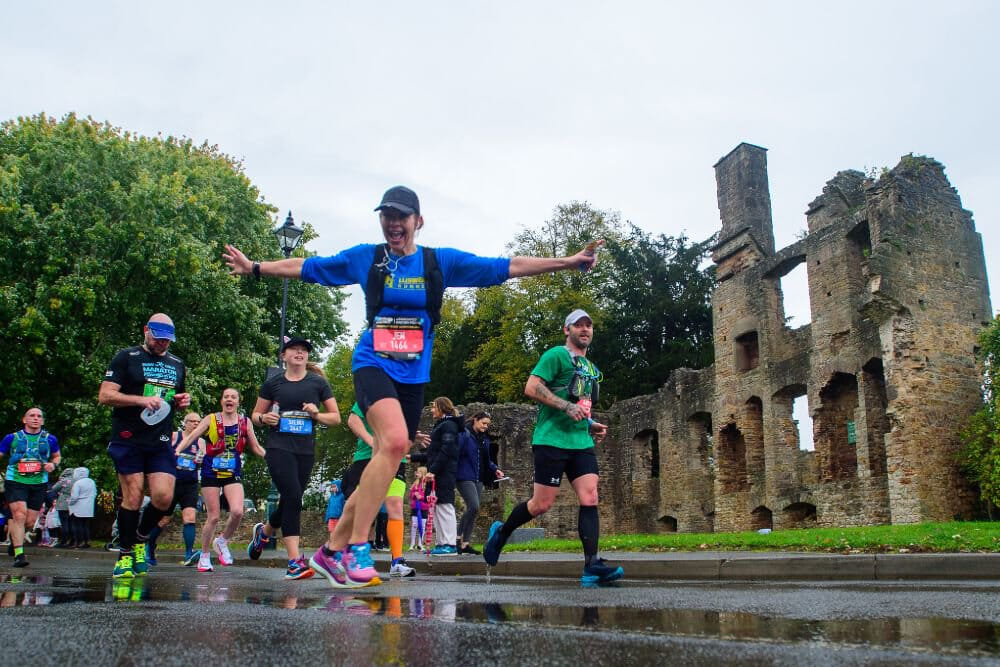 Another race in which over 70% of finishers claim a PB, this marathon could just be the flattest in the whole of the UK. Its route was devised by Olympic marathon runner Steve Brace and is a brilliant mix of city streets and rural roads, with the elevation never exceeding 23m above sea level. Over 10,000 runners descend on Newport each year to chase fast times in this exciting marathon.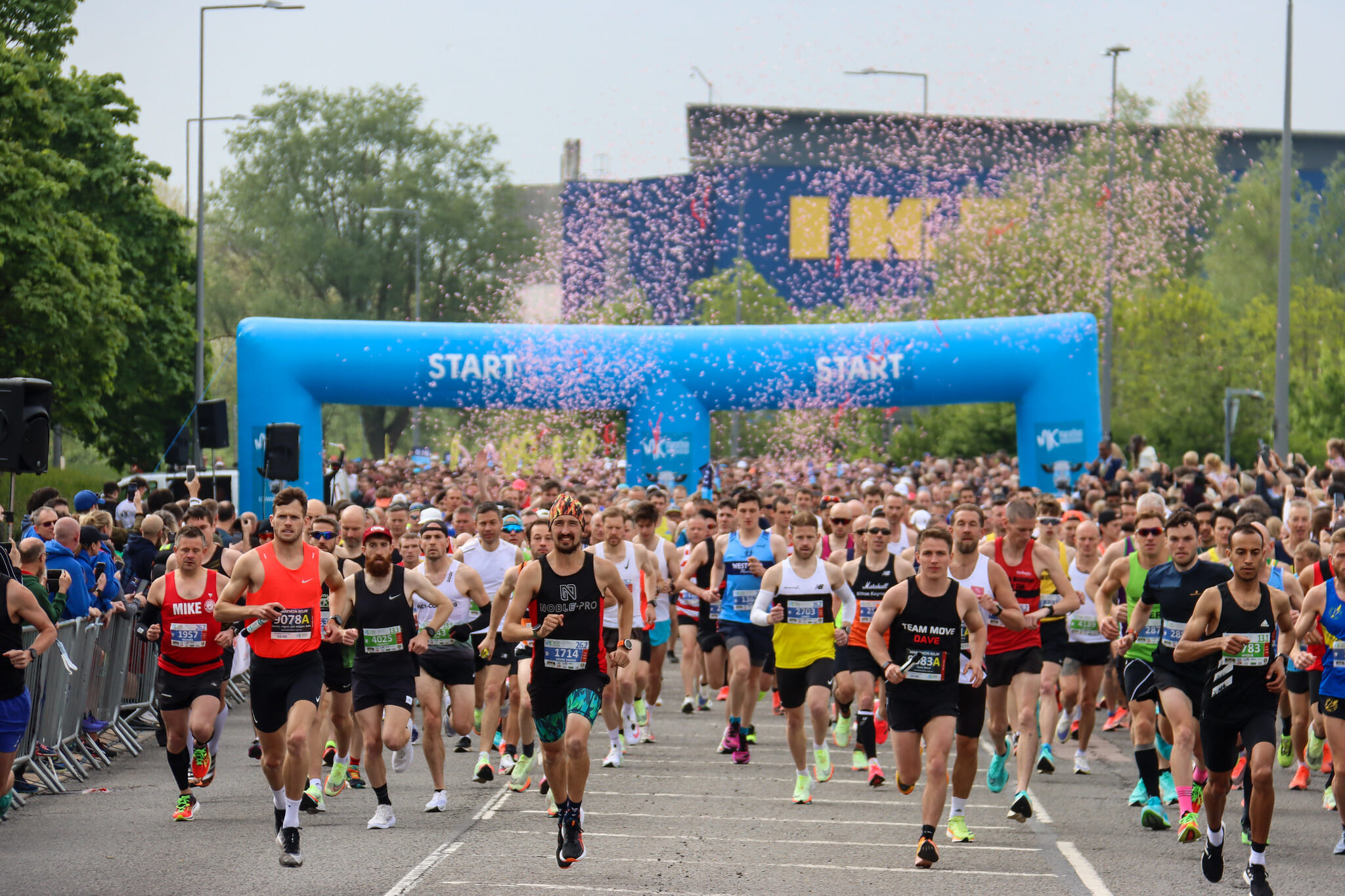 If you were to design a marathon route where runners could pursue new personal best times, it would look a lot like the Milton Keynes Marathon. It follows the city's beautiful system of cycle paths known as the Redways, tree-lined and well-maintained paths that explore Milton Keynes' green spaces. This race is consistently voted as one of the UK's top 10 marathons and culminates in a great festival with live music, street food, a bar and fun fair for kids.
Looking for something else?
These races are some of the flattest, fastest marathons in the UK but they're far from the only ones you'll find on TimeOutdoors. Listed below are some of the best marathons in the UK and abroad!