Taking on a half marathon on behalf of a good cause could be exactly the challenge you need! Running for charity provides great motivation to train and comes with some diverse benefits, too. This is all the information you need to get started.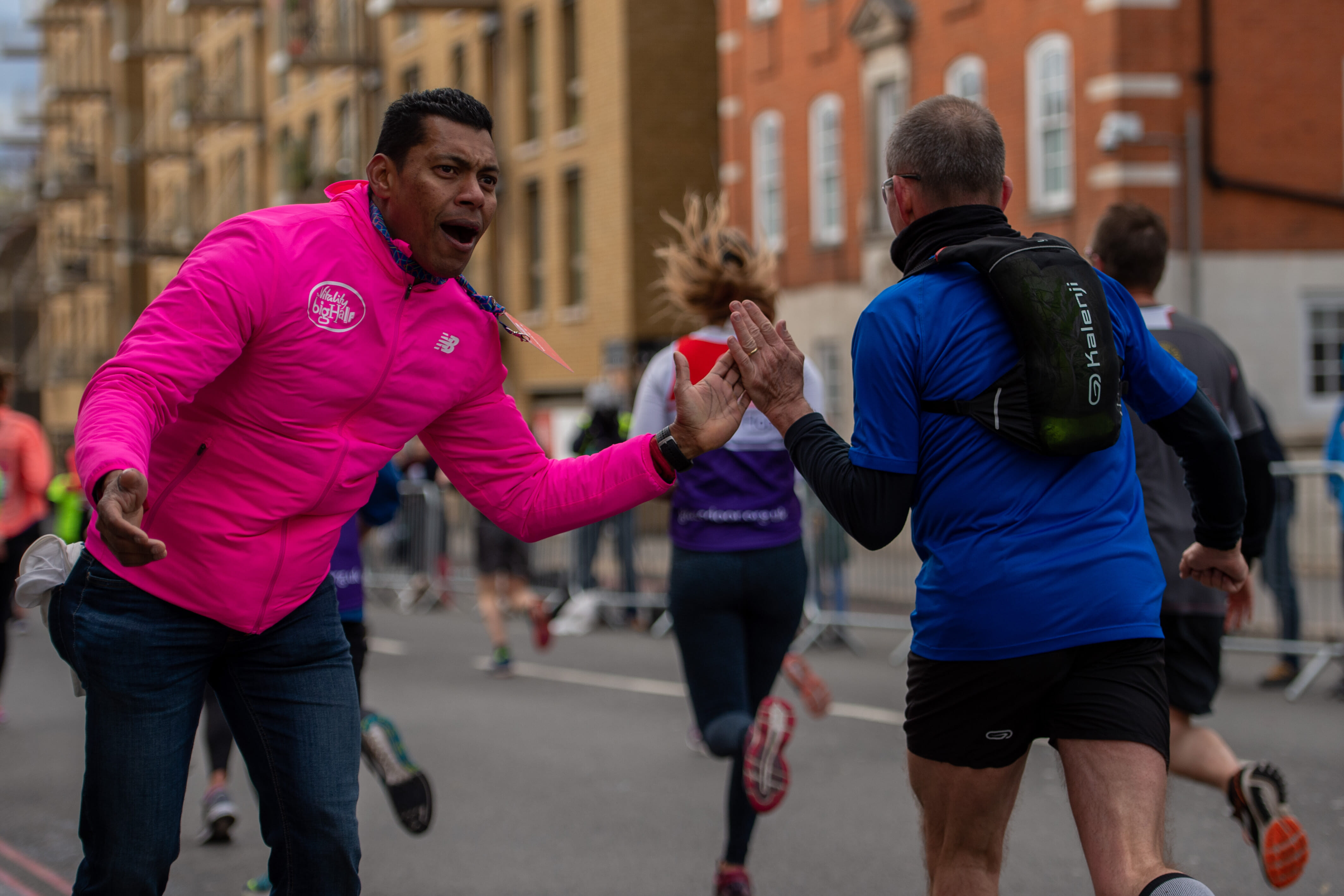 Setting yourself a challenge is one of the best ways to increase motivation to get outside and run, whether you feel like you've plateaued or are just not keen on running when it's dark and cold outside. Once you've committed to a challenge - and doing so publicly is the best way - you'll feel more accountable to lace up your trainers and head outdoors.
Looking for a challenge that will provide a hefty dose of motivation? Simple: sign up to run a half marathon for charity. Both of those factors are important, as the distance is long enough to require training for and the charity fundraising will generate motivation to keep moving when the going gets tough. Whether you have a particular affinity for the cause or not, supporting a charity will give extra meaning to your running and training, too.
Deciding to run a half marathon for charity is the kind of challenge that will give you an extra spring in your step as you head out for a training run but you might not be completely clued up on where to start. No bother - that's where we come in. This guide will explain what running for charity really involves and which half marathons you can take your pick from!
Why run for charity?
Sure, you need motivation to get outside and run, but that's far from the only reason to run a half marathon for charity. In short, doing so provides huge benefits to both you and the cause you'll be supporting, from the altruistic fulfilment of helping others to a guaranteed place on some of the most highly sought after start lines in the UK.
How do you get a charity place?
If you've never run for charity before, the process of doing so can be unfamiliar. Essentially, charities apply for and are awarded a set number of places in an event - how many they get will depend on the size of the event and the size of the charity. So when the regular event entries are all booked up, charities will still have their allocated places.
The process of getting one is pretty simple! You make an application to the charity, usually committing to paying an entry fee and raising a minimum amount of fundraising. The charity may also ask if you have any particular reason for wanting to support them - many people who raise money for mental health charities, for instance, have experienced poor mental health themselves. This isn't a necessary requirement to gain a place but could give your application an edge if places are hard to come by.
Once the charity accepts your application (there's no absolute guarantee that they will but unless places are severely limited, you should be fine) it will be up to you to start fundraising! The minimum fundraising requirement will depend on the size of the event. For the Great North Run, charities will ask for around £350; for the Mizuno Half Marathon in Amsterdam, you will need to raise about £150. In return for the funds that will help the charity continue providing vital services, they will offer a range of benefits to you as a runner.
Benefits of running for charity
Beyond the motivational boost to your training and the feel-good factor of supporting a good cause, you can expect a number of different benefits from committing to raise funds for a charity, including:
Fundraising support - charities know that raising money can be difficult, which is why they usually provide advice and branded materials to help generate sponsorship, particularly when the minimum requirement is high. Think videos for social media, branded imagery and testimonials from previous runners.

Training support - whether this is your first half marathon or your fifth, you'll need to train for it! Charities have access to expert coaches and elite runners, who can provide exclusive tips for your race preparation. Running for Dreams Come True, for example, gets you access to advice from five-time Olympian Jo Pavey!

Branded running kit - when you show up on the day, people need to be able to see clearly that you're supporting a charity. Most will give you a branded and personalised t-shirt or vest to run in, as well as the option of buying a training top to prepare in.

Support on the day - when you're partway through a half marathon and your energy is flagging, what you need is a boost from cheering spectators to keep you moving. Most charities will set-up a cheer station along the route of major half marathons, keeping an eye out for you to send up a huge cheer as you run past!

Post-race recovery - many charities will provide refreshments and a post-race sports massage for their runners, particularly at larger events. This is the perfect way to recover alongside other people who have run for that cause.

Exclusive social media groups - you won't be the only person running for that charity, so it's well worth meeting other runners through the charity's invite-only social media pages! You can organise to meet up for training runs, chat with the charity's expert coaches and share tips and stories with each other to keep the motivation levels running high.
Half marathons with charity places
With some events organised directly by charities, like the London Landmarks Half Marathon, and others offering a range of charity places, like the Great Birmingham Run, there's a huge range of potential half marathons to enter in 2023!