Stage 1 - Bike 39 miles
At dawn, you'll set off from the event base on a 39-mile bike ride that begins with a ride to the coast.
From there you will follow the River Seiont as it flows out of Llyn Padarn and joins the sea at Caernarfon with its historic royal fortress. Here the route rides along coastal roads before returning inland with a stunning backdrop of Snowdonia ahead of the final push that brings you back towards Llanberis ready for the next phase of the challenge!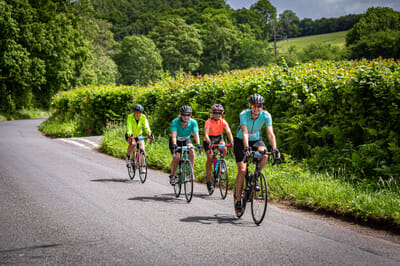 Stage 2 - Hike 9 miles
Once you've donned your hiking boots it's time to embark on a 9-mile return walk along the Llanberis path.
This route offers a nice gradual climb that follows the iconic Snowdon Mountain Railway, before your final ascent to the summit of Yr Wyddfa (Snowdon). Sitting at 1,085m above sea level, Yr Wyddfa is the highest mountain in Wales and England that offers unforgettable views of the Welsh countryside and Llyn Padarn below where the water phase of the challenge will take place.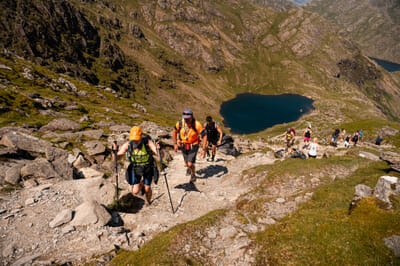 Stage 3 - Paddle 2 miles
Lifejackets on, it's now time to take on the final stage of the challenge!
In either a kayak or rafted canoes, your team will work together to complete a 2-mile circular route on the waters of Llyn Padarn, a lake nestled amidst some of Eryri's (Snowdonia's) most spectacular scenery, including the imposing Llanberis Slate Quarry.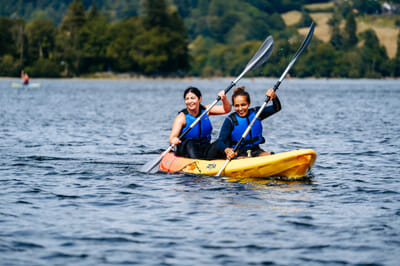 Once completed, all that's left is a short walk to the finish line for a well-deserved drink on us and a celebratory BBQ!