From cold water therapy to time spent in the great outdoors, open water swimming is your express ticket to feeling happier and healthier this year.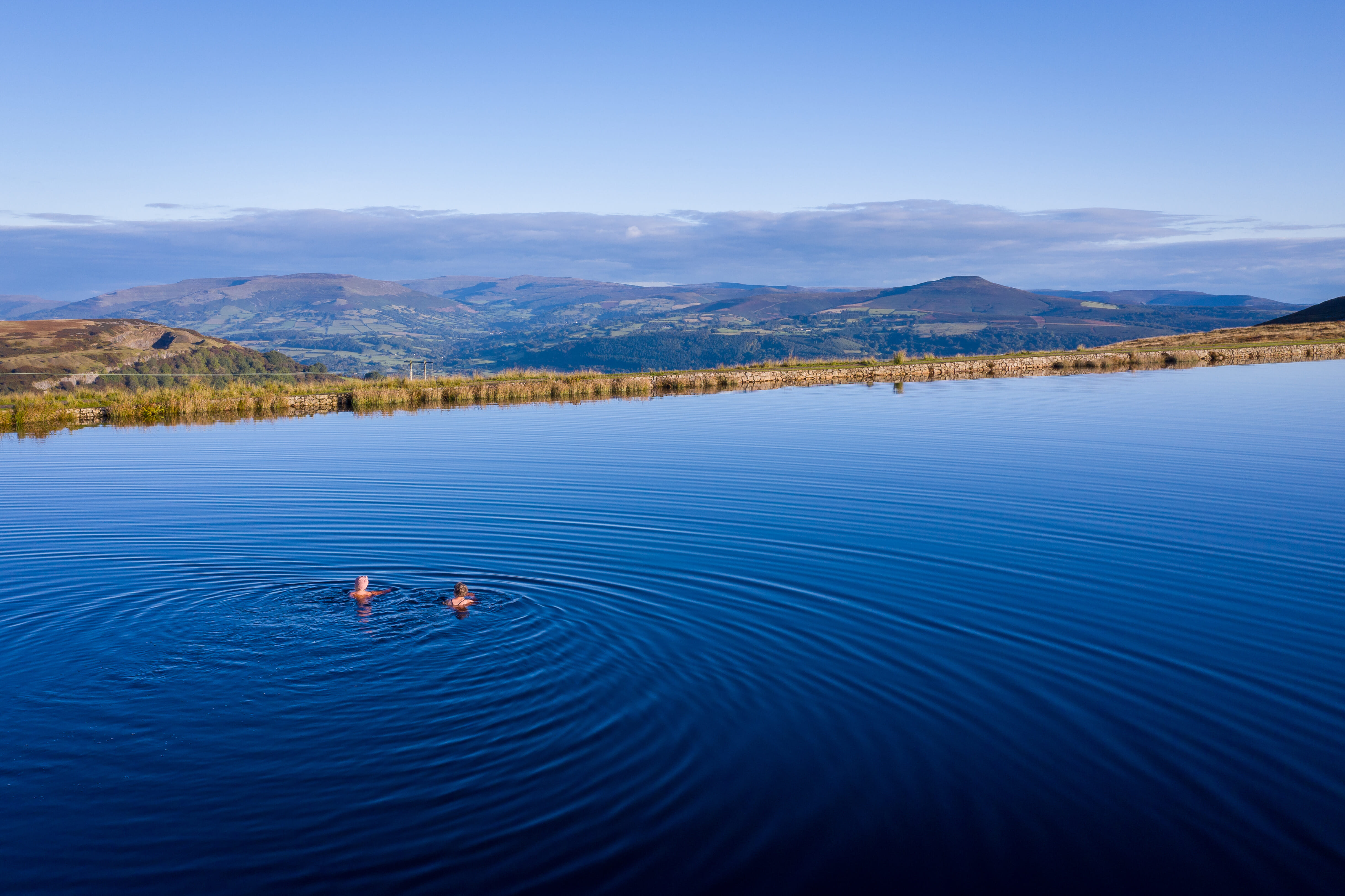 As I descended the stone steps, the chill of the water I was entering was immediate and obvious but, to be honest, I'd expected worse. Maybe all I'd read about cold water shock was exaggerated? Maybe I was some kind of Wim Hof superhero?
Nope, there it is.
As I left the steps and plunged into chest-deep water, the cold hit me like a hammer, enveloping me in an icy embrace that drove the air from my lungs and sent searing pain through every limb. I turned in a blind panic but the steps were occupied by incoming swimmers - the b*stards - so I hauled myself out onto the stone floor by the water's edge with the lolloping grace of a walrus, lungs bellowing and desperate to reach my towel.
It wasn't the best introduction to open water swimming.
We were at Clevedon Marine Lake, an local swimming spot fed by the Bristol Channel that's popular by cold water enthusiasts. The evening before, New Year's Eve, we had decided to kickstart 2023 with a swim - the friends we were visiting are regulars and, keen to experience the benefits of cold water therapy made so popular across social media by people like Wim Hof, I agreed to go along. My lacklustre performance can be partially explained by a New Year's hangover but, for the most part, I was simply unprepared for how shocking the cold water would be.
So why on Earth am I desperate to go again?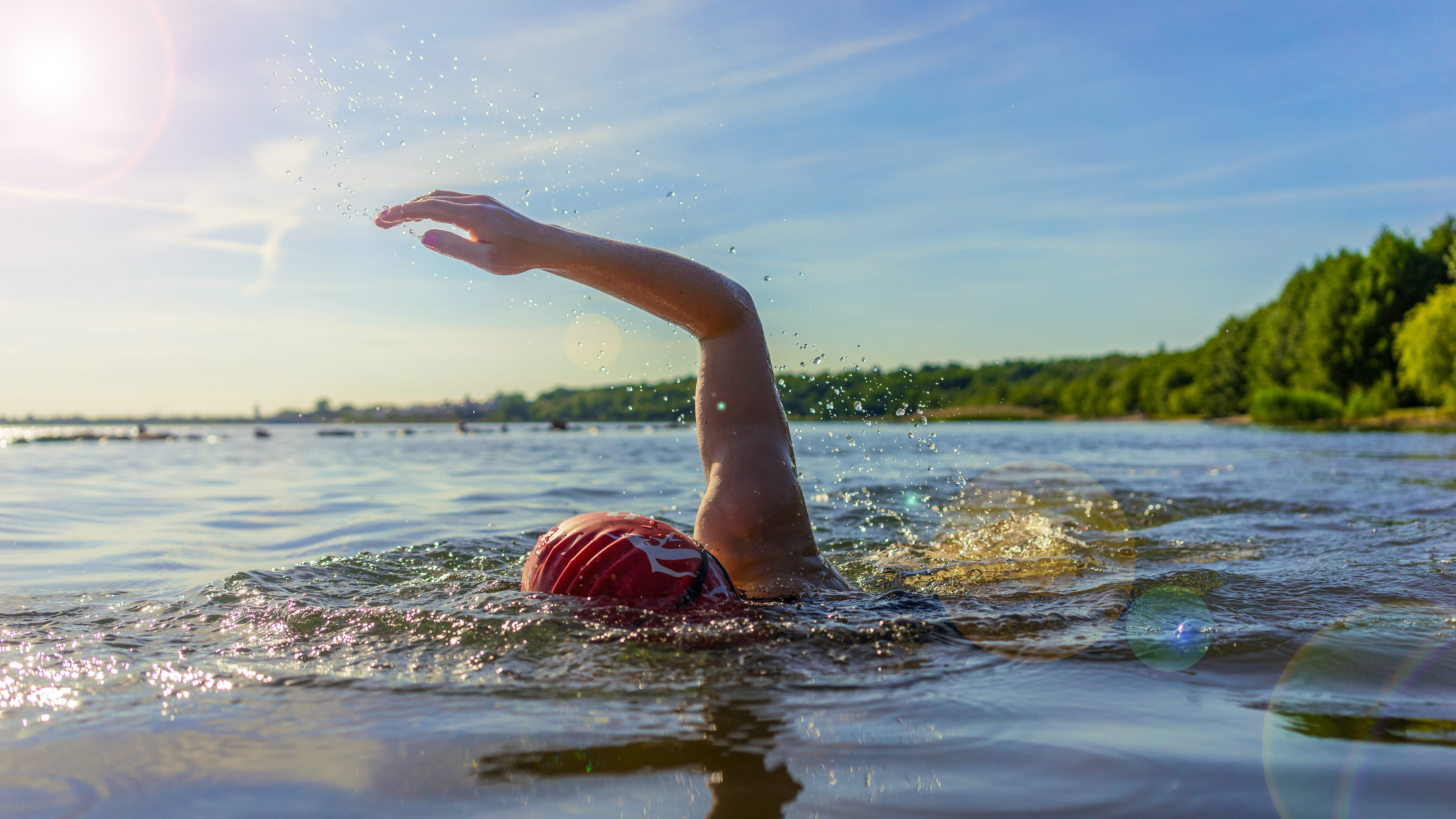 Cold water therapy: the background
Embracing the cold on a regular basis is having something of a moment. Athletes and coaches have long advocated the curative effects of plunging into ice but it is only in the past six months or so that people all across the UK have developed an urge to submerge themselves in freezing cold water, inspired by celebrities, fitness gurus and social media influencers. Ranging from premium, custom-built containers with seats to homemade tubs fashioned from spare wheelie bins, having an ice bath in your garden is a statement of taking your physical and mental well-being seriously.
So does it work?
Cold water therapy is alleged to have some serious physical benefits, including dramatically lowering inflammation in your muscles and joints, flushing waste products out of your circulatory system and boosting your immune system to stave off illness. Advocates of the recent trend swear by a daily dose of cold water, whether from plunging into an ice bath or turning your shower to its coldest setting for 30 seconds.
Subjecting yourself to the cold isn't just about what it can do for your body, though.
Stoic philosophers of ancient Greece and Rome have inspired modern wellness gurus in their belief that testing your self-discipline and subjecting yourself to difficult scenarios is key to developing a resilient mind and body. Essentially, if you can override your body's natural response to cold water shock and endure the experience, you'll be less likely to panic when other stressful scenarios arise in day-to-day life.
Which brings us back to Clevedon and my red wine hangover.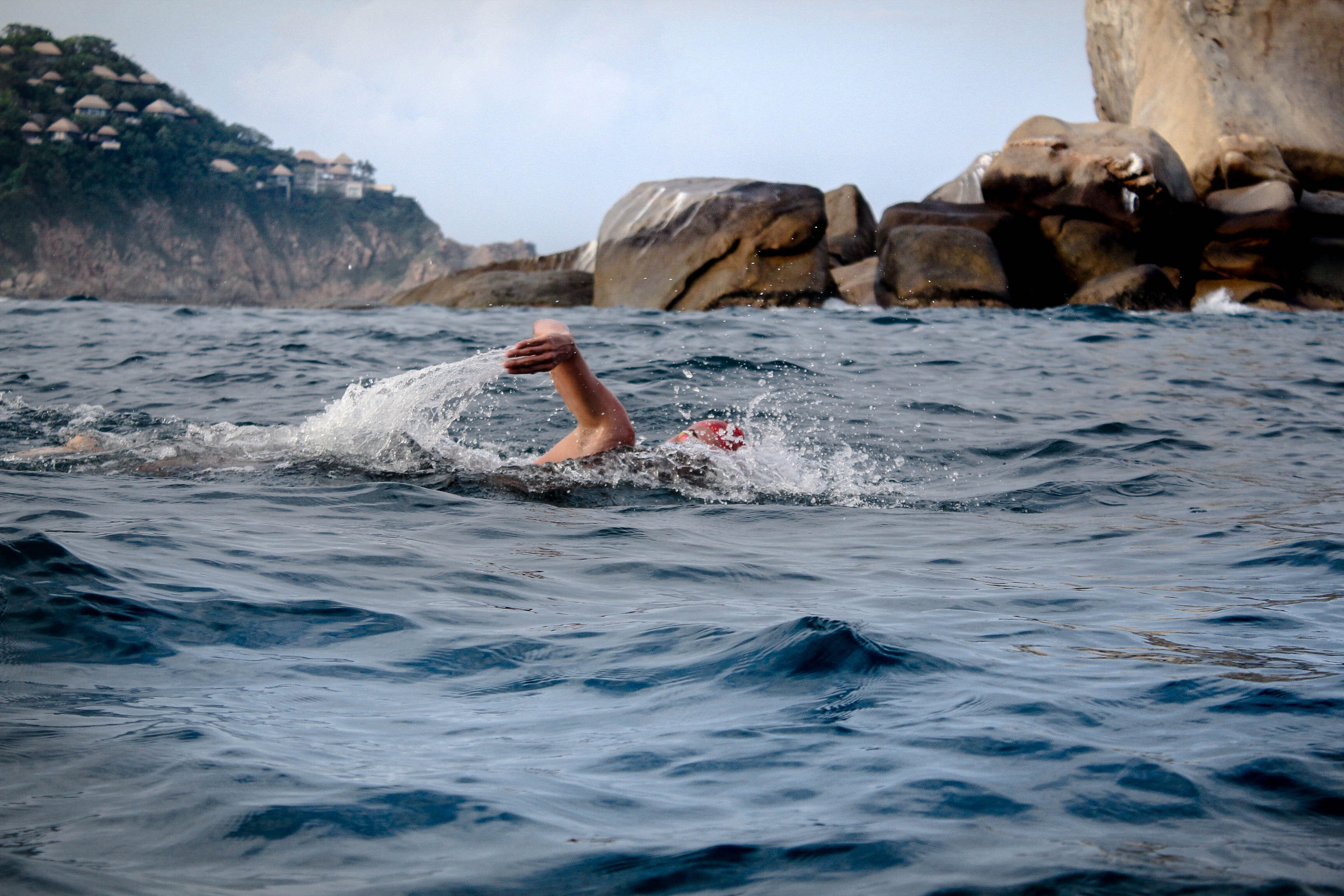 Cold water swimming: the solution
Despite barely lasting 10 seconds in the Marine Lake on New Year's Day, I felt invigorated from the huge physical response I had to the cold water - for one thing, the headache from a few too many drinks was cleared instantly. More importantly, I felt alive. In fact, I returned to the water soon after to dunk my head in and chase that heightened sense of being.
But I'm not going to buy an ice bath.
Why not?
Cold water exposure clearly has some benefits for both your mind and body. I'm not convinced that submerging myself in a wheelie bin full of icy water in my garden at 06:00 is the best way of reaping those benefits, though. It's not quite the same as sharing the experience with friends on the shores of the Bristol Channel.
So instead I'm going to take up open water swimming in 2023. It offers the same physical benefits as a quick dunk in cold water - in fact, sometimes that's all it is - and much more besides.
Open water swimming is sociable
The shock of diving into cold water is much easier to manage if you're sharing the experience with other people but that's far from the only reason to swim in the great outdoors in a group.
A thriving community of open water swimmers has steadily grown in the UK over the past decade and you'll rarely see someone swimming in a lake, river or the sea on their own. That's because this kind of swimming is less about getting an intense workout (though it is great fitness, as we'll explain) and more about immersing yourself in a natural environment with other people.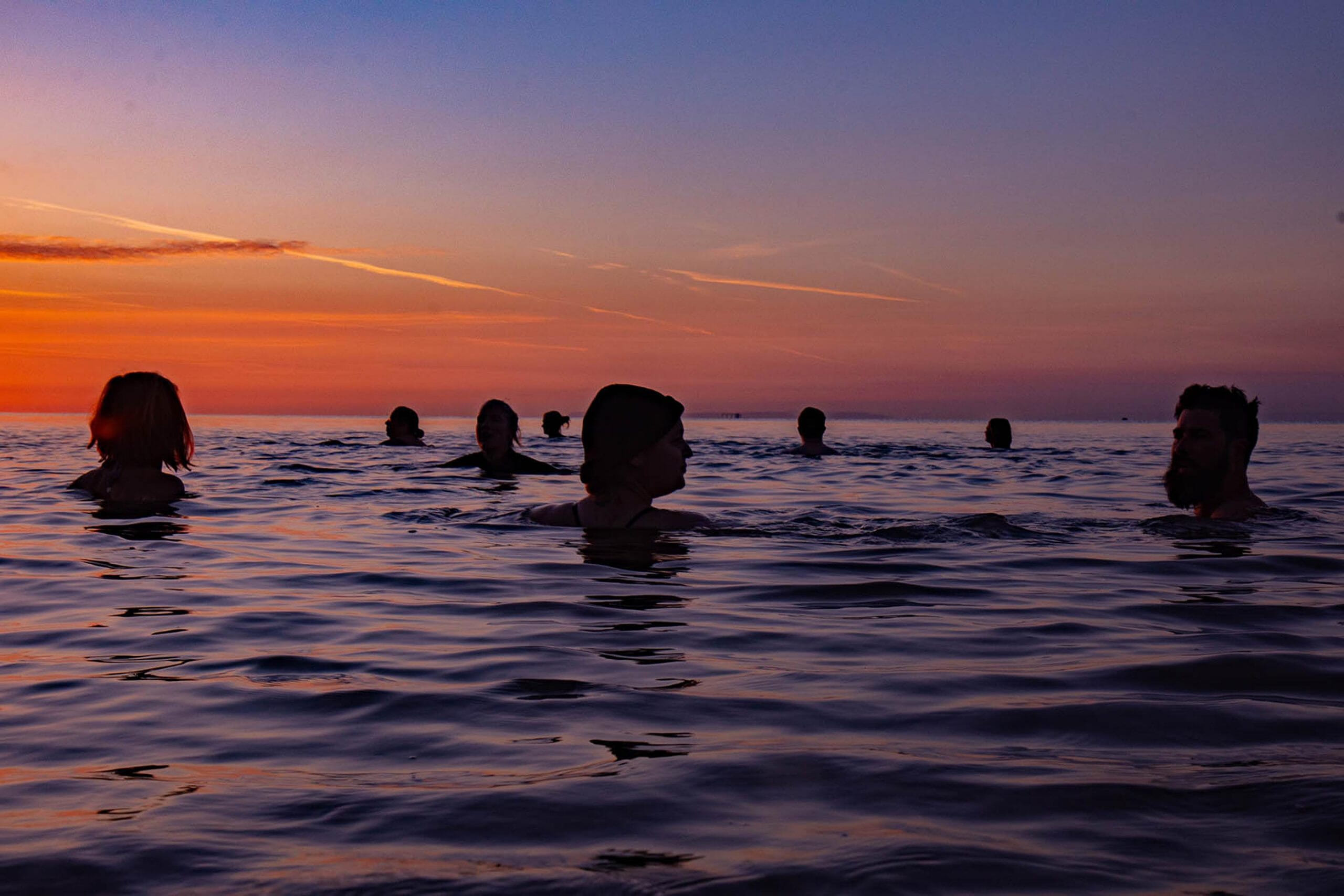 Wild swimmers take the time to stop and chat, just float about in the water and share a hot cup of tea or coffee afterwards to warm up. You join a group to share the entire experience of arriving, swimming and chatting after, not just the time in the water.
That's why open water swimming clubs like the Dawnstalkers in South Wales have become so popular. People of all ages and abilities gather together to enjoy the cold water as a community, which is much more appealing than a freezing cold shower.
Open water swimming is outdoors
Almost needless to say, open water swimming is all about getting active in the great outdoors. True, most people with an ice bath will keep it in their garden, but if I had to choose between the gravel outside and a stretch of the local river, there's no competition.
Not only does open water mean you don't have to fill up a container with ice and water, as well as maintaining the hygiene of that water, by swimming in a river, lake or the sea you'll gain the additional mental health benefits of time spent outdoors.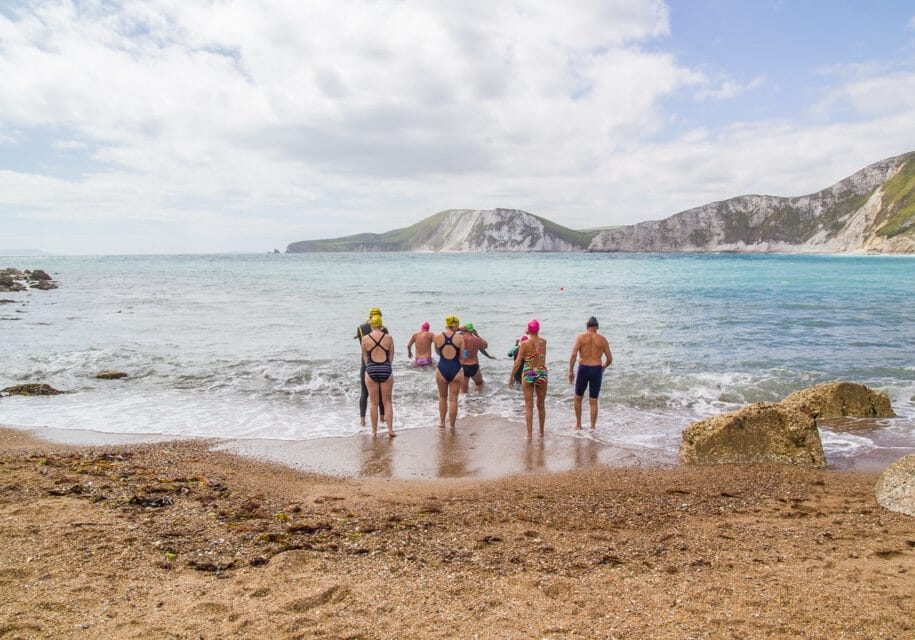 New research is constantly being published demonstrating the huge positive impact of being outdoors for your mental well-being, from boosting serotonin (that's the hormone released when you feel happy) to alleviating symptoms of anxiety and depression. In fact, time spent outdoors has even been shown to be cut the need for anti-depressants.
By swimming in open water with a like-minded community, you can combine the benefits of being in a green space with the positive effects of cold water exposure - it's a win-win, right?
Open water swimming is healthy
How much actual swimming you do when you head into open water will depend on your motivation. Looking for some cold water exposure and time with friends? A few minutes of splashing around will get that done. Training for an event with open water swimming? You'll probably want to spend a bit longer in there.
Either way, open water swimming has huge health benefits for you.
We've already discussed the positive physical effects that cold water can have for your recovery and immune system, and that's just while sitting or standing. By actually introducing movement - whether that's a gentle swim or really testing your endurance - you raise your heart rate, develop muscles across your entire body and boost your production of endorphins, the brain's feel-good chemical.
That's a potent combination for your brain and body with minimal physical effort expired.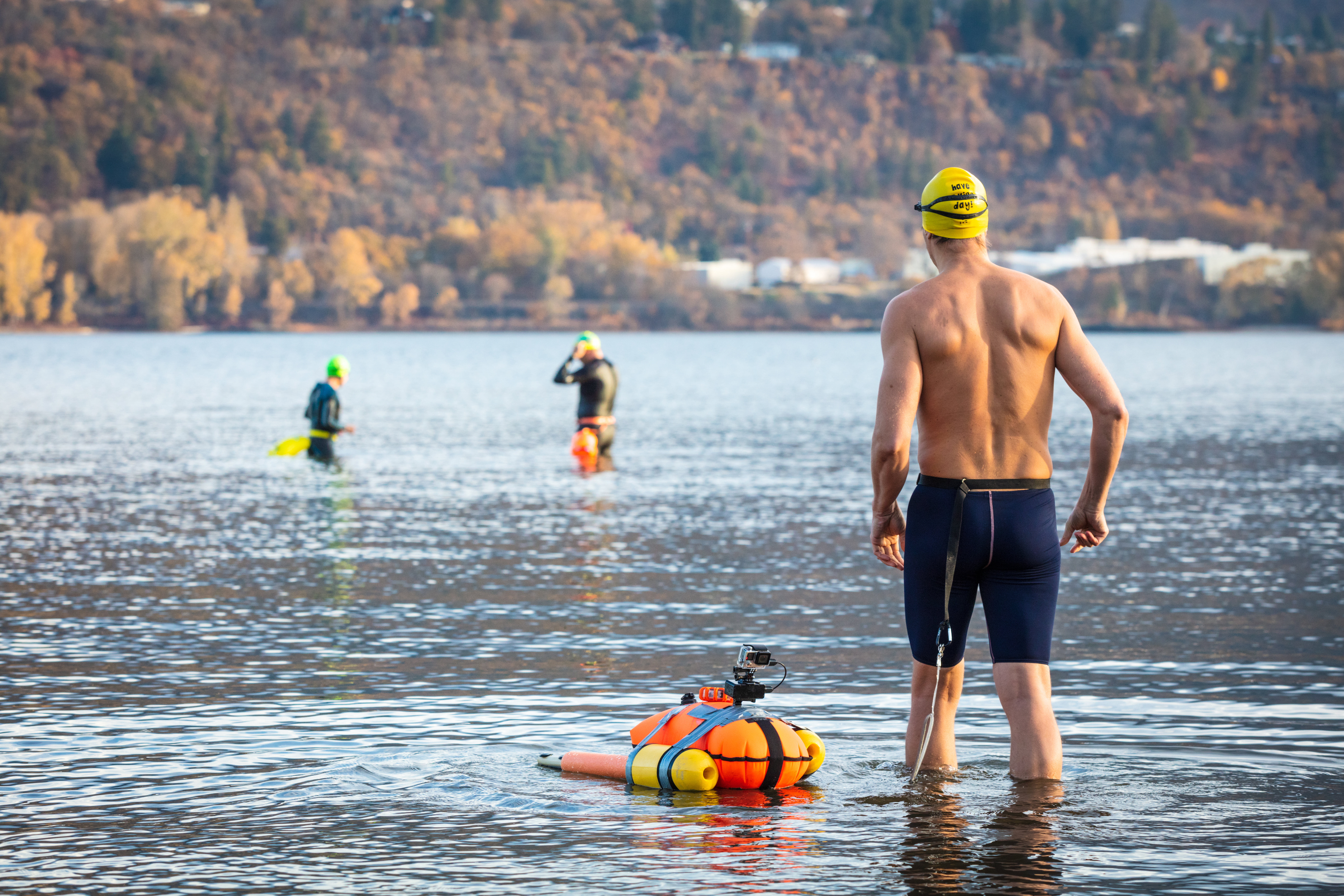 How to start swimming in 2023
So, to summarise: open water swimming has all the benefits of cold water exposure (reduced inflammation, better immunity and an added kicker for your mental wellbeing) while also introducing some quality time with like-minded people, time spent in the great outdoors and some extra physical and mental benefits besides.
What's not to like?
To get started, check out our guide on open water swimming for beginners - it outlines everything you need to know to dive in, including the kit you might want to check out first. If you're looking to join a club or enter an event, we've got covered too.
And next time you're in the South West, drop by Clevedon Marine Lake to see if you can beat my record.