Join the world's greatest festival of cycling in May, riding on closed roads through central London and nearby countryside. These charities can help you be there, with low entry fees and minimal fundraising!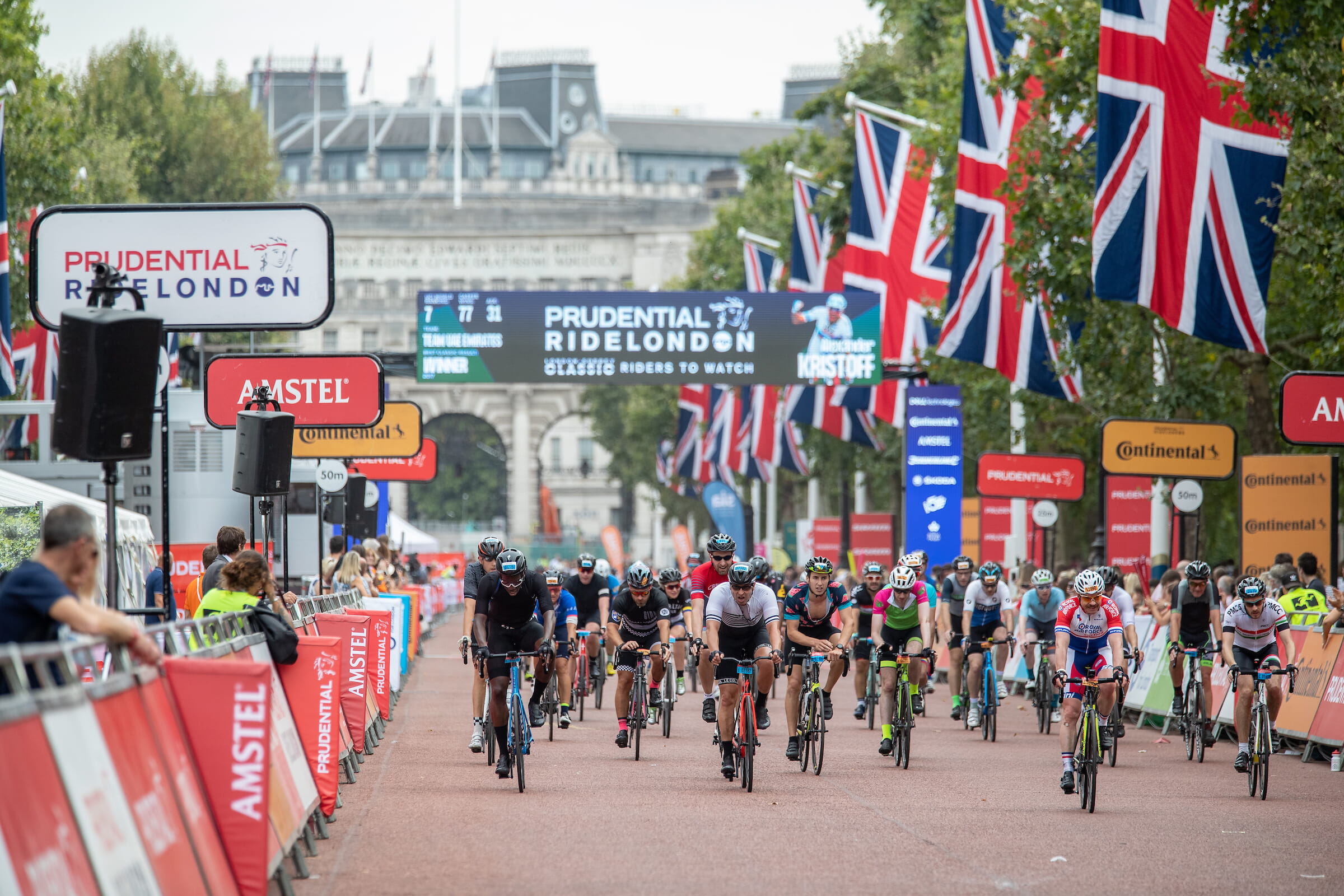 Picture it:
You're cycling through central London, not dodging traffic but on clear, closed roads, a phalanx of hundreds of fellow cyclists around you in a wide variety of jerseys and on a superb array of different bikes. You round the corner and ride down The Mall, Union flags lining the historic avenue and crowds cheering as you cruise past Buckingham Palace.
No, it's not a dream.
It's RideLondon.
What is RideLondon?
After the 2012 Olympic Games in London, when Sir Bradley Wiggins cruised to a gold medal in the time trial and lounged on a throne in front of Hampton Court Palace, politicians, athletes and health experts alike wanted to capitalise on the huge enthusiasm for sport and, in particular, cycling. All they needed was an opportunity for people to get out and be active; something that emulated the incredible atmosphere of that summer.
And so RideLondon was created.
This huge festival of cycling was launched in 2013 and comprises of four separate events: three sportives of different distances and one mass participation 'free cycle', where anyone can enjoy riding through the capital on closed roads!
That is the real attraction of RideLondon: cycling through central London alongside thousands of other riders, cruising past iconic landmarks and getting the full sportive experience of riding in a peloton. Hundreds of thousands of people have taken part in this world-famous event since it was launched 10 years ago and it shows no sign of slowing down now!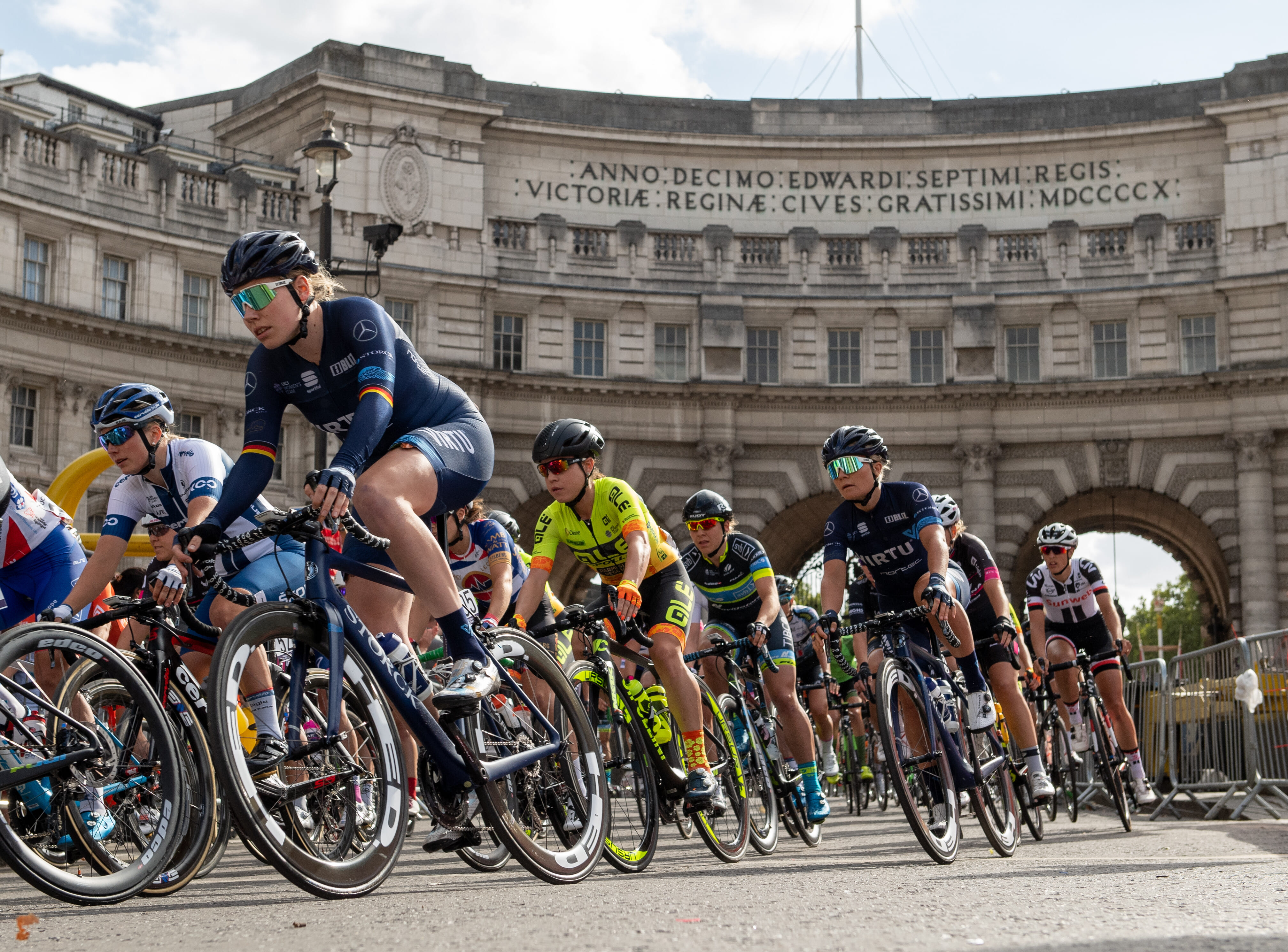 Four London bike rides
Whether you're an experienced cyclist or are dusting off some old wheels, there's something for everyone at RideLondon.
The largest and most popular sportive on offer, this 100-mile ride sets off from central London and journeys as far as Braintree in Essex, returning to a spectacular finish in the capital. Along the way, cyclists enjoy entirely closed roads through some stunning areas, including Epping Forest and picturesque villages like Fyfield.
Using the same initial route as the 100-mile ride, this medium sportive heads out to North Weald Bassett and Chipping Ongar before heading back towards Hainault Forest Country Park and into central London. Riders will experience the same thrill of a grandstand finish and will ride in a peloton!
Cyclists in this short sportive will start and finish at the same point as the other rides, heading out to Woodford before turning back along the same road and past the Queen Elizabeth Olympic Park to the finish line at Tower Bridge.
Designed to open up the RideLondon experience to people of all ages and abilities, this accessible event is completely free to enter and takes on an eight-mile course through central London, all on closed roads. This is your opportunity to take part in a world-famous festival of sport alongside your family and friends!
Ford RideLondon Classique
You might not be able to enter the Classique but you can enjoy the experience of watching pro riders race through London and Essex over three days! This amazing spectacle is also part of the UCI Women's WorldTour, so expect some fiercely competitive riding.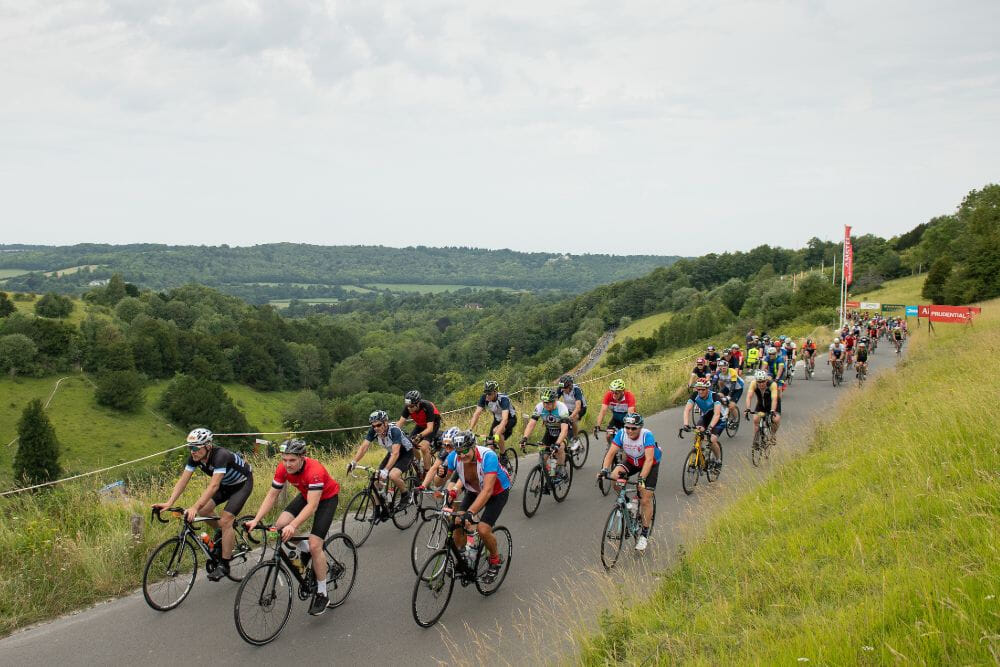 Ford RideLondon 2023
The upcoming edition of RideLondon marks 10 years since the event first launched in the wake of the 2012 Olympic Games and it promises to be as spectacular as ever. General entries are run through a ballot which has now closed, so your only chance of being there is with a charity place.
Which is actually brilliant news.
Charity entries not only give you the opportunity to support a brilliant cause with your entry but also to gain some incredible benefits at the same time, include massively reduced entry fees - in same cases, you can sign up for free.
In most cases, a charity entry will gain you:
A branded cycling jersey that could be personalised with your name.

A training plan to help you prepare for the event, particularly if you're taking on a longer distance - in some cases, these are bespoke training guides.

An exclusive social group with other people riding for the same charity, so you can help each other prepare and meet up on the day!

Support with your fundraising, including branded materials to help communicate why you're riding for that charity.

A post-race reception where you can celebrate your achievement with other riders, family and friends!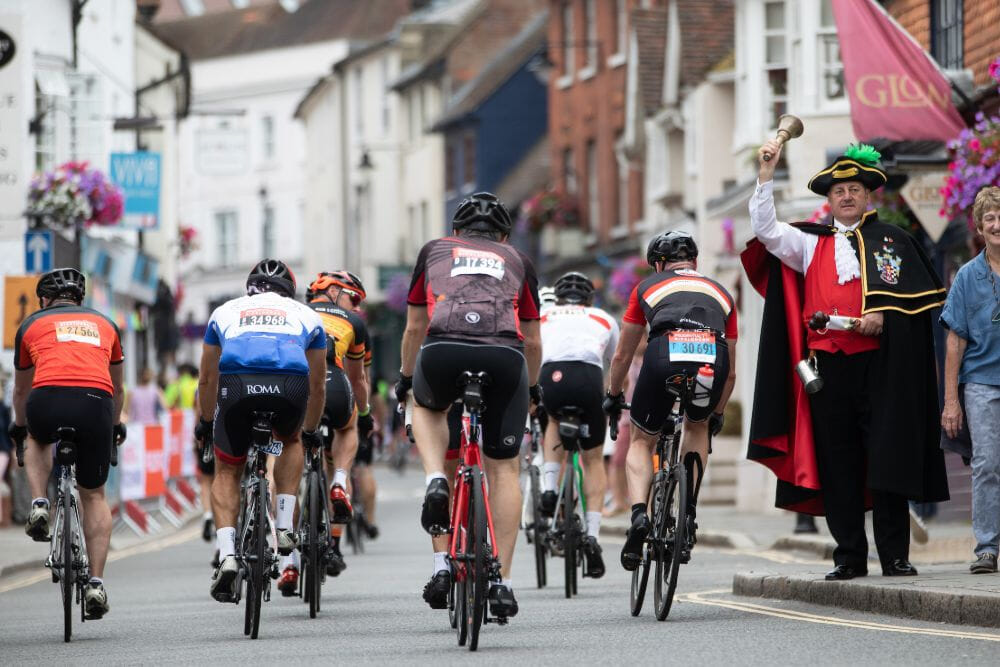 RideLondon charity places 2023
Signing up to a RideLondon charity place will open the door to an unforgettable experience! Check out some of the best offers for 2023 right here.
WaterAid
Sign up: £50
Fundraise: £395
WaterAid are committed to ensuring that everyone around the world has access to clean water and good hygiene. By supporting this mission, you will receive a branded cycle jersey, a bespoke training plan, access to exclusive webinars and much more!
Leukaemia Care
Sign up: £25
Fundraise: £500
There are 50,000 people in the UK living with leukaemia and this charity is dedicated to supporting them with the best possible diagnoses, treatments and care. Ride for Leukaemia Care to receive a branded jersey, fundraising support and an exclusive post-race reception.
The Salvation Army
Sign up: £25
Fundraise: £375
Helping vulnerable and homeless people across the UK, the Salvation Army have been operating since 1865. Signing up to support them at RideLondon will gain you a cycling jersey, unique memento, fundraising support and a cheer squad on the day!
SANE
Sign up: £30
Fundraise: £400
SANE want to change mental health for good, supporting people affected by mental illness and funding research into more effective treatments. By riding with them, you will receive a technical t-shirt, fundraising support and a dedicated contact at the charity for any queries!
WellChild
Sign up: FREE
Fundraise: £400
There are a huge range of benefits to riding with WellChild: a branded cycling jersey, t-shirt and running vest; fundraising support and materials; a training plan and training meet-ups; and, of course, the opportunity to help care for children with long-term health conditions.
Prostate Cancer UK
Sign up: £20
Fundraise: £500
One in eight men will get prostate cancer and this UK charity are determined to do something about that. Support them with your fundraising to receive a branded cycling jersey, fundraising support and a cheer squad on the day to keep you motivated.
NSPCC
Sign up: £1
Fundraise: £450
Supporting disadvantaged and vulnerable children across the UK, the NSPCC are offering some brilliant benefits - including a cycling jersey, bespoke training plan and exclusive access to an online training zone - in return for your fundraising.
Alzheimer's Society
Sign up: £30
Fundraise: £600
Supporting people with dementia from the very first day of their diagnosis, Alzheimer's Society provide advice to families and campaign for better support. Ride with them to receive a wide range of benefits, like a cycling jersey and exclusive post-race reception.
MS-UK
Sign up: FREE
Fundraise: £450
MS-UK help people living with multiple sclerosis live happier, healthier lives. Sign up with them at RideLondon to with receive a branded cycling jersey, fundraising support and a dedicated cheer squad on the day!
View more charities
Not found what you were looking for? There are more charities with places in the four RideLondon events available to view - just click below.