Looking for a new challenge? Taking on your fastest ever half marathon could be exactly the motivation you need to get out there and be more active outdoors! This guide will help you to bust plateaus and see what you're capable of.
Despite not being an Olympic distance or even having its world record recognised by the IAAF until 2003, the half marathon is one of the most popular running distances in the UK. There is a huge range of half marathons across the country, from major road races like the Great North Run (with over 60,000 runners!) to local trail runs, like the Tittesworth Water Half Marathon in Staffordshire.
Once you've completed your first half marathon, signing up to another is usually in pursuit of one of two goals: exploring somewhere or something new, like your first off-road half marathon, or trying to achieve a faster time and setting a PB. For this guide, we're going to focus on the latter and see how setting a new half marathon PB is within reach for every runner.
Running a faster half marathon is not about turning every training run into an agonising pain fest that sends your heart rate skyrocketing - in fact, with a few simple, strategic considerations, you can chip away at your PB without investing in new kit or overhauling your training plan. Let's get stuck in!
What is a good half marathon time?
This is one of the most common questions people ask about half marathons but is also a pretty unhelpful one, since your half marathon time will hugely depend on your individual circumstances. What one person may consider to be a slower time might seem like a unachievable target for someone else.
Your best bet is to focus less on other people's times and more on your own.
Setting a new PB will depend on what your current half marathon time is. If you have run 13.1 miles in over two hours, you might want to shave up to 10 minutes off your time; for anyone running faster, you'll probably be more conservative and want to run a few minutes faster. Again, these targets will be highly individual and dependent on your circumstances.
Having said that, there are some average numbers that can be helpful in creating a target for a new half marathon PB.
An average running pace is around 10 minutes/mile, which over 13.1-miles is going to result in a two hours and 10 minutes half marathon time. For anyone new to running, that's a pretty good target to aim for!
More experienced runners might look to target a PB that is faster, going under two hours and closer to one hour 30 minutes. That would mean running consistently at around seven minutes/mile, which is a serious challenge over 13.1 miles. Even more competitive runners can look to shave even more time off, getting closer to the records listed below.
Half marathon records
While you might not be targeting a record time yourself, understanding more about the fastest ever half marathon times can help you to set a new PB target!
The current men's record was set by Jacob Kiplomo in 2021, running 00:57:31 in Lisbon. To achieve that time, he had to run at under 4.5 minutes/mile consistently over 13.1 miles, which is an absolutely incredible feat of human performance. The women's world record was also set in 2021, when Letesenbet Gibey ran 01:02:52 in Valencia. That equates to 4.75 minutes/mile, another remarkable achievement.
Understanding how a runner's average pace will contribute to their overall PB can be helpful in setting your own target. Decide how quickly you realistically believe you can run over 13.1 miles and see what kind of time that results in. To have a good chance of maintaining that pace, you'll need to choose the right setting, too.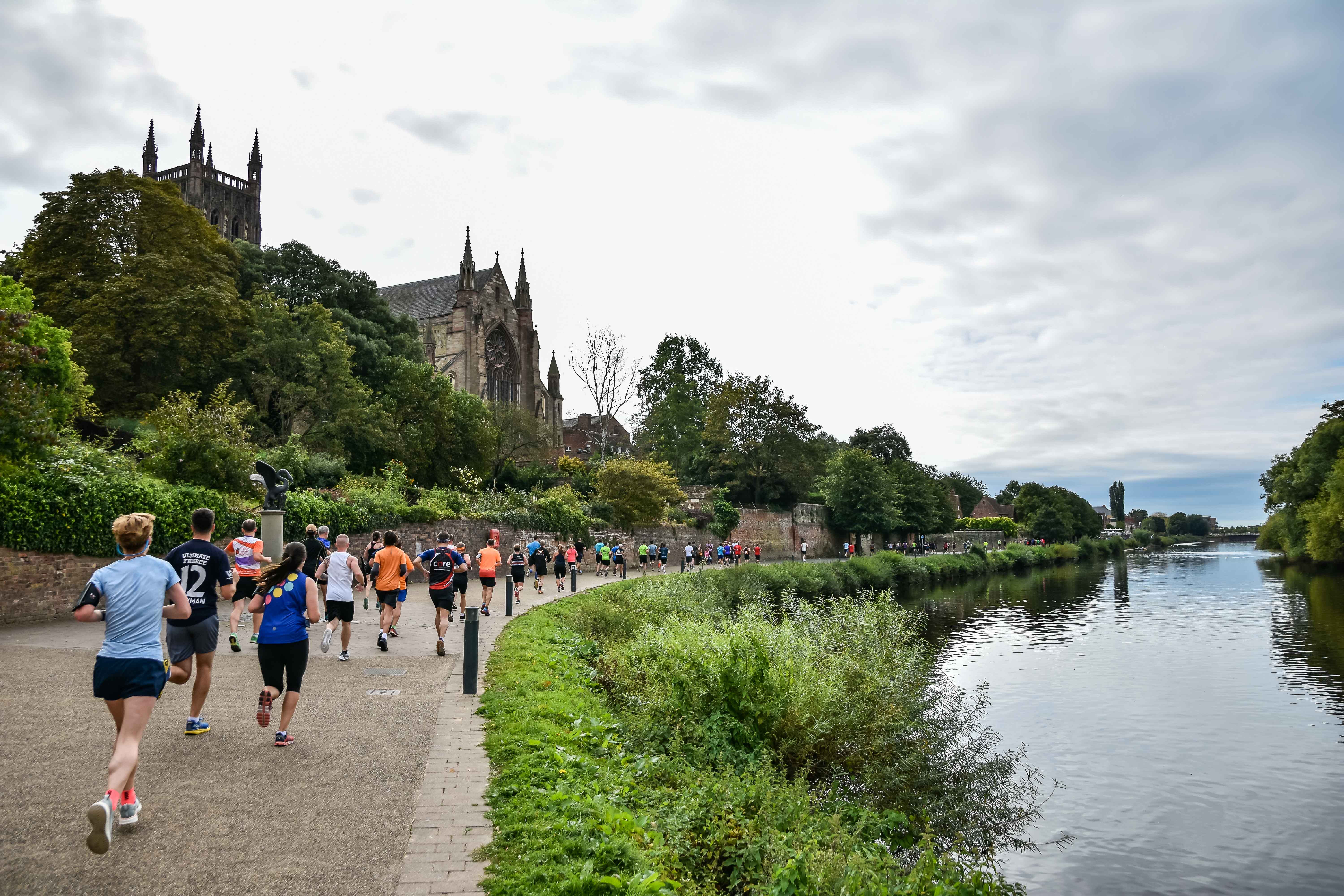 Pick the right event
When Eliud Kipchoge targeted a sub-two hour marathon in 2019, there were a huge number of considerations to make for that landmark, including the time of year, the pacing strategy and, far from the least important, the location. In that case, he chose the Prater Hauptalle, a long, straight avenue in Vienna that is protected from the wind (it was partly these manufactured conditions that led some people to question the validity of his achievement).
While you might not have the financial backing to attempt a similar set-up, choosing the right half marathon course can make a big difference in achieving your PB target.
The fastest half marathons in the UK
Some courses have a particularly flat profile that lends them to hunting down a PB; some are held in times of the year when it's not too hold or too cold; others even have a largely downhill profile so you can really put the hammer down. These are the races you need to target for the best chance of setting a new PB.
Cardiff Half Marathon
This race is the only half marathon in the UK designated as a World Athletics Elite Road Race and part of the SuperHalfs series, which makes it one of Europe's most prestigious races. That doesn't mean you need to be an elite runner to take part, though - 27,500 runners descend on the Welsh capital each year for this exciting half marathon. Its flat profile is perfect for hunting a PB and the route explores some of Cardiff's historic landmarks, as well as running along the Cardiff Bay barrage.
Sign me up for the Cardiff Half Marathon
Scottish Half Marathon
This point-to-point course has a largely downhill profile along the East Lothian coast, heading north of Longniddry and back along the shoreline to a grandstand finish at Musselburgh Racecourse, close to Edinburgh. Thanks to that steady descent, with no hilly surprises along the way, many runners consider the Scottish Half Marathon to be a PB course. The race is popular for its fantastic support and positive atmosphere, too!
Sign me up for the Scottish Half Marathon
Manchester Half Marathon
Race through the city centre and suburbs of Manchester on closed roads, enjoying a flat route has real PB potential. Starting and finishing by Old Trafford, the course heads straight to the city centre before tracking South along the A56. This long, straight section is perfect for anyone looking to stride out and chase down a new PB. What's more, there's a great selection of on-course entertainment to keep you motivated, as well as the inimitable Mancunian spirit of cheering spectators!
Sign me up for the Manchester Half Marathon
Bath Half Marathon
Although Bath is surrounded by some stunning hills, this half marathon course avoids them and enjoys a flat route through this UNESCO World Heritage Site. The city is famous for its beautiful architecture and historic landmarks, though the half marathon it hosts each year is popular in its own right, being voted the 3rd best running event in the UK by The Daily Telegraph. Its route tracks along the North and South banks of the River Avon, with runners taking on two laps of its flat course.
Sign me up for the Bath Half Marathon
Royal Borough of Kingston Half Marathon
This event is one of the final races of the season, giving you a chance for a last minute PB before a long winter! Runners set off from Kingston and head along the towpath around the outskirts of Hampton Court Park, enjoying some stunning views of this historic location before diverting across the river, into Thames Ditton and back to Kingston. Awaiting at the end of this flat route is Kingston marketplace, full of food stalls to help you recover from a successful PB effort!
Sign me up for the Royal Borough of Kingston Half Marathon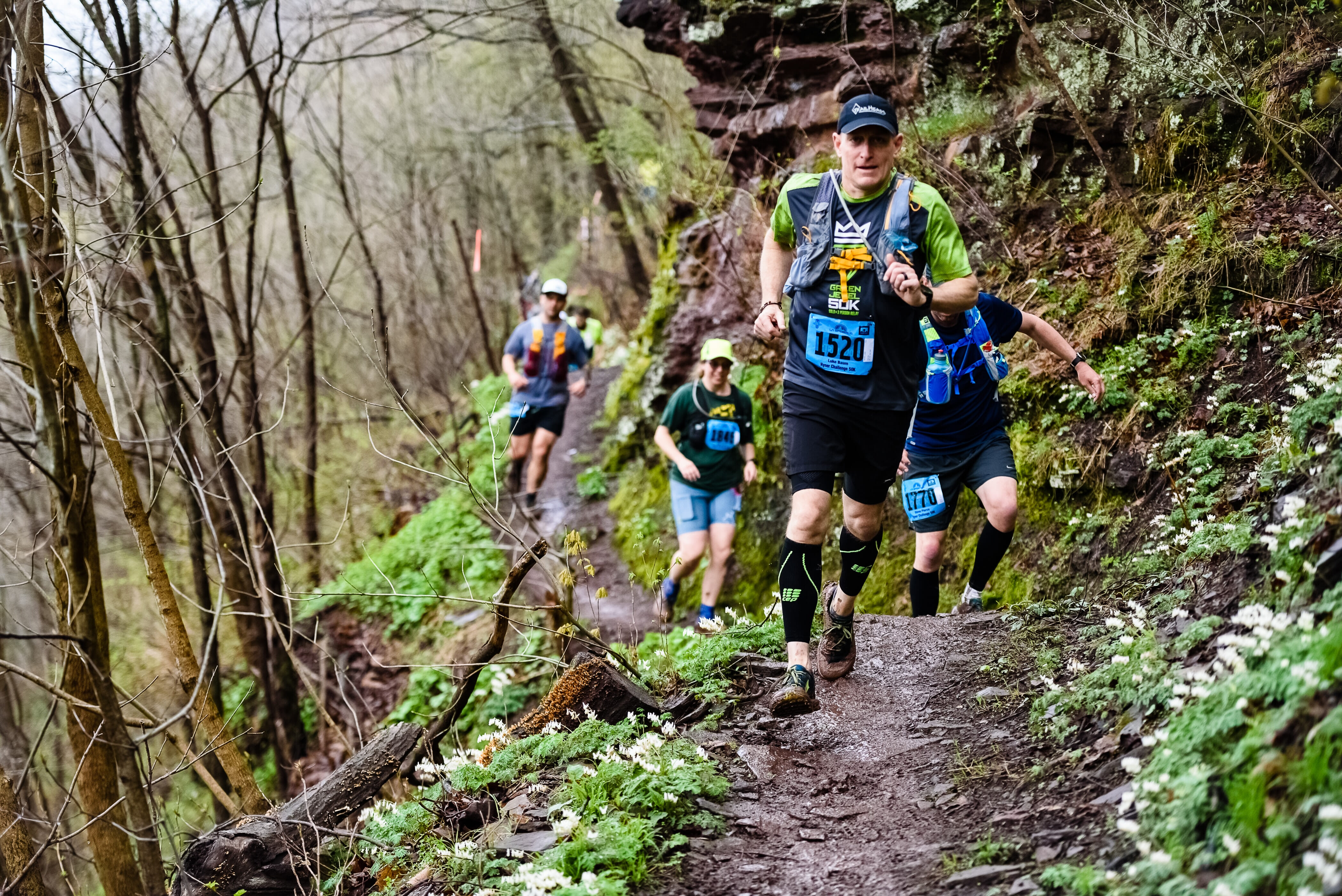 How to train for a half marathon PB
As we've already mentioned, setting your goal as a half marathon PB doesn't mean you need to throw your current training plan out of the window and start running at maximum effort in each run. Instead, there are a few simple tweaks you can make - both physically and in your mindset - to break through a plateau and achieve your goal.
Break through a plateau
If you've only run one marathon previously, targeting a PB may just be a case of seeing what you're really capable of after focusing on just reaching the finish line first time round. For many of us, though, hitting a PB will involve taking our performance to a new level!
People are considered to have hit a plateau when they haven't improved for a while - they're not hitting peaks and troughs in their times, just coasting along and finding it difficult to improve.
In that case, it's obvious that something has to change - insanity is doing the same thing over and over again while expecting a different result, as Einstein famously observed.
Since your new PB exists beyond that plateau in performance, you need to bust through it. We've two suggestions, one physical and one mental, to help you to do so: cross-training and setting milestone goals.
Cross-training for runners
Cross-training is essentially doing any training that isn't running but that will directly benefit your running performance. It might seem paradoxical to do anything other running if you're, you know, trying to run faster but bear with us.
Regular running, while fantastic for your body and mind, can place a heavy strain on your joints and muscles from the repeated impact, particularly if you're training for something like a half marathon. To mitigate the risk of injury and strengthen your body, you should add some other training sessions into your weekly routine, like strength training, mobility exercises or other aerobic movements, like swimming.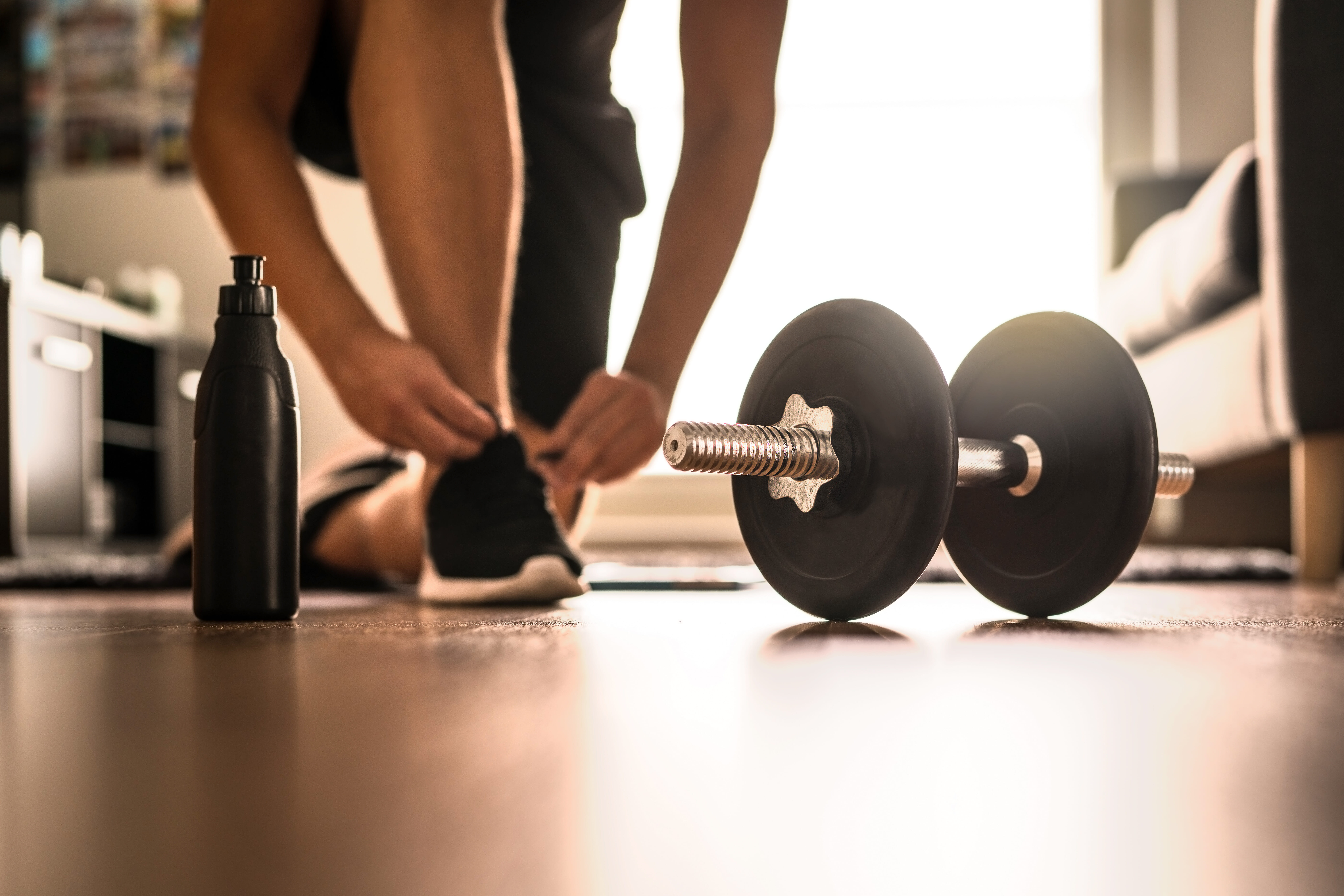 How will this help you to achieve a PB?
Well, strength training can help to improve your running efficiency, helping you to keep moving effectively in the latter stages of the race, as well as limiting your risk of injury while training. Mobility training, such as yoga, will keep your joints supple to double down on safeguarding your body and activities like swimming can continue to develop your aerobic fitness while taking the pressure off your muscles.
What's more, cross-training can help to alleviate the monotony of running, keeping you interested in training as you push towards a PB!
Set a milestone goal
Sometimes, focusing on a large goal can feel overwhelming, particularly if you have been stuck in a plateau for a while and have not made improvement. If you want to set a new half marathon PB but haven't felt like you're making progress for a while, that can be disheartening.
One solution comes from a common tool used by sports psychologists: break down your big goal into several smaller goals that are easier to achieve. For example, you may have entered the Cardiff Half Marathon and are planning to chase down your PB time there. As this event is in early October, you have plenty of time to set some micro goals that will set you in good stead for the main event.
You may choose to enter a 10K several months in advance to test out your race pace in an event scenario, which is easier to achieve and will give you a confidence boost, as well as giving you something more immediate to train for.
You could even pick it up a notch and enter a 10-mile run, like the Harry Hawkes Summer Raceday in June, to make the experience even closer to the main event.
By setting yourself a series of mini goals on the way to your half marathon, which will act as milestone events and achievements, you will start to build the momentum that will carry you through to success in setting a new PB. Achieving those mini goals will give you a mental boost in the pursuit of your main goal.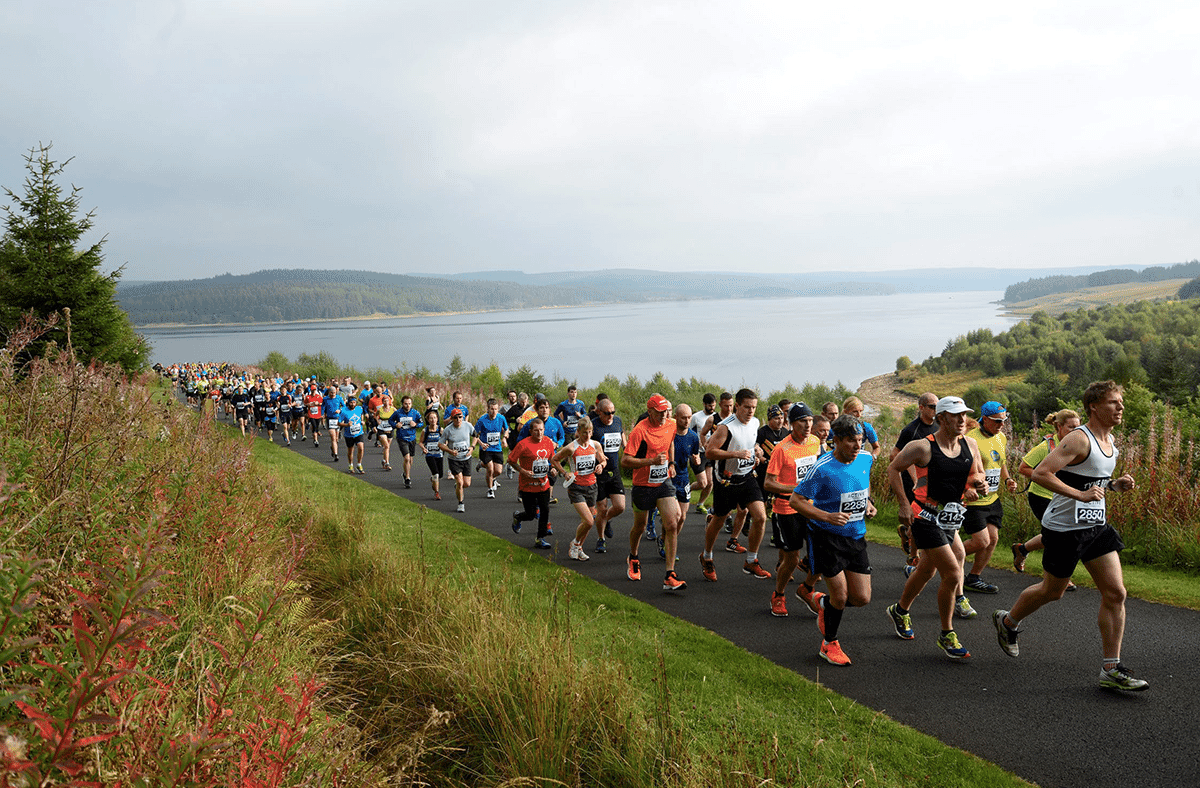 Your half marathon PB
It's time to put it all together! After setting the goal of achieving a new half marathon PB, you will have decided on a target time that is realistic, picked a race that is ideal for chasing a PB and will have optimised your preparation with cross-training and milestone goals. All that is left now is to get out there and have a go!