Signing up to a 13.1-mile race for the first time is one of the best decisions you can make! To help you make the most of your experience, we've rounded up the knowledge and tips that will prepare you for race day.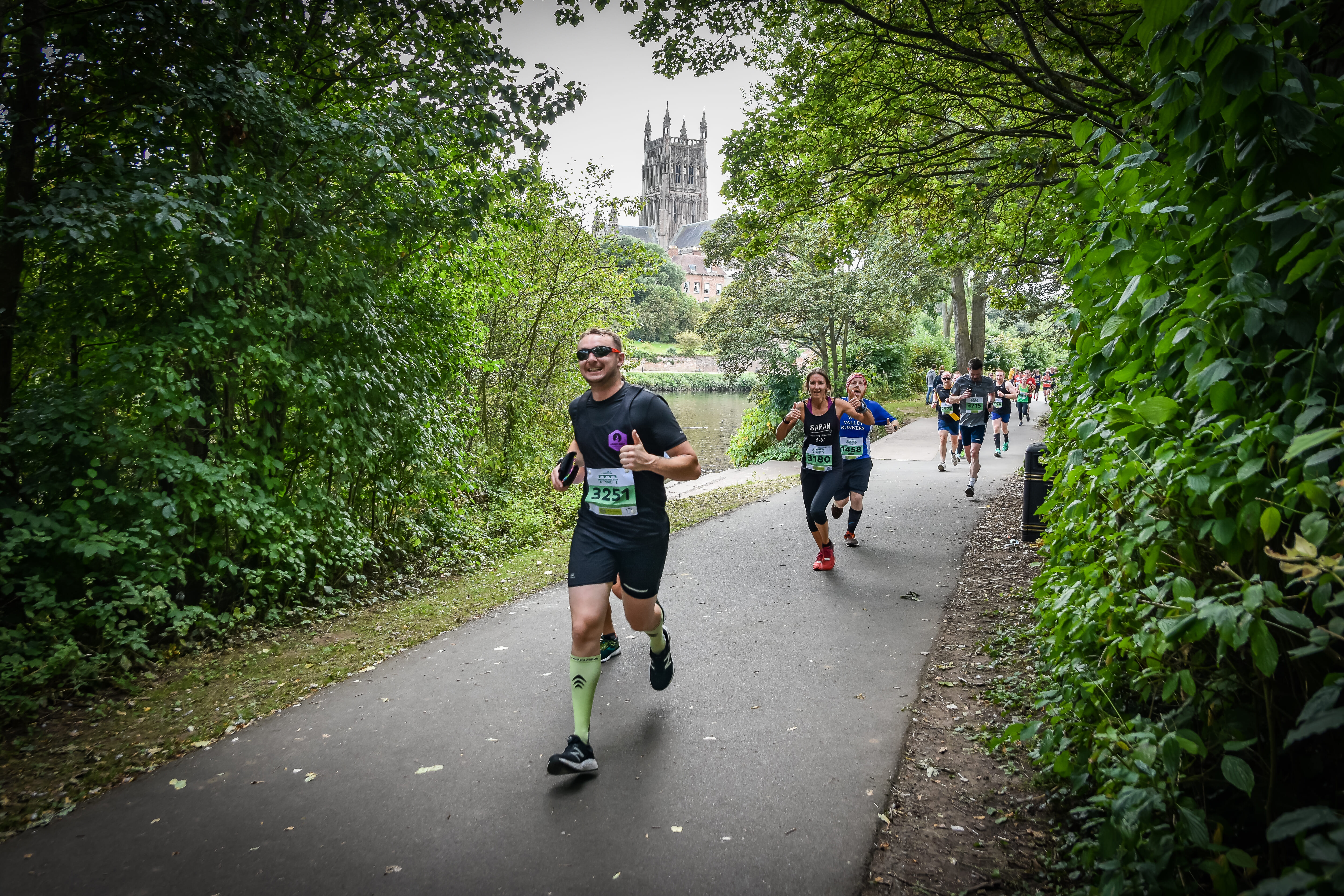 One of the most popular event types in the UK, half marathons can be found across the length and breadth of the country, from major city runs to local trail events. It's a distance that requires proper training to complete comfortably but that also yields fantastic benefits for your physical and mental health. So whether you're looking to explore somewhere new or set yourself a personal challenge, signing up to your first half marathon is a superb way to do it!
While the prospect of this challenge may seem daunting, it needn't be. With the right training, preparation and insider knowledge, anyone can run a half marathon. All you need is a good source of information (that's where we come in) and the resolve to do something with it (that bit is on you).
This guide is going to run you through the key information you need to prepare for your first half marathon, from essential knowledge about the race distance and how to pace it to training tips and a kit list. Ready to get started?
First up: how far is a half marathon?
So, you've signed up to run 13.1 miles for the first time. You can read our guide to running a half marathon mile-by-mile for a full description of why exactly a half marathon clocks in at that distance but for now it's enough to know that you're up against 13.1 miles (21K).
Without overstating the obvious, a half marathon sits neatly between a 10K (6.2 miles) and a full marathon (26.2 miles) in the classic running events categorisation. Many people train for a half marathon with the intention of moving on to run a full marathon afterwards, though that doesn't mean you have to! Completing a half marathon is a brilliant achievement in its own right, with many runners returning to take on the same distance again and again.
How long does it take to run a half marathon?
Running a half marathon for the first time means that your primary goal is going to be getting over the finish line comfortably in one piece rather than setting a blistering pace - that can come later!
Most beginner runners will finish a half marathon in around two hours and 10 minutes, which assumes that you run at 10 minutes/mile consistently. You may be faster or slower than that - it is simply an average pace that can be helpful to guide your preparation and training.
More experienced runners will aim run faster than two hours and could be aiming for closer to one hour and 30 minutes. For comparison the world records for a half marathon are 00:57:31 for men (set by Jacob Kiplomo in 2021) and 01:02:52 for women (set by Letesenbet Gidey in 2021).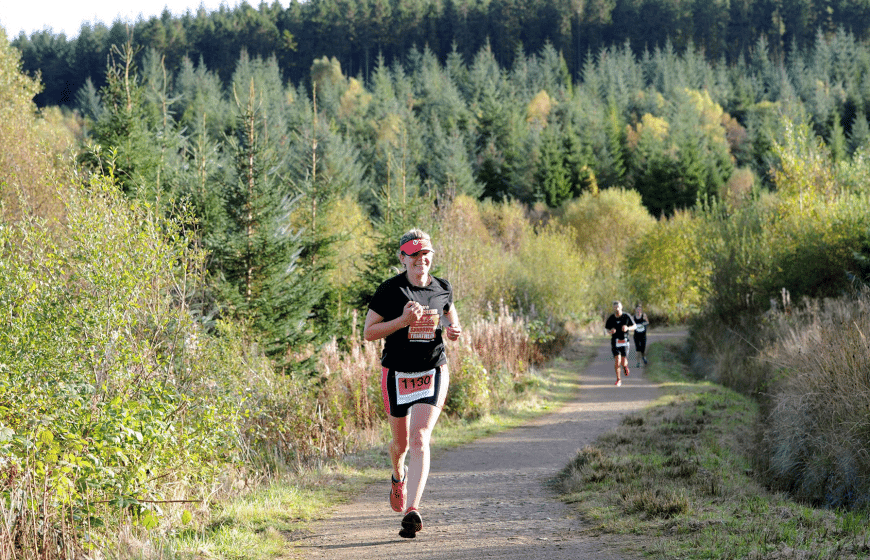 How do you train for a half marathon?
For the purpose of this guide, we'll assume that you're not starting from a complete standstill and are running semi-regularly (not the case? Not a problem! Click here for our beginner's guide to running 5K). This means that training for your first half marathon is a case of steadily building up the distance that you're running, optimising your performance with cross-training and avoiding injury along the way.
Go the distance
There's no getting around it: 13.1 miles is a long way. Sure, it's not the same as a 100-mile ultra marathon but it's not a walk in the park either. Your half marathon training plan needs to work up to that distance steadily to avoid over-training and risking injury, which is why we advise setting a few milestones along the way to ensure effective progress.
If you've decided to enter the Great North Run, for example, then to make sure you are ready to run 13.1 miles in September, it is wise to plan to run a 10K several months in advance. In fact, we'd recommend signing up to a 10K run - that way, it provides a clear target for your half marathon training and you'll get great experience of running in an event. You may decide to enter a 10-mile race between that event and your half marathon, too.
Once you've set your milestones in place, you can plan how to incrementally build up your mileage between each one. Many coaches and running websites will recommend the 10% rule, whereby you only increase your mileage by 10% each week. So if you've reached six miles one week, the next big run you do will be 6.6 miles and so on. While this can be a useful general guide, make sure you don't feel beholden to it - only increase your distance as and when you feel ready to!
Mix it up
It might seem contradictory but training for your first half marathon only by running is not a good idea. It's the only thing you're going to do in the race itself, true, but your preparation needs to be more varied to ensure you perform well on the day and avoid injury in the build up.
Cross-training refers to any training apart from running that you work into your weekly routine. These extra sessions should contribute to your running performance and help you to avoid injury risks - for runners, that generally means doing some strength training to condition your muscles and joints for the repeated impact, as well as other cardiovascular exercise that takes the pressure off those joints.
This particularly important for the specific goal of running a half marathon for the first time as your body will be put under pressure it hasn't previously run into. Everybody is capable of running a half marathon but that doesn't mean you should just head out your door and run 13.1 miles - your muscles, joints and cardiovascular system need to be prepared for it.
You can read our specific advice on cross-training for runners and its benefits but as a general rule, look to add one or two cross-training sessions in each week, focusing on light strength training and either swimming or cycling. This will help you to keep in top shape as you work up to running a half marathon.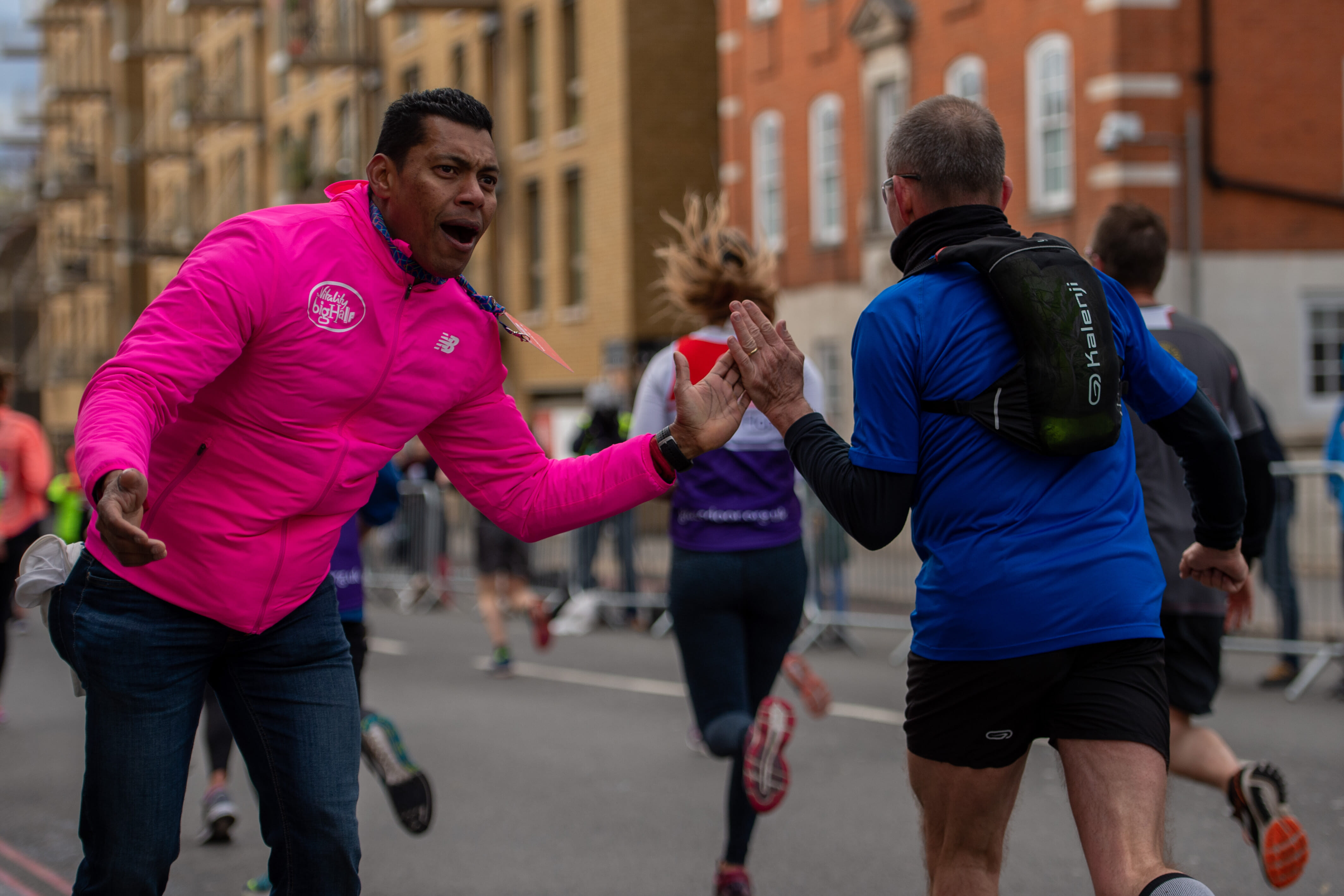 What running kit do you need?
While you're not going to have much fun running in your walking boots, you also don't need to break the bank to run your first half marathon. There's a sweet spot between buying high-performance kit that benefits your running and over-spending on flashy gear that you really don't need.
The below is kit that you really can't do without when running a half marathon. Before you head to the shops, see if you've got anything at home that could work - if you have some gym shorts, they'll probably be fine for running in.
Running shoes
We knew we were going to say it, you knew we were going to say it - it's the most obvious kit suggestion because your shoes are the most important consideration you'll make. Whether you opt for a high heel-to-toe drop or a more minimalist style is entirely up to you but make sure that the shoes you're running in are comfortable in and fit your feet properly. You might need to buy a new pair, in which case we'd recommend heading for a gait analysis to get a proper fit. Don't believe the hype about replacing your shoes every 300 miles, though - if they're still in good nick, crack on.
Socks
This is on par with your choice of shoes - no, we're not kidding. Decent socks that are abrasion-resistant and wick moisture away from your feet are worth their weight in gold, helping you to avoid blisters that could seriously derail your half marathon training. Our favourites are made from merino wool - it's naturally anti-bacterial and moisture-wicking.
T-shirt
If you've signed up to run your half marathon for charity, there's a very good chance that you'll be given a branded t-shirt to run in - if not, you'll need to find your own. Luckily, this is one of the simpler decisions you can make on your running kit. Ultimately, so long as your t-shirt is comfortable, lightweight and moisture-wicking, you're onto a winner. While you don't need to spend much to get one, we would avoid just wearing an old cotton t-shirt - you'll regret it by the finish line.
Sports watch
For running in general, we'd actually class a running watch as an optional extra, despite the ubiquity of Garmins, Polars and Apple watches on running start lines. If you're training for a specific distance and keeping to a particular pace, though, having the ability to track that data on the move is invaluable. Feel free to splash out on the latest models if you want to but a slightly older, cheaper version would be just fine.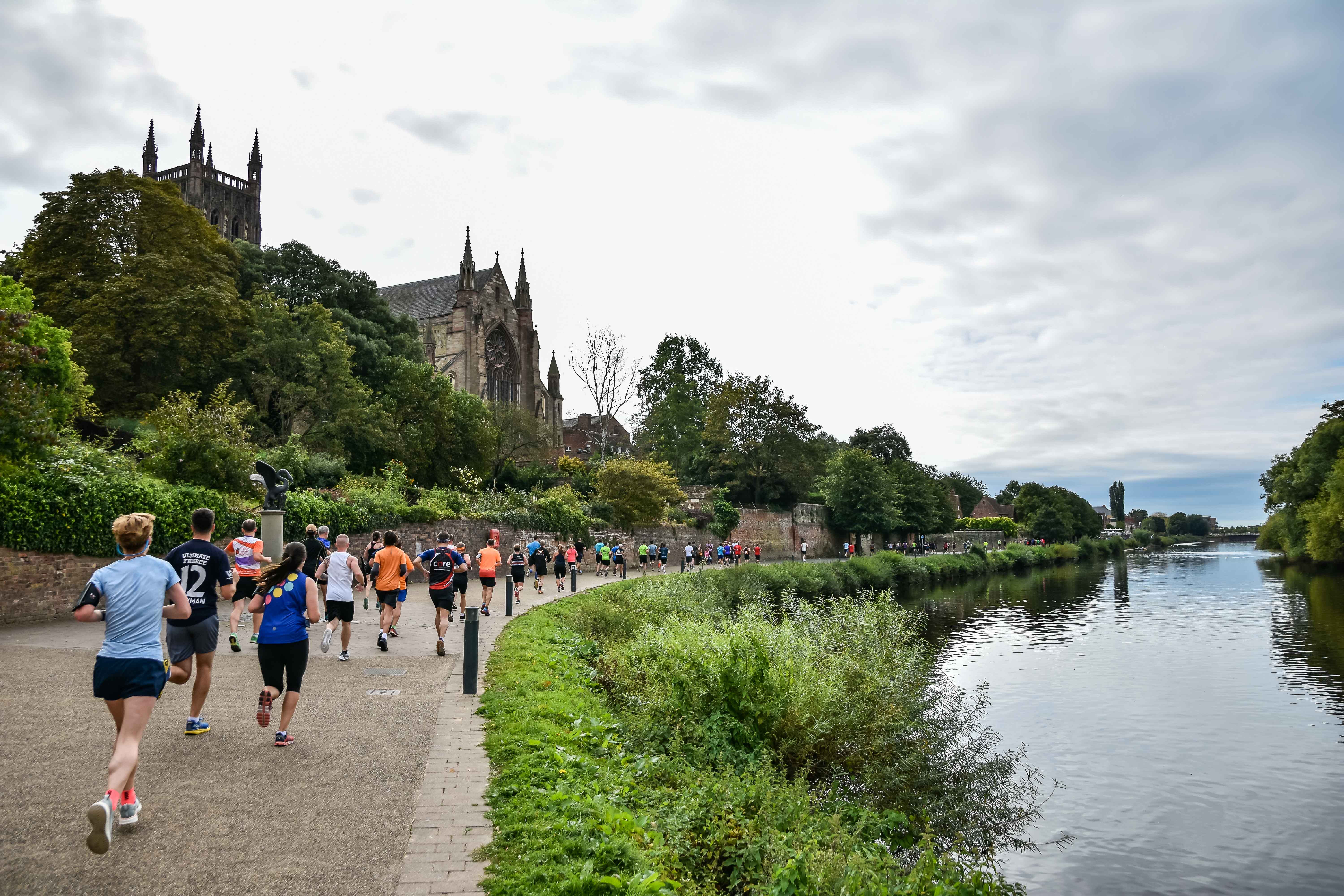 What to expect at your first half marathon
You've steadily built up your running distance, setting milestones along the way; you've been mixing up running with strength training to condition your body and avoid injury; and you've bought yourself the kit you need to cross the finish line in style. It's time for your first half marathon!
Your experience of this race will depend on what kind of half marathon you've signed up to - the Great Manchester Run is a different ballgame to your local half! In general, though, pay attention to the following advice and you can expect a great first half marathon.
Don't race off at the start! A heady concoction of all the anticipation of working towards the event and the pre-race atmosphere will make it tempting to run your first mile at breakneck speed but this will just derail the rest of your half marathon. Enjoy the atmosphere, though not at the expense of your whole race!

Surf the crowds! If you've elected for a major half marathon as your first race, the first few miles will be busy. At the Great North Run, for example, up to 60,000 runners head off in waves, so it takes some time for people to get to their race pace. Don't try to work around people - just ride it out.

Enjoy the middle miles! Once you've got a few miles under your belt and are cruising at your chosen pace, the middle miles - really from mile 3 to mile 11 - are all about enjoying the atmosphere and savouring the benefits of the hard miles in your training. It can be easy to be too serious about running in a race, so remember to enjoy it!

Stick to your fuelling strategy! Whatever you did in training, do it on race day. That applies to your pace, your clothing and, perhaps most importantly, your nutrition. If you stuck to water and some fruit while training, don't suddenly take on an energy gel as you get tired - the results won't help you get to the finish line.
Hang in there! Those last few miles are likely going to feel pretty tough as the miles and excitement of the race take their toll, so keep the pace up and push on to the finish line. Finishing your first half marathon is usually emphatic enough to get you looking for another one to train for!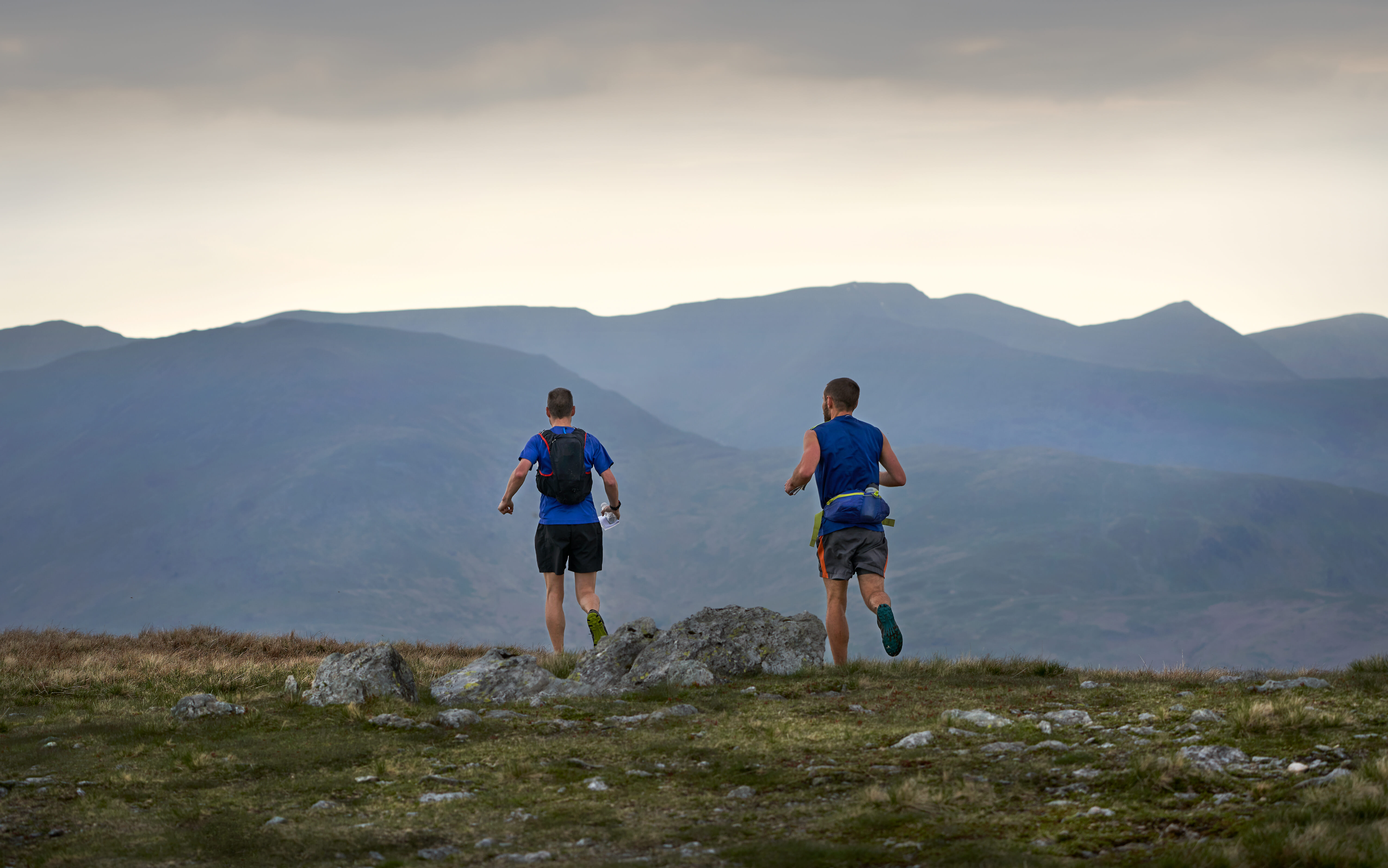 What next?
This guide is designed to help you reach your goal of running your first half marathon. After that, there are endless possibilities of what you could go on to enter, whether you want to push for a full marathon or see how you fare at running off-road. If you're not sure, check out our running guides here for some inspiration!