This is a challenging self navigation ultra, crossing Dartmoor National Park, with minimal ascent.
Description
From Drewsteignton Village Hall, you will descend in to the Teign Valley, skirting the river towards Chagford, where you will pick up signs for Frenchbeer and head towards Yardworthy farm, where the Two Moors Way splits in to an Eastern and Western section, not to be rejoined until mile 17 at Widdecombe.
Runners must take the western route. The western route will head on to the fringes of Dartmoor towards Fernworthy Reservoir and follow a cattle trod below Hameldown Ridge (western section), then on to Checkpoint 2 above Widecombe at the road junction on Hameldown ridge.
Runners/walkers head back on lovely hidden river paths, past Jordan, heading for Dr Blackalls Drive and to New Bridge.
From Scorriton (checkpoint 3) it's a tough climb but you can contour round to the left of Puper's Hill rather than going up and over the top, crossing the Avon via a clapper bridge if you've picked up the correct path. The run in to Ivybridge is straight forward, following the Puffer Billy trail (old tramway) all the way to Ivybridge, where the finish awaits, at the train station.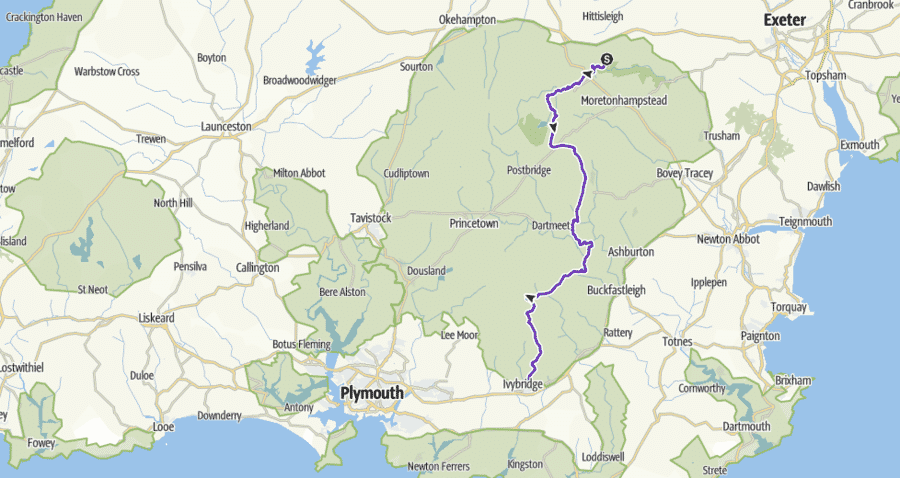 Cut off times
The cut off time for the finish is 12 hours and there will be cut off times published at checkpoints, which will be aimed at people who walk at a reasonable pace the whole way.
Navigation
It is recommended that you have done some sort of self navigation events before, or sign up for one of the pre-event recces/navigation courses. The Two Moors Way is unmarked in places, so you will need to know how to read a map and use a compass, possibly in the dark if you are walking it.