The short answer: 13.1 miles. But if you've not run a half marathon before, understanding what that looks and feels like isn't that simple. Here, we breakdown what it's like to run a half marathon bit by bit!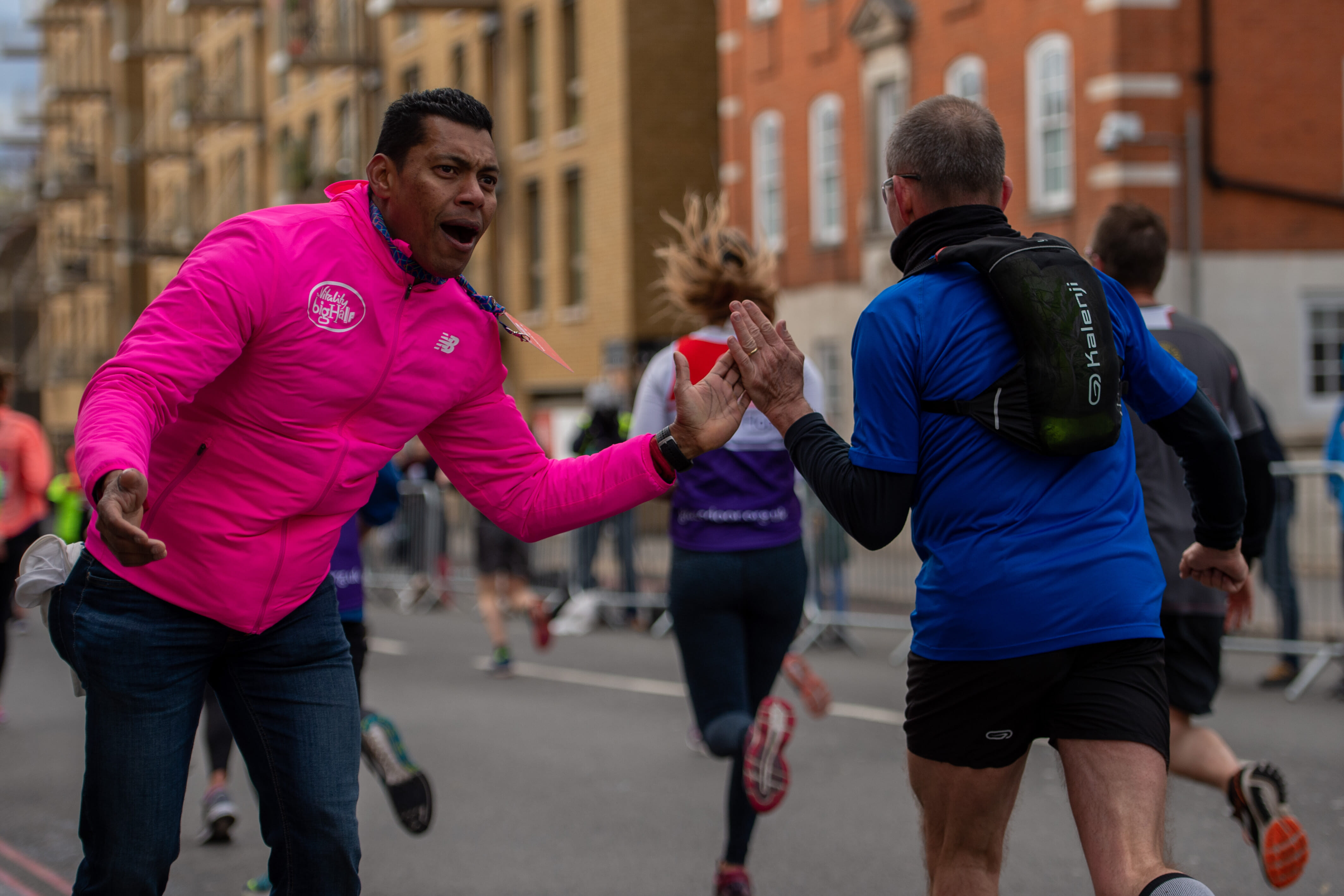 Half marathons are some of the most popular running events in the UK, with thousands of people attending major road races and raising millions of pounds for charity. They're also some of the most supportive runs - events like the Great Bristol Run, for example, draw incredible crowds to support runners and feature great entertainment along the course.
Running your first half marathon, though, can feel daunting. If you've trained well, building up from a 10K, then you should be in for a great experience, but it can help to get a much clearer understanding of what you've got yourself in for. Which is where we come in.
This is your guide to what it really feels like to run a half marathon. While you can compute the distance easily enough, getting a good idea of how your legs are going to feel by mile nine is going to be a major help in your preparation. Using some of the most popular half marathons in the country, we're going to outline what you can expect along the way!
Half marathon distance
First, though, the simple answer. A half marathon is 13.1 miles long, which equates to 21K. This makes it a long-distance race by athletic standards and the mid-point between a 10K (6.2 miles) and marathon (26.2 miles or 42K).
An average runner could expect to complete a half marathon in between two to three hours, running at roughly 10 minutes/mile. More experienced runners will aim to go under two hours and get closer to 01:30:00.
Why is that the half marathon distance?
To understand why a half marathon is measured at 13.1 miles, we need to know the history of the full marathon distance, i.e. 26.2 miles. The marathon as an event traces its history to the Classical era and the Battle of Marathon in 490 BC. Allegedly, after an unexpected Athenian victory against the invading Persians, the messenger Pheidippides was sent running back to Athens to announce the news. He ran 25 miles across rocky, dusty trails and arrived in the city to declare "Nike!" ("Victory!), after which he died from exhaustion.
Thankfully, there are few parallels between the historical origins of the marathon and the modern day event, but marathons were established as 25-mile races when the modern Olympics were launched in 1896. It was in 1921 that the distance was formally standardised as 26.2 miles, after being extended in 1908 so that the British Royal Family could better observe the start and finish of the race. Since then, marathons have continued to be measured as 26.2 miles or 42.195 kilometres.
The half marathon as an event was created much later than the full marathon and is not recognised as a standard distance by the Olympics or World Athletics. In fact, half marathons were created more by public demand than anything else as recreational running became more popular after the Second World War and race organisers looked to increase options for amateur runners. The first world record for a half marathon - known as a 'world best' until 2003 - was set by Brian Hill-Cottingham in 1960, with a time of 01:07:01.
Half marathon in miles
Now we know why a half marathon clocks in at 13.1 miles, we need to turn to the more useful question how it feels to run that distance. If you've never run a half marathon, getting your head around what lies in store is easier if you know roughly what's coming, so we've highlighted what you might expect along the way at some major half marathons in the UK.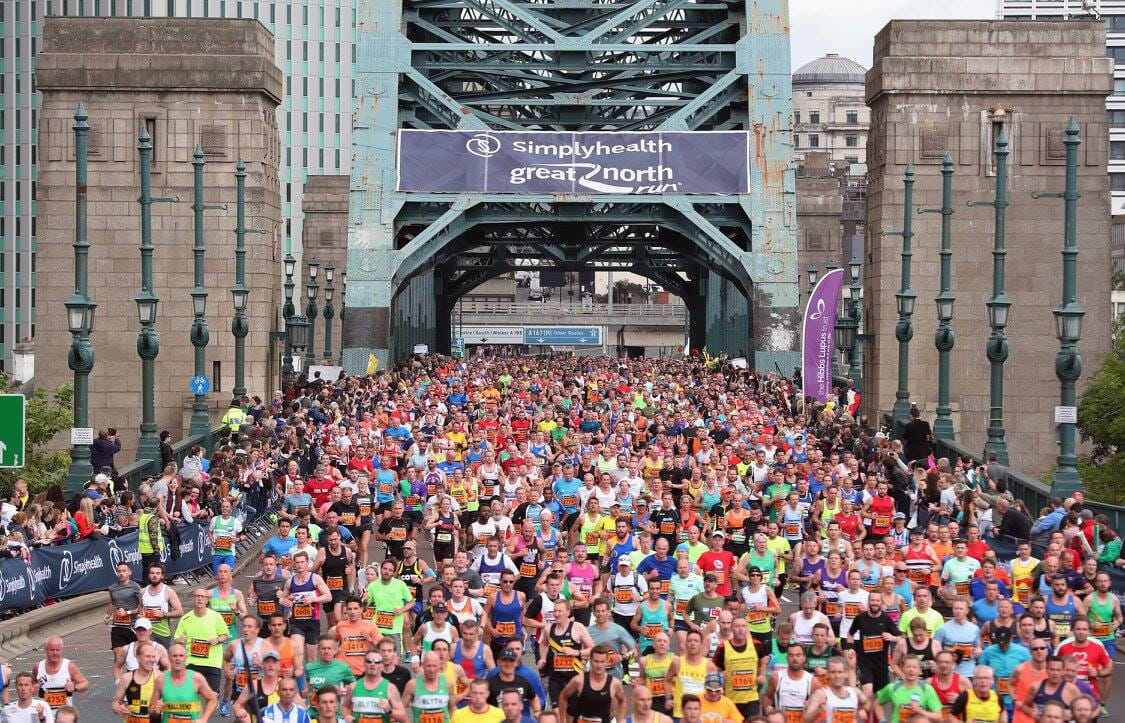 Miles 1 to 3
Don't be tempted to fly out the blocks! Many runners will make this mistake and run the first mile too quickly, getting caught up in the excitement of the event and the pre-race atmosphere. Instead, try just to settle into your pace and don't worry about the first mile being a bit slower than you're used to - it will be busy and dodging around people constantly will just waste energy.
The first couple of miles of the Great North Run, for example, are split across the central motorway with tens of thousands of runners on either side - there's no point trying to race ahead, just enjoy the atmosphere!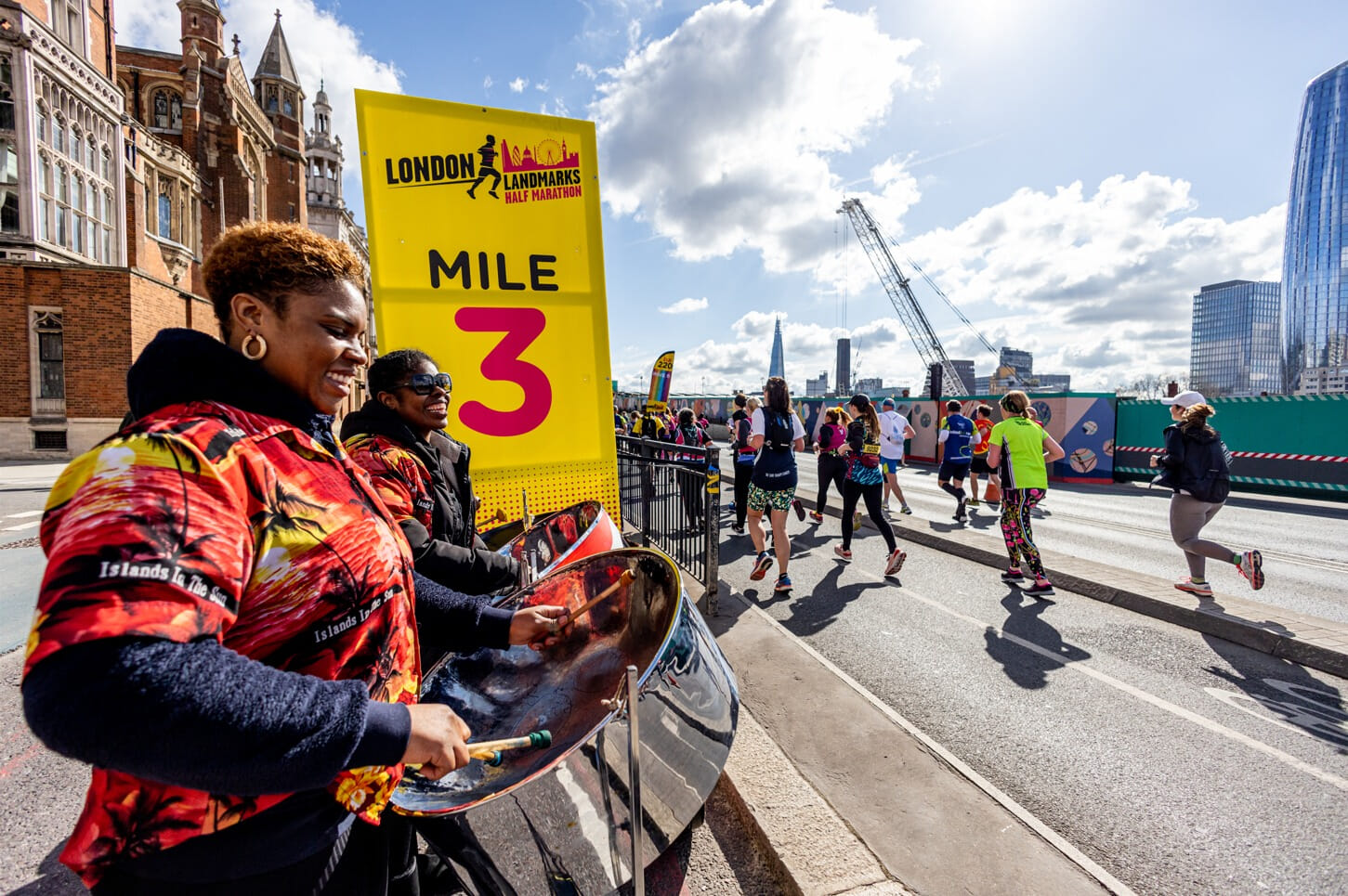 Miles 4 to 6
After a few miles, runners will have settled into their natural pace and the road/trail won't be as congested, so this section will be the most familiar to your training. With that in mind, remember to enjoy these miles! You'll likely feel quite strong and will have enough energy in the tank to appreciate the race around you.
At the London Landmarks Half Marathon, you would expect to be running past iconic monuments like St Paul's Cathedral and the Guildhall, so enjoy the views and the atmosphere in this purple patch of the run.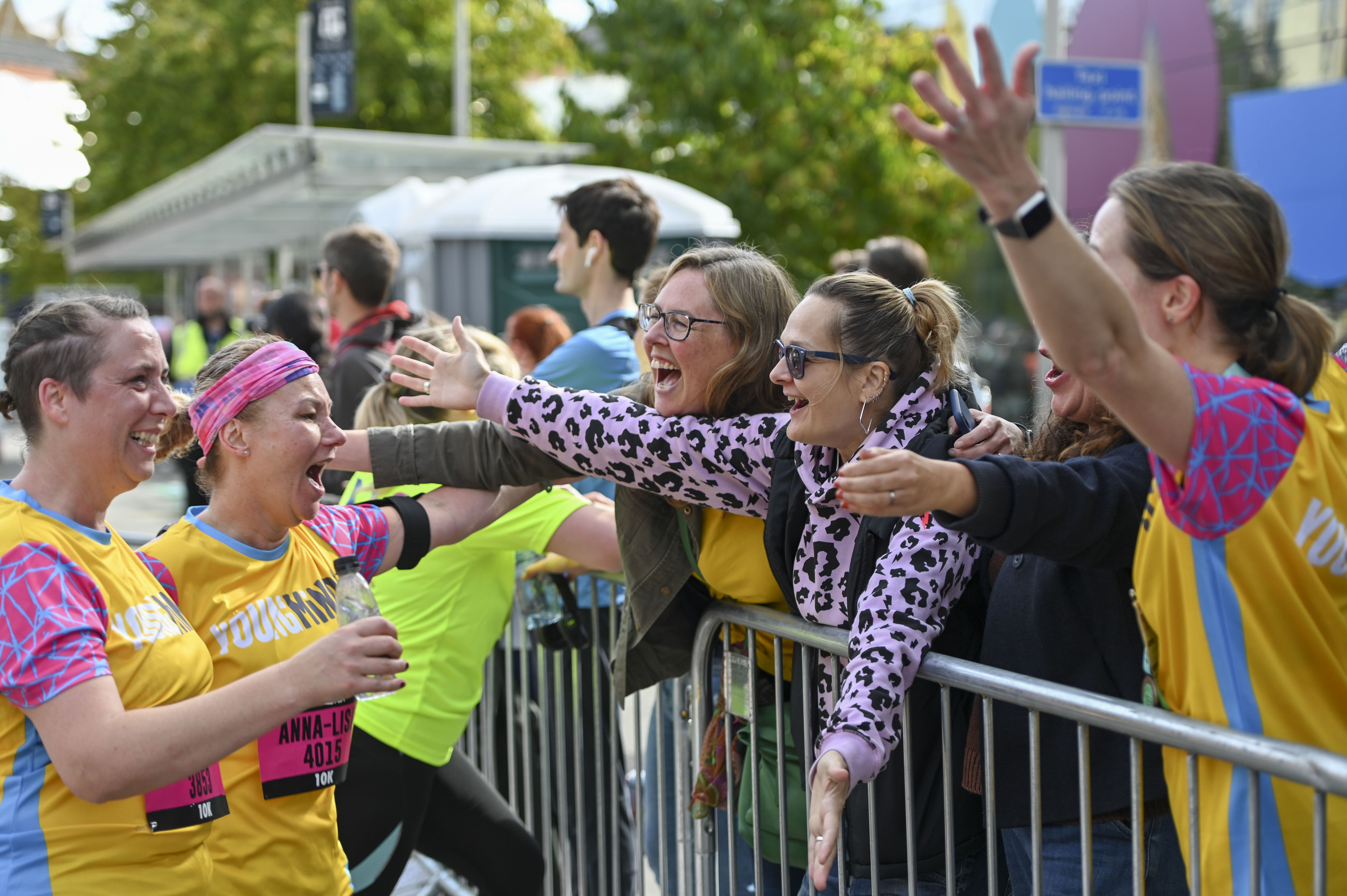 Miles 7 to 9
These would still be considered the 'middle miles' by any competitive runner, which means it's not time to start attacking the race if you're looking for a PB. Continue to run in a relaxed manner and make sure you're sticking to whichever fuelling strategy you've decided on beforehand. These miles will start to feel tougher than what's gone before - depending on how you've trained, by the time you reach mile 9 you may not have done many training runs longer than this.
The key is maintain your pace, refuel when you need to and appreciate the support when it comes around. Races like the Great Bristol Run - in which you would be running back along the River Avon - have regular music stations and cheer zones to keep you moving, so take advantage of them!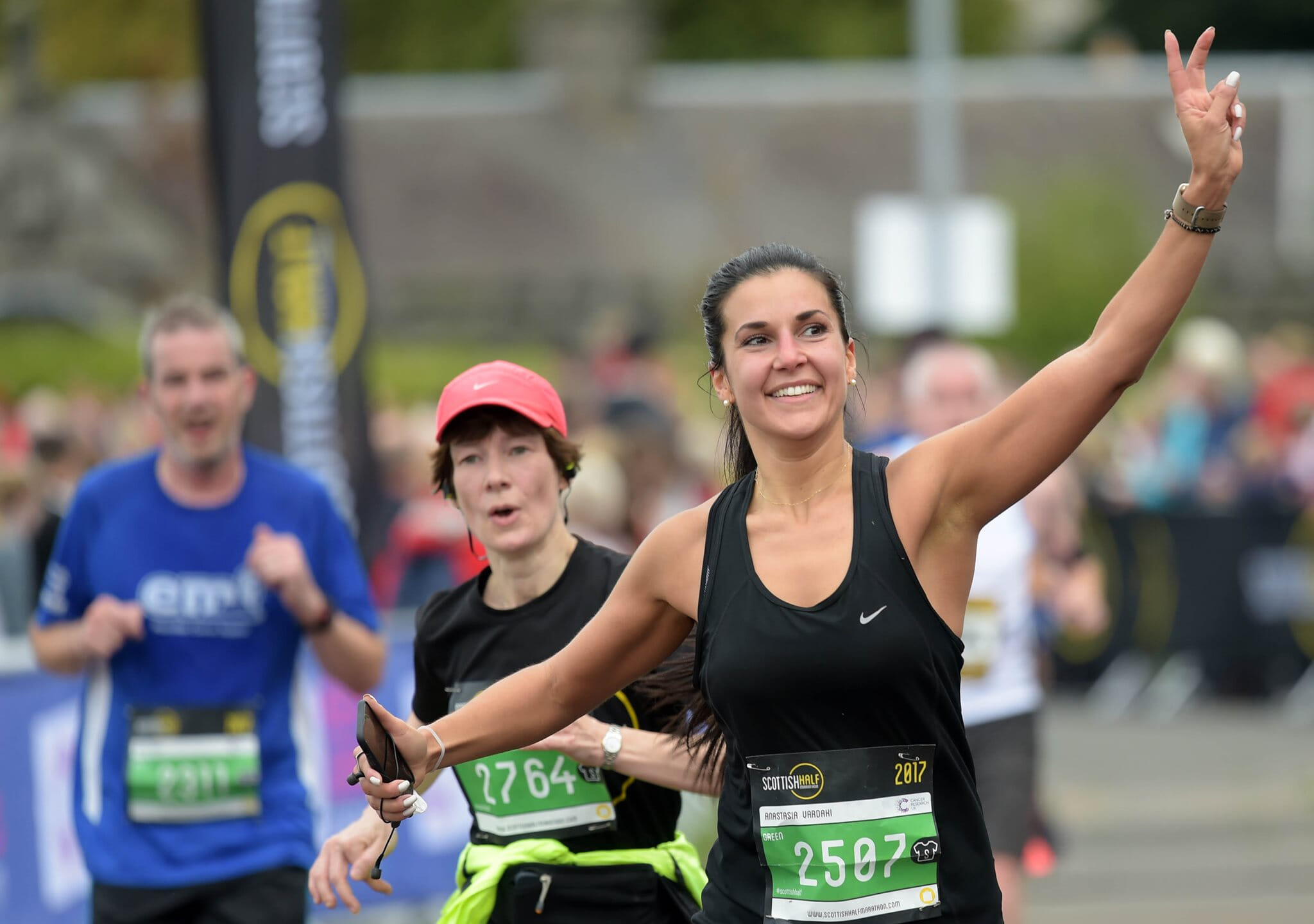 Miles 10 to 13
If you have any energy left in the tank, now is the time to empty it!
You likely won't have done many training runs reaching this distance, so these miles will feel the toughest with tired legs and low energy reserves, but the saving grace is that the finish line is within reach. In most races, these miles will be busier with on-course entertainment and crowd support than previously, which will help to give you the boost you need to the finish line.
The final miles of the Scottish Half Marathon, for example, build to a grandstand finish down the final furlong of Scotland's oldest racecourse, which should be more than enough to keep your tired legs moving!
Half marathons in 2023
There are a huge range of half marathons to enter in 2023, whether it's your first or your fifth. For anyone who hasn't run a half marathon before, we'd recommend signing up to a major event - although local races can be brilliant, the increased support you'll enjoy at a mass participation run will provide the motivation you need to reach the finish line.