An out-and-back loop starting at the Petersham and Ham Sea Cadets HQ heading out along the Thames Path to opposite the Barnes Sports Club Check Point 3 (the turnaround point) and back.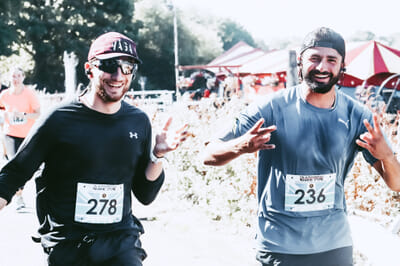 The majority of the course 99% is flat. The conditions are weather dependent though it's mainly a firm running surface. Road shoes are recommended. The turnaround point for the half and marathon at the Isleworth Eyot will also be very well marshalled.
Please ensure that you move out of the way of fellow runners if you stop to re-fuel to avoid any congestion occurring at the check points and please pay particular attention to marshals on the route, especially at the turnaround point.
Checkpoint locations
CP1 Start /Finish Petersham and Ham Sea Scouts HQ, Petersham Road, Richmond, TW10 7AH (KLP Medics)
CP2 Kew Gardens Car Park, Ferry Lane, TW9 3AG
CP3 Thames Path (opp) Barnes Sports Club, Lonsdale Rd, SW13 9Q
Cut off
The time limit for the half marathon course is 6 hrs.
Headphones
Runners should use the UKA Approved 'Aftershokz' over-ear bone conducting earphones so you can hear what is going on around you at all times, and to be courteous to fellow runners and all other pedestrians / cyclists using the Thames Towpath. If you run using any form of over or in earphones as per the terms and conditions, you do so at entirely your own liability risk. Please be very mindful of the public using the trails too - if you are caught being rude to anyone you will be disqualified from future events.