Route summary
Apps Court Farm
Thames Cycle Track
Weybridge
Shere
Southwater Country Park
Steyning
Truleigh Hill
Brighton
Route description
Starting at Apps Court Farm, you'll quickly pick up the Thames Cycle Track as you enjoy idyllic scenery across the river as you head out of the city. You'll then encounter some stunning views as you cycle through Weybridge, Shere, Southwater Country Park and Steyning. Conquer the monster climb of Truleigh Hill right at the end of the ride - it's not for the feint hearted, but the views at the top out to the sea make all the hard work worthwhile. Then it's on to Brighton where you'll bask in the glory of the welcoming crowd at the finish line.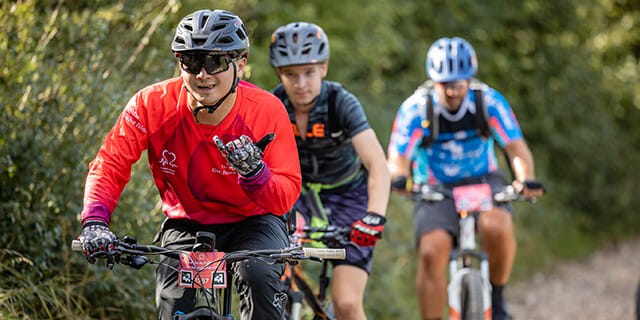 Terrain
You'll be faced with a number of different elements of mountain biking including tough climbs, technical descents, rocky surfaces, dirt trails, forest paths, rapid single track and the popular South Downs Link.
In order to get you to Brighton safely, there are some small road sections - these are just to connect you to the next bit of exhilarating mountain bike riding - but don't be disheartened if you're met with a small section of tarmac.
Cut off time
Each rest stop will have a cut off time that you must try to make. If you fall behind these cut off times the helpful team of marshals and the ride support team will advise you of your options.
Checkpoints
There will be regular checkpoints out on the route, where you will be able to access important necessities such as toilets, water and medical and mechanical support.